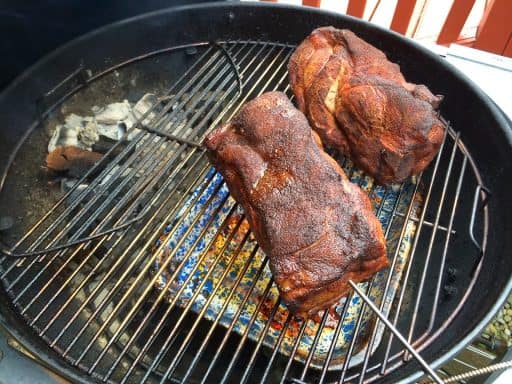 ---
Programming note: I'm on vacation for most of July, out of town with my family. To keep the blog posts coming, I'm doing Throwback Thursdays, bringing back popular recipes from the archives. (This also forces me to update older the formatting on older recipes. Win-win!)

---
I wanted to do more low and slow BBQ on my kettle grill this summer, so I did what I always do - I got a new gadget.1I don't recommend this - always buying the new, shiny gadget is a bad way to approach cooking. But…I can't seem to control myself. I bought a BBQ Guru digital temperature controller, drilled a 1-inch hole in my jumbo 26.5 inch kettle grill just below the grill grate, and plugged it in for a test run with some pulled pork. The BBQ Guru is a blower controlled by a thermometer that you put in the grill. When the grill gets too cool, the fan turns on and fires up the coals; when the grill gets too cool, the fan shuts off and cools the grill down. pork. I'll have more news on the BBQ Guru later - my cook ran hot because I haven't figured out how to set my vents properly yet to let it do its thing. It looks promising, but with my top vent wide open the grill was running way too hot. If have a BBQ guru with my pulled pork recipe, set it to 250°F and let it control the temperature for you.
Check out the recipe here: BBQ Basics: Pulled Pork (on a kettle grill)
What do you think?
Questions? Other ideas? Leave them in the comments section below.
Related Posts
Bbq Beef Short Ribs (On a Kettle Grill)
Grilled BBQ Chicken Thighs
Grilled Miso BBQ Chicken Wings
My other Grilling Recipes
Enjoyed this post? Want to help out DadCooksDinner? Subscribe to DadCooksDinner via eMail or RSS reader, recommend DadCooksDinner to your friends, and buy something from Amazon.com through the links on this site. Thank you.