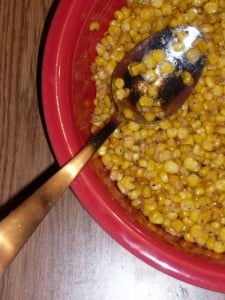 This recipe is so simple, I hesitate to call it a recipe. I use it about once a week, when I need a quick vegetable side.
If corn is not in season, frozen corn is the way to go; this recipe comes out better than any grocery-store bought corn you can get, until it's the heart of summer. Then, please go get the real thing from your local farmer's market!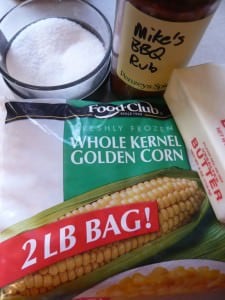 Equipment:
Ingredients:
2 tablespoon oil - any combination of olive oil, vegetable oil, or butter (I usually use 1 tablespoon olive oil & 1 tablespoon butter)
1 lb frozen corn
½ teaspoon kosher salt
½ teaspoon pepper
1 tablespoon barbecue rub (optional)
Directions:
1. Preheat oil: Heat the oil and butter in a 12" skillet over medium heat, until the butter has stopped foaming.
2. Cook corn: Add the frozen corn, and sprinkle with salt, pepper, and barbecue rub. Stir or toss to evenly coat the corn with the oil and spices. Put a lid on the pan, and cook until the corn is hot, about 10 minutes, checking if the corn is cooked through and stirring occasionally.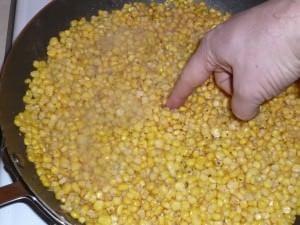 3. "Barbecue" corn: (Optional) Remove the lid, and cook, stirring occasionally, until all the liquid in the pan has boiled away and the corn is nicely browned - usually another 3-5 minutes.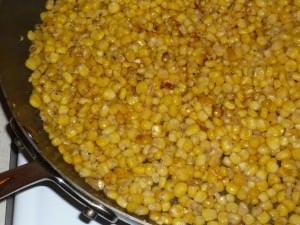 4. Serve!
Variations:
*To add some kick to this, sprinkle ½ teaspoon red pepper flakes into the oil/butter about 30 seconds before adding the frozen corn
*For Cajun Corn, replace the barbecue rub with cajun rub or spices - these tend to have salt in them, so skip the salt.
*For Italian style: replace the barbecue rub with 1 teaspoon fennel seeds and 1 teaspoon coriander seeds and 1 teaspoon paprika.
*For Mexican style: add 1 minced garlic clove to the oil/butter about 30 seconds before adding the frozen corn, then replace the barbecue rub with 2 teaspoon ancho chile powder and 1 teaspoon ground cumin.
*For "extra Mexican" style: To the above, add a drained can of diced green peppers with the corn. Or diced jalapenos, if you want some kick.
*For a more substantial side dish, add a drained, 15oz can of kidney, black, or pinto beans with the frozen corn. (Especially black beans and the "extra Mexican" style.
Notes:
*I check if the corn is hot enough in step 2 by sticking my finger in the middle of the corn - if it's hot, then the corn is done. See the picture above.*
*Make sure you wash your hands!
*The browning step is optional - I like the roasted flavor it gives the corn, but you can skip it if you're in a hurry, or want a different flavor profile
*For the browning step, the cooking cue is how it sounds - if you listen, it goes from a "boiling" sound to a "sizzling" sound. That's what you're looking for, and that's when you need to start stirring every couple of minutes or so.
*Of course, you could use fresh corn - strip the corn from about 6 ears of corn for this. But, as I said above, only do that if it's in-season, locally grown corn. Otherwise, it's not worth the effort.
*If you're paying attention, you can see in the pictures that I'm cooking a double batch. I'm using my
13 inch skillet
, and 2lbs of corn.
Inspiration:
Dinosaur Bar-B-Que cookbook