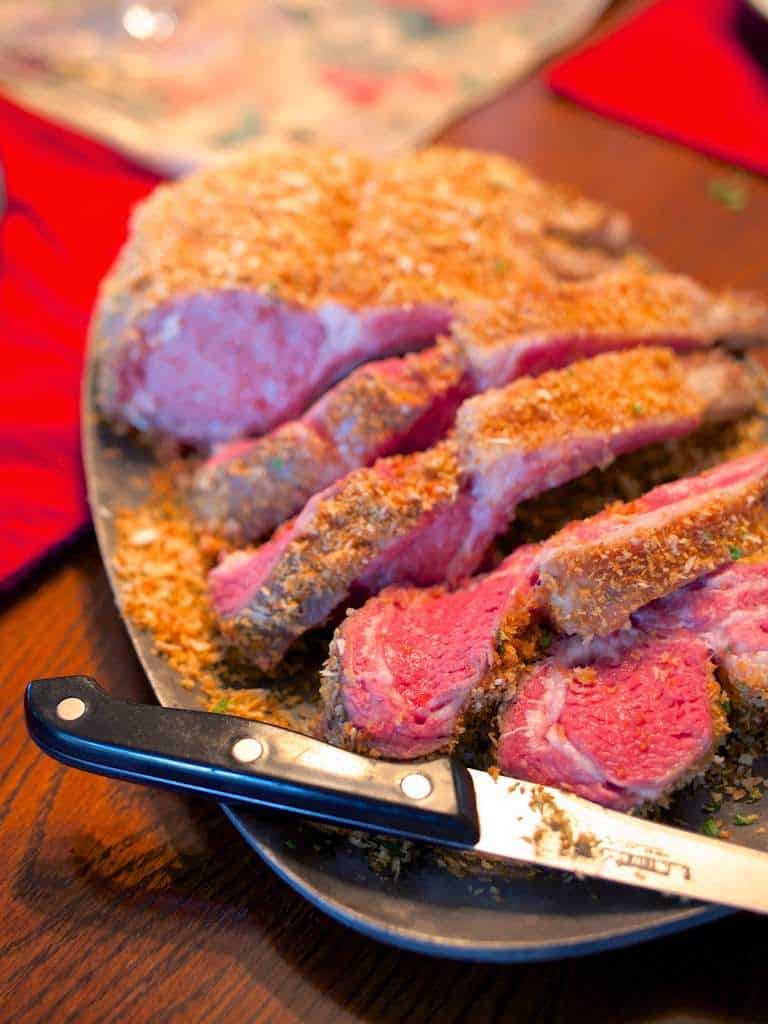 I love the way sous vide cooks meat to medium-rare. If I want to cook to a warm pink interior, sous vide is now my default technique.
This is a big deal for me; a few years ago, I thought of sous vide as crazy molecular gastronomy, something a mad scientist chef would use. It was out of the range of home chefs, even ones as adventurous as me. At the same time, I would sit over my grill, watching, poking, taking temperatures, and hoping that I wasn't overcooking my steaks.
My mom wants her meat cooked rare. Someone described it as: "if the steak gets immediate medical attention, we can save it." That's how my mom wants it cooked. It hurts when I cook her a steak…and she cuts into it, and it is more pink than red (or, even worse, more gray than pink). She puts on a brave face on, and acts like it's OK…but I know, oh yes, I know.
How things have changed in those few short years. Thanks to sous vide cooking, I'm spoiled - medium-rare is easy. Vacuum seal the meat, drop it in a water bath set to 131°F, and wait an hour. Medium-rare, on the nose, every time.
So, time for one of my favorite meats cooked to medium-rare. I feel like the name of this recipe should be "Lamb popsicles with a crispy crust". Sous vide the lamb to medium-rare pink and give it a quick sear to to add some browned, caramelized crust. (I used the grill), Then, brush the lamb with Dijon mustard (but of course), and sprinkle it with toasted panko crumbs to add a crunchy bread crumb crust. Cut into individual lamb chops, and serve.
I brought this platter of lamb chops to the table on Mother's day, and mom's eyes lit up. Perfect medium rare.
Recipe: Sous Vide Rack of Lamb with Dijon Bread Crumb Crust

Prep Time: 10 minutes
Cook Time: 75 minutes
Equipment
Ingredients
1 rack of lamb, about 2 pounds
2 teaspoons kosher salt
Dijon Bread Crumb Crust
¼ cup panko (Japanese bread crumbs)
1 tablespoon (½ ounce) shredded Parmesan
1 tablespoon minced fresh rosemary
2 tablespoons Dijon mustard
Directions
1. Sous vide the rack of lamb
Set the sous vide for 51.5°C/125°F for rare (55°C/131°F for medium rare; 59°C/138°F for medium). Sprinkle the rack of lamb with the salt, then vacuum seal in a large (gallon size) bag. Drop the bag in the sous vide and cook for 1 hour, or up to 4 hours.
2. Toast the bread crumbs
While the lamb is cooking, put the bread crumbs in a medium fry pan and toast over medium heat, stirring and tossing often, until the crumbs are toasted and brown. Pour the crumbs into a bowl, let cool for a minute, and then toss with the shredded Parmesan and rosemary.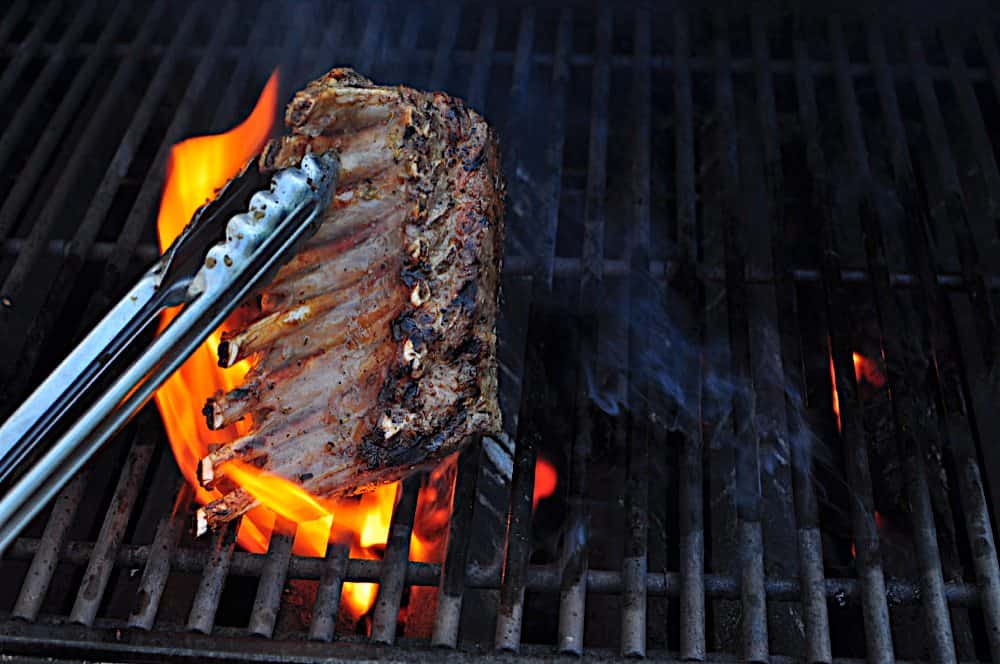 3. Sear the lamb
Take the rack of lamb bag out of the sous vide, cut the bag open, and pat the rack of lamb dry with paper towels. Preheat a grill to high (or get a fry pan ripping hot over medium high heat), then sear the lamb on all sides, about 30 seconds a side. Immediately move the rack of lamb to a serving platter.
4. Add the bread crumb crust
Brush the lamb with the Dijon mustard, then pat on a thick layer of the bread crumb crust. Let the crust rest for 5 minutes, then move the lamb to a carving board and cut between every second bone. Serve.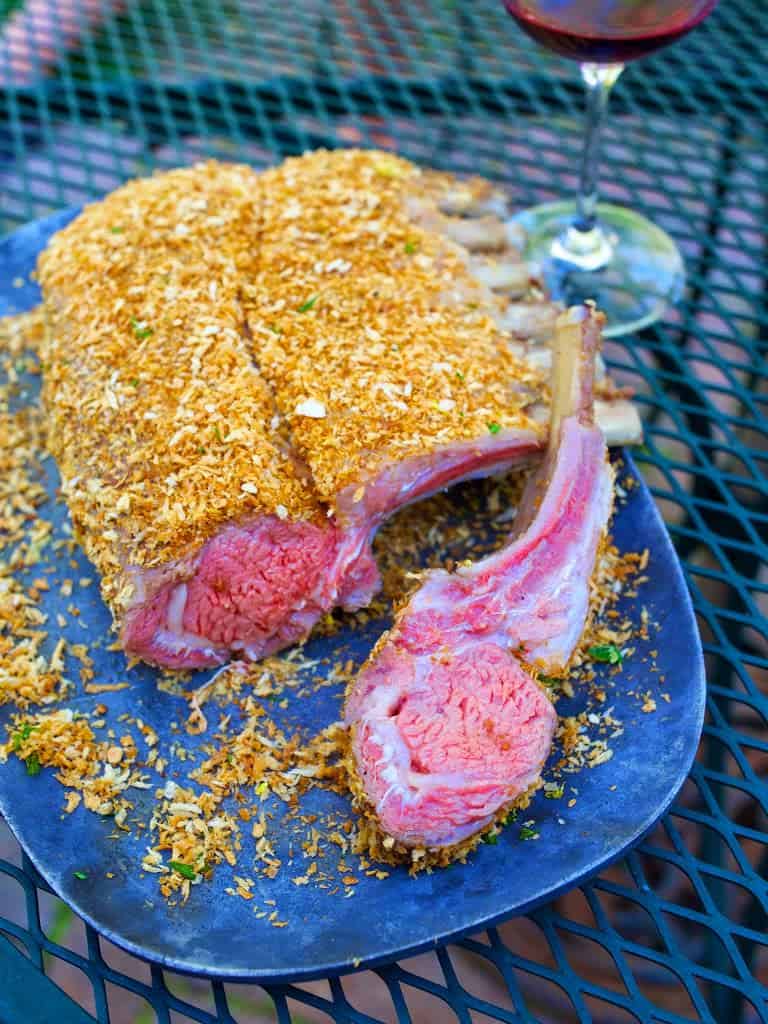 Notes:
Trimming the fat: I chickened out on my trimming. I should have Frenched the rack of lamb, trimming off all of the fat between the bones, leaving nothing but the eye of meat. I didn't - I left a thick fat cap on the top of the rack. Next time, I'm going to trim ruthlessly.
No immersion circulator? No vacuum sealer? No worries. Make beer cooler sous vide rack of lamb with a beer cooler and zip-top plastic bag.
What do you think?
Questions? Other ideas? Leave them in the comments section below.
Related Posts
Sous Vide Chicken Thighs with Garlic and Herb Pan Sauce
48 Hour Sous Vide Grilled Short Ribs (with sous vide Q&A)
Sous Vide Filet Mignon with Sous Vide Egg and Fresh Herb Salad
Enjoyed this post? Want to help out DadCooksDinner? Subscribe to DadCooksDinner via eMail or RSS reader, recommend DadCooksDinner to your friends, and buy something from Amazon.com through the links on this site. Thank you.