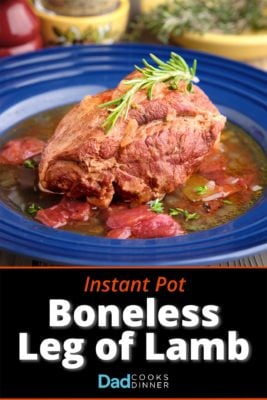 Instant Pot Boneless Leg of Lamb. Pot roasted leg of lamb, pressure cooked to fall apart tenderness.
It's Easter week, so it's Spring lamb time. This recipe is the answer to a common question on my 7-hour leg of lamb in 90 minutes recipe: "What if I have a boneless roast?" Because it's boneless, I have a few tricks up my sleeve...
Pressure Cooking a Boneless Roast Trick: Cut it into smaller roasts
I'm not cooking it as a single roast; I'm cutting it into smaller roasts, so each one pressure cooks in a shorter amount of time. A few years ago I figured out why large roasts are such a pain in a pressure cooker. Pressure cooking increases the heat in the pot, but it takes more time for that heat to penetrate into a thick roast, and smaller pieces of meat cook faster (and more evenly). So, I cut my whole boneless leg into four smaller roasts, each about 1 pound and approximately the same size.
Now, a boneless leg of lamb doesn't cooperate with "about the same sized roasts". Lamb legs have lobes of meat with a variety of shapes and sizes. I do my best - I try to cut them into roughly 4-inch long by 2-inch wide pieces. But there's only so much I can do - some pieces wind up thick and fat, some are long and thin. That's OK - the smaller sized roasts, even though they're not perfectly matched, cook in a similar amount of time under pressure.
And, for lamb, I use what I think of as my "Northern Mediterranean" flavor profile, which could come from Spain, France, or Italy. I rub the lamb with olive oil, garlic, and fresh herbs, saute an onion, and cook it with a little red wine for the braising liquid. And, I throw some carrots in the pot, because I love braised carrots.
Recipe: Instant Pot Boneless Leg of Lamb
Print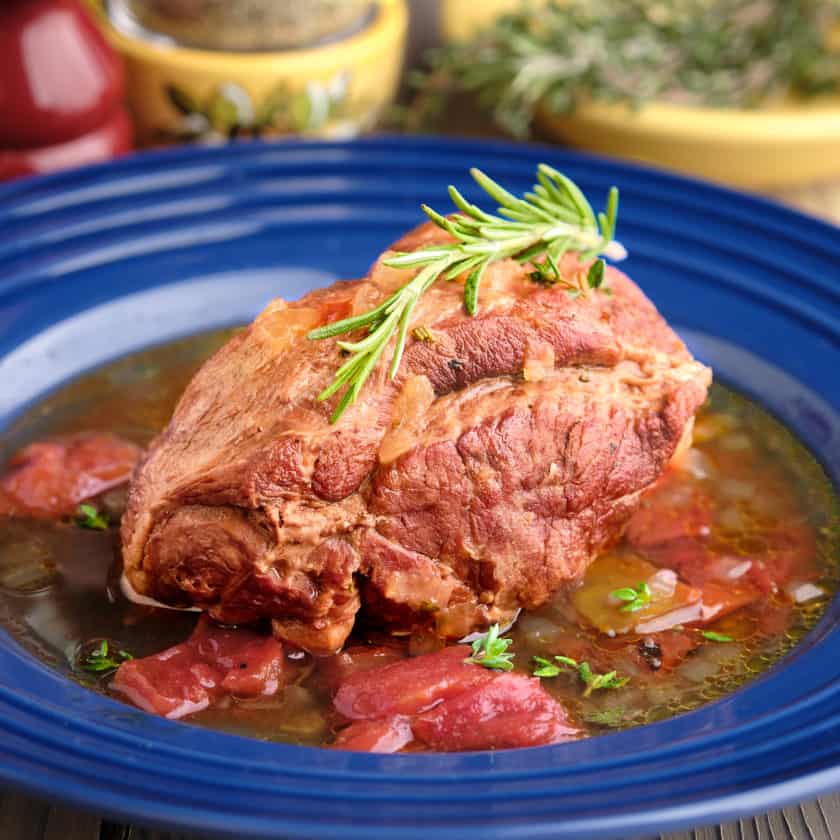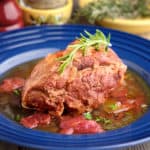 Instant Pot Boneless Leg of Lamb
---
Author:

Mike Vrobel

Total Time:

1 hour 45 minutes

Yield:

8

servings

1

x
Description
Instant Pot Boneless Leg of Lamb. Pot roasted leg of lamb, pressure cooked to fall apart tenderness.
---
4

- to 5-pound boneless leg of lamb roast, cut into

4

pieces, each roughly 4-inches by 2-inches by 2-inches

2 teaspoons

fine sea salt

1 tablespoon

olive oil

2

cloves garlic, minced

1 teaspoon

minced fresh rosemary (or dried)

1 teaspoon

minced fresh thyme (or dried)

1 tablespoon

olive oil

1

large onion, diced

½ teaspoon

fine sea salt

½ cup

red wine (I usually use a blend, like a cote du rhone) or water

1 cup

chicken broth (homemade or low sodium store-bought) or water

3

large carrots, peeled and cut into

2

-inch lengths
---
Instructions
Season and sear the roast: Remove any netting from the lamb roast, unroll it and lay it out flat, and cut it into 4 pieces, each roughly 4" x 2" x 2". Sprinkle the lamb with 2 teaspoons salt, about ½ teaspoon per piece. Rub the garlic, rosemary, and thyme into the lamb pieces, working it in to any natural crevices in the meat. Heat 1 tablespoon of vegetable oil in an Instant Pot or other pressure cooker, using Sauté mode adjusted to high, until the oil is shimmering. (Use medium-high heat in a stovetop pressure cooker.) Sear the lamb in two batches, two pieces at a time. Sear each piece on 2 sides – use the largest sides – until it is well browned, about 3 minutes a side. (So, about 12 minutes total.) After searing, put the lamb on a platter and set aside for later.
Sauté the aromatics: Add another tablespoon of olive oil to the pressure cooker pot, and heat until shimmering. Add the onion and sprinkle with ½ teaspoon salt. Sauté until the onion softens, about 3 minutes, stirring and scraping the browned lamb bits from the bottom of the pot with a wooden spoon. Pour in the wine, bring to a simmer, and simmer for 1 minute to boil off some of the alcohol.
Everything in the pot: Pour in the chicken broth and scrape the bottom of the pot one last time to loosen any browned bits of onion. Add the platter of lamb (and any lamb juices) to the pot, then scatter the carrots on top.
Pressure cook the lamb leg roasts for 50 minutes with a natural release: Lock the pressure cooker lid and cook at high pressure for 50 minutes ("Pressure Cook" or "Manual" mode in an Instant Pot), or for 45 minutes in a stovetop PC. Let the pressure come down naturally, about 20 more minutes.
Defat the sauce and serve: Gently move the pieces of lamb to a serving platter, and the carrots to a serving bowl, using tongs or a slotted spoon. Pour the remaining liquid in the pot into a fat separator and let settle for five minutes. Cut each piece of lamb in half, pour a little of the defatted sauce over it, and serve, passing the rest of the sauce and the carrots on the side.
Notes
What if my boneless leg of lamb is bigger? Or smaller? As long as you cut it into roughly 2" by 2" by 4" pieces, each weighing a pound or so, the timing on the recipe stays the same. The cooking time is determined by the size of each piece, not the total weight. Don't decrease the amount of liquid in the recipe, though; a pressure cooker needs the liquid to come up to pressure.
After cooking, I cut each piece of lamb in half and serve them as mini-roasts, because most people don't want a pound of lamb per serving. You can also slice the lamb into ½-inch thick slices and fan them out on a platter - no one will ever know you cooked them as smaller roasts.
Tools
6 quart or larger pressure cooker (I love my Instant Pot 6-Quart Pressure Cooker)
Prep Time:

15 minutes

Cook Time:

90 minutes

Category:

Sunday Dinner

Method:

Pressure Cooker

Cuisine:

French
Keywords: Instant Pot Boneless Leg of Lamb, Pressure Cooker Boneless Leg of Lamb
What do you think?
Questions? Other ideas? Leave them in the comments section below.
Related Posts
Pressure Cooker 7 Hour Leg of Lamb (in 90 minutes)
Instant Pot Irish Lamb Shanks
Instant Pot Lamb Youvetsi (Greek Lamb Stew with Orzo)
My other Instant Pot and Pressure Cooker Recipes
Enjoyed this post? Want to help out DadCooksDinner? Subscribe to DadCooksDinner via email and share this post with your friends. Want to contribute directly? Donate to my Tip Jar, or buy something from Amazon.com through the links on this site. Thank you.