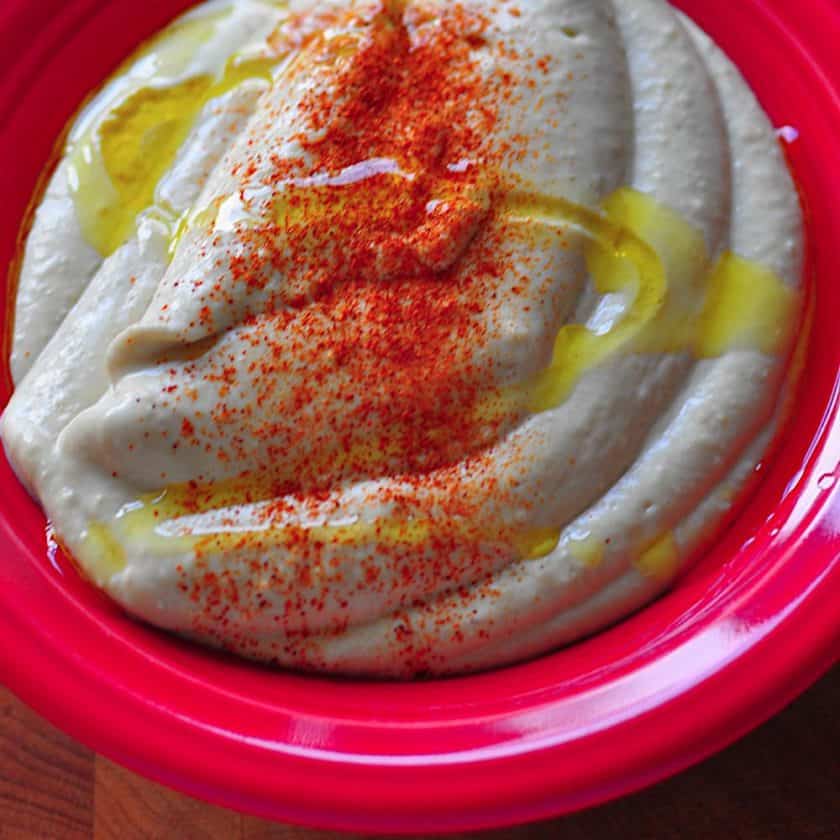 When I need a quick appetizer, I make hummus. If you have a food processor and some Instant Pot Chickpeas, hummus comes together in minutes.
*If you don't have a food processor, I don't know how you make hummus. I'm sure the recipe has existed for centuries before the creation of food processors.* But doing all that grinding by hand? I need a nap just thinking about it.
**Carl Sontheimer, a french born, MIT trained engineer, invented the Cuisinart in 1973. Why? Because he was bored with retirement. I hope I'm that motivated when I'm retired!
As I said earlier in the week, if you have a pressure cooker, it is worth the effort to make your own chickpeas. Hummus made from homemade chickpeas is sweeter and creamier, and you can use the cooking liquid to add an extra layer of flavor to the recipe. Even with this extra effort, this is still an easy recipe. If you pressure cook the chickpeas, hummus takes under an hour, and it's almost all hands-off time.
*That said, I learned to love this recipe using canned beans. If you're in a hurry, they are an acceptable substitute.  And the recipe goes from under an hour to under ten minutes.
Recipe: Pressure Cooker Hummus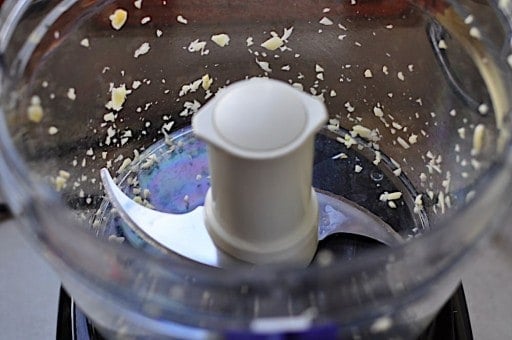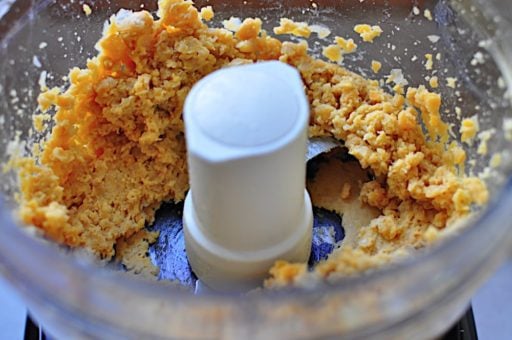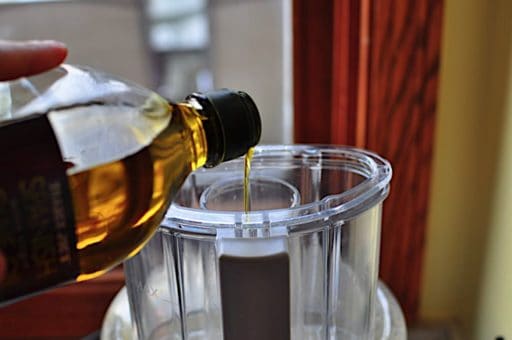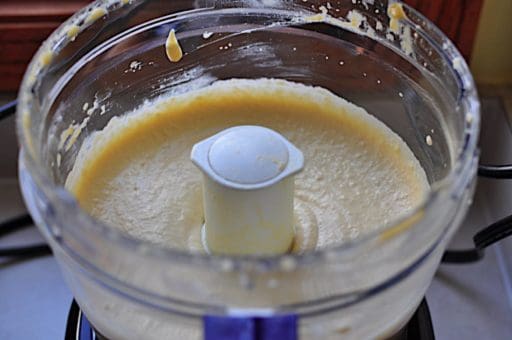 Print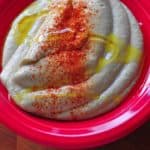 Pressure Cooker Hummus
---
Author:

Mike Vrobel

Total Time:

1 hour 10 minutes

Yield:

4 cups

of hummus

1

x
Description
Pressure Cooker Hummus - thanks to my pressure cooker, I can start with dried chickpeas, and have hummus in a little over an hour.
---
Pressure Cooker Chickpeas
1 cup

dried chickpeas, sorted and rinsed
(OR: 4 cups homemade chickpeas, OR: 2 15 oz cans chickpeas, drained)

4 cups

water (if cooking the chickpeas)
Hummus
2

medium cloves garlic, peeled

½ tsp

kosher salt

½ cup

chickpea cooking liquid (reserved from cooking the chickpeas, or water if you're using canned)
Juice of

1

lemon

¼ cup

tahini (or substitute natural peanut butter, or skip it, see notes)

½ cup

extra virgin olive oil
Salt and pepper to taste
Paprika (for color; smoked spanish paprika, pimenton de la vera, is my favorite)
---
Instructions
Pressure Cook the Chickpeas (optional): Put the dried chickpeas and 4 cups water in your pressure cooker, lock the lid, and cook at high pressure for 45 minutes in an electric PC or 40 minutes in a stovetop PC. Let the pressure come down naturally, another 10 to 15 minutes. Drain the beans, saving ½ cup of the cooking liquid for use later in the recipe. (Or, skip this step and substitute make ahead Instant Pot Chickpeas - if they're frozen, thaw them out in the microwave before using them in the recipe. Or, substitute two 15 ounce cans of chickpeas. Rinse them well, and use water instead of the chickpea broth.)
Make the Hummus: Turn on the food processor, and drop the peeled garlic through the feed tube. Let it process until it is completely chopped, about 30 seconds. Add the chickpeas and ½ teaspoon kosher salt, and process until the chickpeas are ground up, about 5 one second pulses. Add the chickpea cooking liquid, lemon juice, and tahini. Process for 15 seconds, scrape down the sides of the food processor with a spatula, then process another 15 seconds, or until completely combined. The resulting mix will be very thick; scrape down the sides again if it needs it. Turn on the food processor, and drizzle the olive oil in slowly through the feed tube in a thin stream. Let the food processor run for another 30 seconds, or until the hummus looks smooth and a little fluffy. Taste, and add salt and pepper as needed. Remove the hummus to a serving dish, dust with the paprika, drizzle with a little more olive oil, and serve.
Equipment
Notes
This recipe keeps for about a week in the refrigerator, or up to 6 months frozen
My kids' schools have to worry about nut allergies - I made this recipe for Ancient Greek History Day in the classroom and skipped the Tahini. (I know sesame seeds are seeds, not nuts. Unfortunately, they do have some overlap with nut allergies.) The recipe worked without them, so if you have to avoid nuts, you can skip the Tahini.
 Tools
Pressure Cooker (I love my Instant Pot electric pressure cooker)
Food Processor (Like my workhorse Cuisinart)
Prep Time:

10 minutes

Cook Time:

1 hour

Category:

Pressure Cooker

Cuisine:

Eastern Mediterranean
Keywords: Instant Pot Hummus, Pressure Cooker Hummus
Notes
Serve with pita bread cut into triangles (or ripped apart by hand, if you're hungry and/or impatient). Or, serve as a vegetable dip, particularly with carrots.
This recipe keeps for about a week in the refrigerator, or indefinitely if frozen. But, as I said above, we love to use Hummus as an all purpose vegetable dip, so once it is made I'm lucky if it lasts a day or two.
I've tweaked my hummus a lot, working in new techniques along the way. I learned to mince garlic by dropping it into a running food processor from Jean Anderson's Process This. I learned how to pressure cook chickpeas from Lorna Sass. And, last but not least, I learned to "add the oil like you're making a vinaigrette" from Cooks Illustrated. In other words, my "Adapted From" section is rather crowded in this recipe...
What do you think?
Questions? Other ideas? Leave them in the comments section below.
Related Posts
Instant Pot Chickpeas
Pressure Cooker Chickpeas with Toasted Bread Crumb Crust
Pressure Cooker Yellow Split Pea Dip (Greek Fava)
My other Pressure Cooker Recipes
*Enjoyed this post?  Want to help out DadCooksDinner? Subscribe using your RSS reader or by Email, recommend DadCooksDinner to your friends, or buy something from Amazon.com through the links on this site. Thank you!