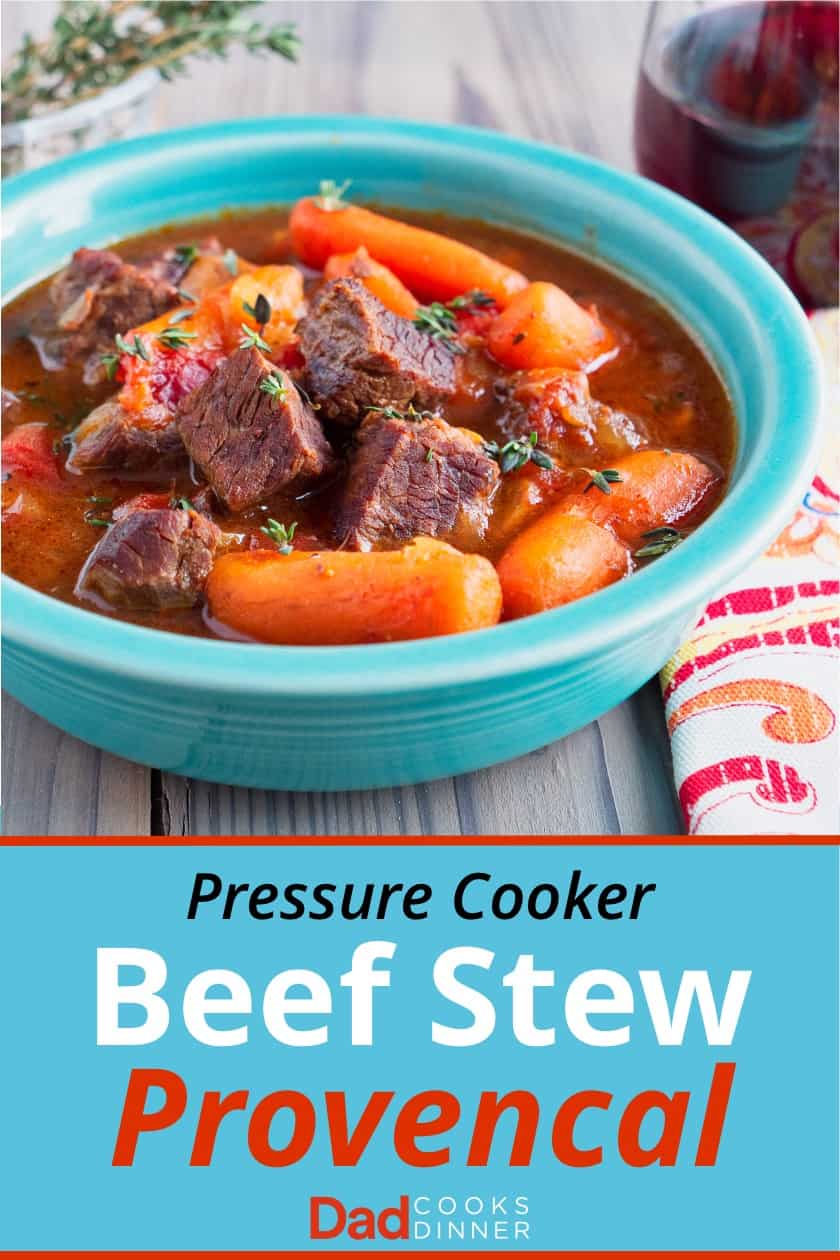 Coming home with the dogs as dusk fell, I always stopped to look from the top of the valley at the long zigzag of smoke ribbons drifting up from the farms that are scattered along the Bonnieux road. It was a sight that made me think of warm kitchens and well-seasoned stews, and it never failed to make me ravenous.

Peter Mayle, A Year In Provence
This recipe is in memory of Peter Mayle, who passed away earlier this year at age 78. I've read every book he wrote1, and a few of them are my comfort reads, books I go back to again and again while I daydream about traveling the world.
DadCooksDinner would not exist without Mr. Mayle. Ten years ago, for my 40th birthday, I spent a week in a cooking class in Roussillon, inspired by his A Year in Provence. Six months after that, I started writing this blog. Thank you, Mr. Mayle. Thank you.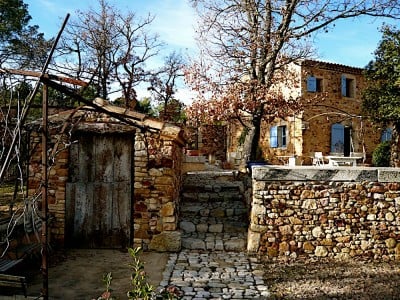 What should I make in his memory? A well-seasoned stew from Provence, of course. Olive oil, lots of garlic, red wine, dried herbes de Provence, and a garnish of fresh thyme give it the flavors of Southern France. I cut the beef into 1-inch cubes, which cook under pressure in 15 minutes. That lets me add carrots without cooking them to mush. I use a natural pressure release to gently finish the cooking, and keep the aroma trapped in the cooker with the stew.
Finally, let's talk about the essential step in making a stew: browning the meat. I get asked: "Can I skip the browning?" You can skip it, but the stew will suffer. The layer of caramelized brown bits left in the pot ("fond" in French) dissolve into the liquid of the stew, adding depth and body. That said, I only brown the beef on one side, not on all sides as many recipes recommend. It takes too long, and I do not have the patience.2 Browning one side gives me the best balance of flavor and speed.
Video: Pressure Cooker Beef Stew Provencal (3:12)
Video: Pressure Cooker Beef Stew Provencal [YouTube.com]
Print
Pressure Cooker Beef Stew Provencal (Beef en Daube)
---
Author:

Mike Vrobel

Total Time:

1 hour 15 minutes

Yield:

4 quarts

of stew

1

x
Description
Pressure Cooker Beef Stew Provencal (Beef en Daube). Beef stew with the flavors of Southern France, in about an hour from the pressure cooker.
---
1 tablespoon

olive oil

3

pounds beef bottom round roast (or chuck roast), cut into 1- to 1¼-inch cubes

1 teaspoon

fine sea salt

½ teaspoon

fresh ground black pepper

1

large onion, diced

4

cloves garlic, minced

8 ounces

button mushrooms, cleaned and quartered

1 teaspoon

herbes de Provence (or dried thyme)

½ teaspoon

fine sea salt

2 tablespoons

tomato paste

½ cup

red wine

1 cup

beef broth (or water)

1

pound baby carrots (or

3

large carrots peeled and cut into 1-inch lengths)

15

-ounce can diced tomatoes

½ teaspoon

fresh ground black pepper

1 teaspoon

fresh thyme leaves, chopped (optional)
More fine sea salt to taste
Cornstarch slurry (optional)
¼ cup

water

2 tablespoons

cornstarch
---
Instructions
Sear the beef in three batches: Heat the vegetable oil in the pressure cooker pot over medium heat (sauté mode in my Instant Pot) until the oil shimmers and just starts to smoke. While the pot heats, sprinkle the beef cubes with 1 teaspoon salt and ½ teaspoon black pepper. Add ⅓ of the beef and sear until well browned on one side, about 3 minutes. (Don't crowd the pot or the beef will steam, not brown). Remove the browned beef to a bowl, add the second batch of the beef to the pot, and sear until browned on one side, about 3 more minutes. Repeat with the remaining beef - in the pot, sear until browned on one side, then into the bowl with the rest of the beef.
Saute the aromatics: Add the onion, garlic, mushrooms, and tomato paste to the pot, and sprinkle with the herbes de Provence and ½ teaspoon salt. Sauté until the onions soften and the tomato paste darkens, about 8 minutes, scraping the bottom of the pot occasionally to loosen any browned bits of beef. Pour the red wine into the pot, bring to a simmer, and simmer for 1 minute. Stir in the beef and any juices in the bowl, then pour in the beef broth. Scrape the bottom of the pot one last time, to make sure nothing is sticking. Stir in the carrots, then spread the diced tomatoes on top.
Pressure cook the stew for 15 minutes with a natural pressure release: Lock the lid on the pressure cooker and cook at high pressure for 15 minutes in an electric PC, 12 minutes in a stovetop PC. When the cooking time finishes, let the pressure come down naturally. Leave the pot alone - keep warm mode is fine - until the pressure valve drops, about 20 more minutes. (After 20 minutes you can quick release any remaining pressure if you are in a hurry.)
Season, thicken, and serve: Unlock the pressure cooker lid. Whisk the water and cornstarch into a slurry, and then stir the cornstarch slurry into the stew. Add ½ teaspoon of fresh ground black pepper, then taste for seasoning, and add more salt and pepper if the stew needs it. (I add another ½ teaspoon of fine sea salt when I used canned beef broth.) Serve and enjoy!
Notes
Thin sauce is the downside to pressure cooking. The sealed cooker traps steam to build up pressure - but that steam would evaporate in a regular pot, thickening the sauce. The optional cornstarch slurry thickens the sauce, giving it the mouthfeel of a regular stew. If you are OK with a thinner sauce, skip it.
What does " a well-seasoned stew" mean? Don't ignore the seasoning step at the end, and taste as you go when adding the salt. Salt brings out the other flavors in the stew. Not enough salt and the flavor is flat. Enough salt and it suddenly tastes sweeter and rounder. If it tastes "salty" then there is too much salt. With canned beef broth, I add a half-teaspoon to a teaspoon of fine sea salt. With homemade beef broth (or water), I add more - at least two teaspoons. (Canned broth has a lot of sodium.)
Tools
Prep Time:

15 minutes

Cook Time:

1 hour

Category:

Sunday Dinner

Method:

Pressure Cooker

Cuisine:

French
What do you think?
Questions? Other ideas? Leave them in the comments section below.
Related Posts
Pressure Cooker Chicken With 40 Cloves of Garlic
Pressure Cooker Pork and Cider Stew
Pressure Cooker French Lentils (Lentils du Puy)
My other Pressure Cooker Recipes
My other Pressure Cooker Time Lapse Videos
Enjoyed this post? Want to help out DadCooksDinner? Subscribe to DadCooksDinner via email and share this post with your friends. Want to contribute directly? Donate to my Tip Jar, or buy something from Amazon.com through the links on this site. Thank you.
Except for his picture book explaining the facts of life for kids. I found his books in my 30's - a little too old for its target audience. ↩
That's why I prefer pressure cooking - I have no patience. ↩