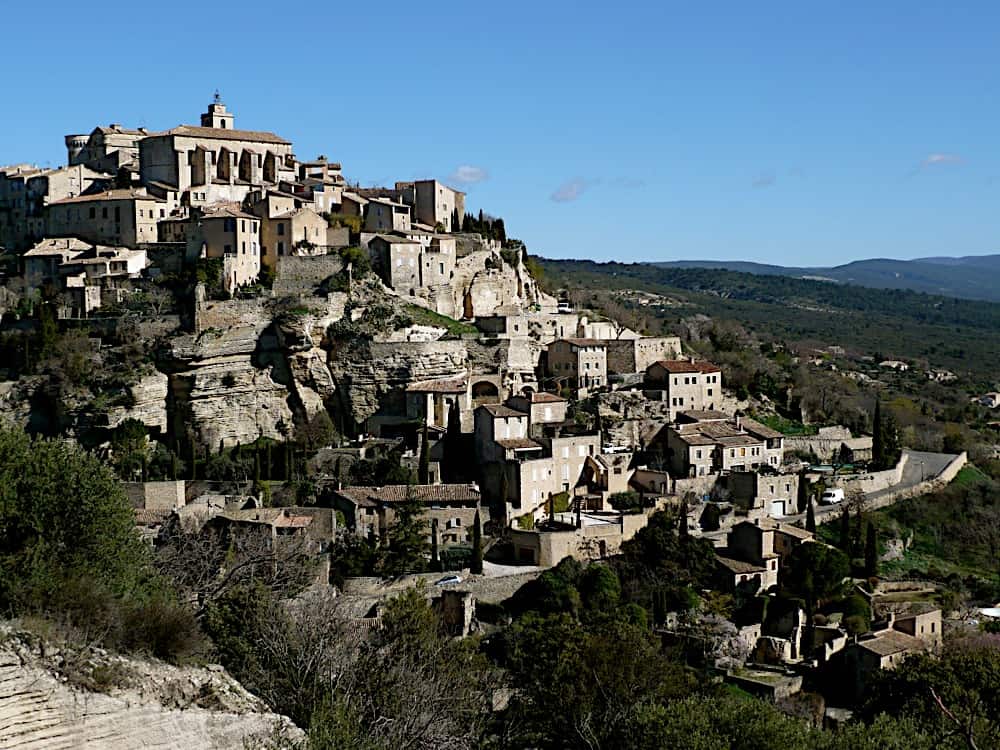 *Apologies to Peter Mayle for the title.
A few years back, Diane, my loving wife, gave me my 40th birthday present. She sent me off for two weeks in France while she stayed home to watch the kids.
*Yes, she loves me. A lot.
I went looking for a cooking school in Provence; I've been in love with the region ever since reading Patrick Mayle's books, and the Provencal influence on Judy Rodgers and Alice Waters make me think of the area as my culinary True North.
*That, and I'm a long time fan of the Tour de France, watching Greg LeMond, Miguel Indurain, Marco Pantani and Lance Armstrong hammer their way across France. Seeing Mont Ventoux off in the distance was one of the high points of my trip.
I found Patrick Payet and Famous Provence through the internet, entirely by chance. I was going to be there in early March, not exactly peak time for Provence, and he was the only one I could find who had cooking classes that time of year. I signed up, bought my airline tickets…and waited, impatiently, for my flight to France.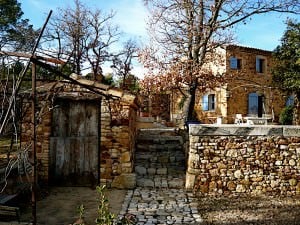 I stayed in a house just outside Roussillon, where the ochre deposits give the hills an amazing burnt orange color. Across the valley at night, I could see the twinkling lights of Bonnieux and Lacoste. Due to a scheduling mishap, I was the only student there. Another group was supposed to be staying the same week I was, for a cooking and hiking tour in the hills of the Luberon. But, at the last minute they delayed their trip by a week. As a result, I got to spend the entire week one-on-one with Patrick.
Patrick was a gracious host, and a genial tour guide by day.
*Patrick went to college in Los Angeles, so his English is great. It is much better than the French I had crammed into my head in a year's quick study, preparing for the trip. It may even be better than mine…
He took me all over Provence; I saw farmer's markets, bakeries, the Papal Palace in Avignon, the corkscrew museum in Menerbes, the Lavender museum in Coustellet, and the weekly antiques market in L'Isle Sur la Sorgue. We walked and talked as I learned the history of all the little hill towns in the Vaucluse. We would eat lunch over a newspaper and a bottle of beer (for him) and a glass of rose (for me) at small restaurants. Patrick seemed to know everyone - he had business partners, connections, family members, and old friends almost everywhere we went.
*I loved the markets and grocery stores. The Les Halles market in Avignon was gorgeous - it reminded me of our own West Side Market, only larger and better lit. It is housed in its own permanent structure in the middle of downtown, a couple of blocks from the Papal Palace.
After touring Provence in the morning, we'd return to the house for the afternoon, and I could relax for a while. Then, at 4PM, we'd start cooking. Patrick would turn into a stern task master, demanding to know why my potatoes were cut ½ inch thick when he asked for ¼ inch. I learned how to cook vegetables the French way (boil in lots of salted water until well cooked, then drain and saute in a little butter), how to make clay pot chicken using dough to seal the lid shut, and how to cook rabbit. More important, I learned how a former restaurateur organizes himself in the kitchen, makes things ahead of time for use later in the week, cleans as he goes, and creates works of art on the plate, making sure each sprig of asparagus is just so before serving.
*Patrick makes a brief cameo in Peter Mayle's A Year in Provence
, from when he owned the restaurant Le Tonneau.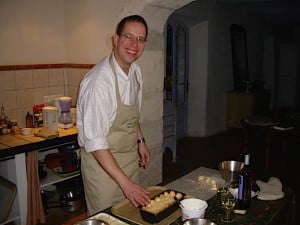 What was all this cooking for? Every night, at 8PM on the nose, we would serve the dinner we were preparing. Some nights, it was just me, Patrick, and his wife, Babeth; other nights, Patrick had organized a dinner with friends from the area. These dinners were the highlight of the trip - I got to be a temporary local, having dinner as the only American in the room. We dined with a sports psychologist who had studied at the University of Texas, an engineer who worked on satellite launches in Brazil, Babeth's son, the college student, who despised both of the choices in their upcoming presidential election (Selogene Royal and Nicolas Sarkozy), and any number of neighbors and friends. I got tips for where to eat in Paris, heard dirty jokes, listened lectures on the political system in France, held forth on where I thought the stock market was headed, and enjoyed an entertaining story about a lost dog who preferred his new owner. I learned that, if you're done with a glass of wine, you leave it about a third full, otherwise it will be filled for you. Again and again. I was raised to clean my plate, and this led to a couple of tipsy evenings before I got the hang of it. (Either that, or the UT graduate was trying to get back at me for mentioning that I rooted for Ohio State.) My French wasn't good enough to keep up with the conversation, but their English was always good enough to explain what was being said, if I looked too lost.*
*That said, my favorite conversation was with the engineer, who spoke as little English as I speak French. We had a great time, trying to discuss satellite launches in Cape Canaveral (him) and computer programming (me) even though we didn't have more than 100 words of common language between us. Just goes to show you - a geek is a geek, regardless of language barriers.
I must have done well enough for Patrick's drill sergeant side, because on my last day in Provence, Patrick asked me to stay for the next week, when the hikers would arrive. He said I could stay, free of charge, to work as his kitchen assistant, and spend another week learning. It was very, very tempting. But all I had seen of Paris was through the window of the TGV as I zoomed from the Airport to Avignon. Reluctantly, I had to turn down Patrick's generous offer, because I had to see Paris.
I didn't realize how badly I had to see Paris…but that's another story, for another day.
I'll leave you with my favorite quote from Patrick. He was struggling with the corkscrew, trying to remove the foil from a bottle of wine. I asked if I could have it, then used a trick I had learned at a winery in Napa Valley. If you grab the foil on the top of a bottle of wine, and pull hard, it will usually pop right off. No messing with foil cutters or anything like that. I did this, and the foil popped right off the top. Patrick looked shocked.
What are you doing? Louis XIV is rolling over in his grave!
I explained where I learned the trick, and he said:
Napa…pfft. What do they know about wine? Talk to me when they've been making it for centuries.
Someday, I'm going back, and the first thing I'm going to do is go visit my friend. Patrick, thank you for a wonderful week!
Related Posts:
Steam-sauteed Leeks (Coming soon)
Chicken Legs A La Pebrade (Coming soon)
Inspired by:
Patrick Payet and Famous Provence [Famous-Provence.com]
Peter Mayle - A Year in Provence
(really, just about every book Peter's written
)

*Enjoyed this post? Want to help out DadCooksDinner? Subscribe using your RSS reader or by Email, recommend DadCooksDinner to your friends, or buy something from Amazon.com through the links on this site. Thank you!