Instant Pot Pinto Beans (No Soaking). A simple, delicious pot of beans. Cook pinto beans, from dry beans, in about an hour thanks to pressure cooking.
I already have a pinto bean recipe on DadCooksDinner. But the recipe I use the most, simple Instant Pot Pinto Beans, aren't on the blog. Let's fix that, shall we? Here's the method I use on weeknights.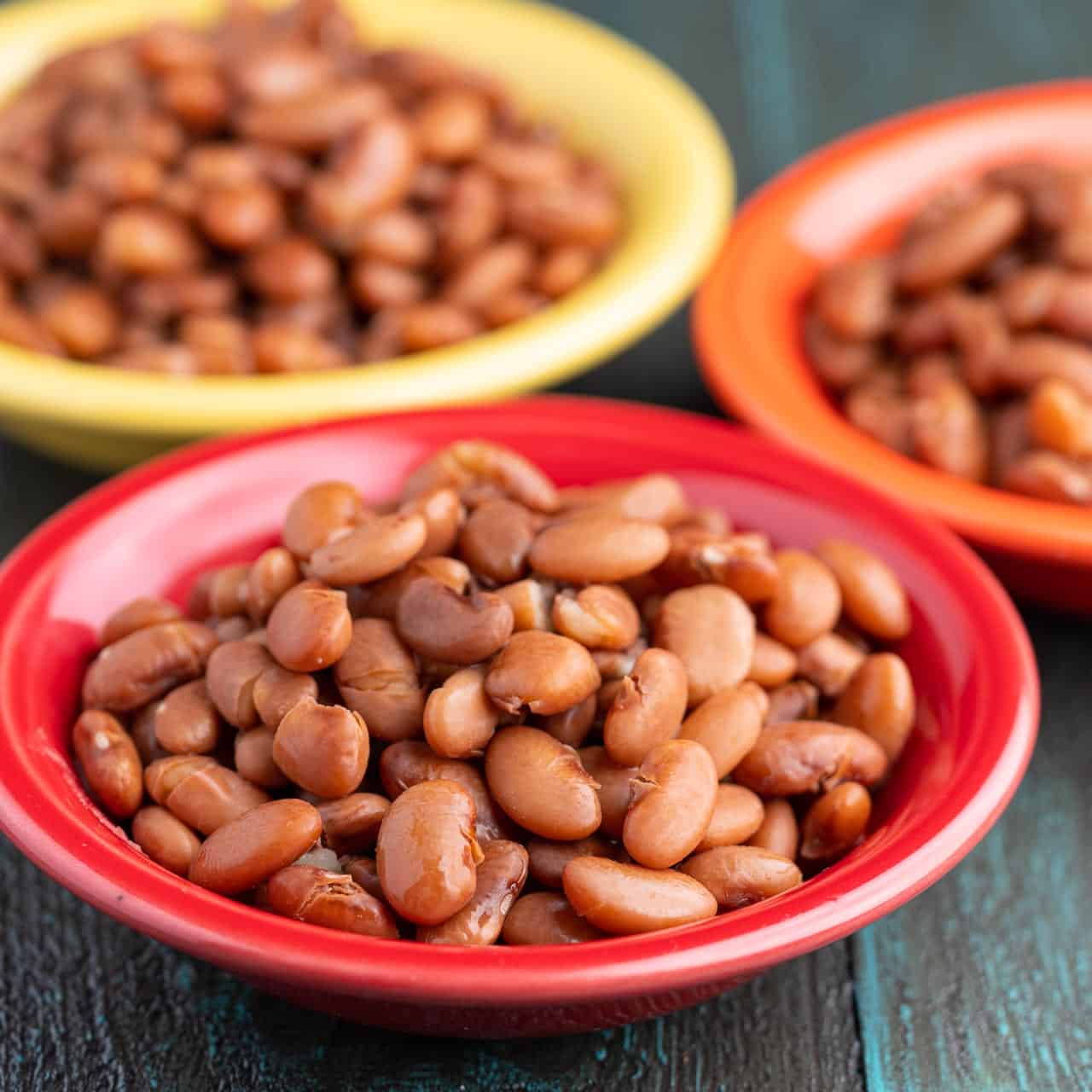 No soaking, no fancy stuff, just a simple pot of beans, cooked from dried in about an hour. But, If you do want to get fancy, use these pinto beans to make refried beans: Instant Pot Refried Pinto Beans. If you're looking for another bean recipe, check out my red kidney beans in instant pot.
Jump to:
🤨 Do You Need to Soak Beans Before Pressure Cooking?
I get the "to soak, or not to soak?" question all the the time. I don't soak my pinto beans in this basic recipe. They don't need an overnight soak, and cook to tenderness with 40 minutes at high pressure.
That doesn't mean you can't soak the beans. They turn out fine, though the bean broth isn't quite as full bodied. Soaked beans cook much quicker, 18 minutes at high pressure. I use that when I'm cooking the beans with other ingredients, where the shorter cooking time keeps me from overcooking the whole dish just to get the beans tender.
🥫Ingredients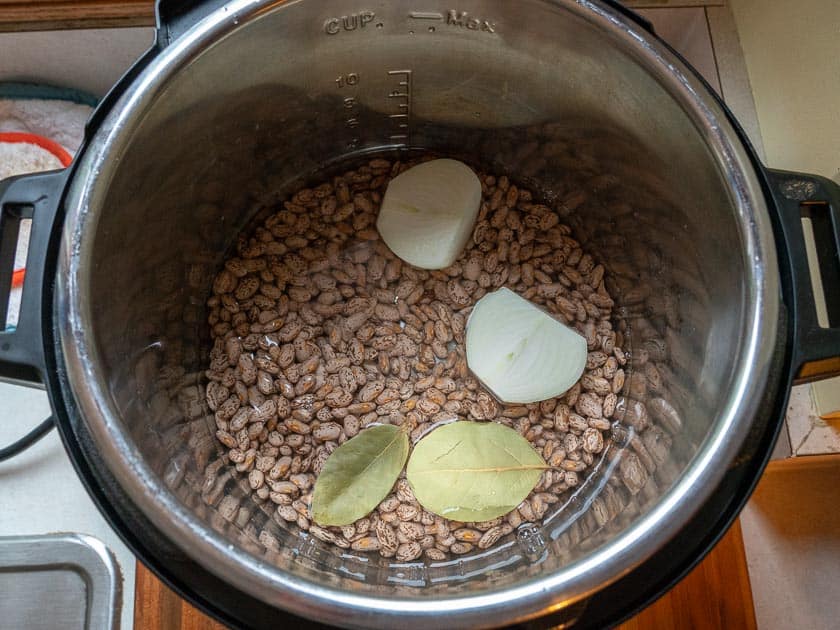 This is a simple dried bean recipe, so the ingredients list is pretty basic:
Dried pinto beans
Onion
Bay leaf
For details, see the recipe below.
🥘 Substitutions
Don't have an onion? Substitute a couple of cloves of unpeeled garlic.
Don't have a bay leaf? Skip it. The beans will still be good.
Want to make richer beans? Substitute chicken broth (preferably homemade chicken broth) for the water. If you're vegetarian (or vegan), you can use vegetable broth. (Or just stick with the water - this recipe is vegan as written.) If you use store-bought broth, try to get low sodium broth, and skip the sea salt, because store-bought broth is already salty.
Want to flavor the beans a little? Add a teaspoon of ground cumin, or ground chili powder to the pot with the beans.
🛠 Equipment
A 6-quart pressure cooker. Pressure cooker dried beans are one of the reasons I became a pressure cooker convert. Try them - you'll never go back to canned beans. (OK, maybe you will, for convenience - but see the Storage section for tips on make ahead freezer beans.)
How to Make Instant Pot Pinto Beans
This pinto bean recipe is straightforward, because I like a simple pot of beans.
Sort and rinse the dry pinto beans. Get rid of any stuff in the bag that's not a bean, and toss any broken beans.
Put the dry pinto beans, 6 cups of water, ½ teaspoon of baking soda, a peeled onion, and a couple of bay leaves in an Instant Pot (or other pressure cooker).
Lock the lid, and pressure cook at high pressure for 40 minutes. Then, quick release the pressure.
Serve, or freeze for later in their broth in 2-cup containers.
📏Scaling
This recipe scales down easily - cut everything in half if you don't need as many beans, or have a 3-quart pressure cooker. Scaling up runs into space issues; Instant Pot recommends not filling the pot over the half-full line if you're cooking beans. So, if you have an 8-quart pressure cooker, you can double this recipe.
What is the ratio of water to beans in an Instant Pot?
My ratio is 1 pound of beans to 6 cups of water for unsoaked beans.
How much water do you need for 2 pounds of beans in an Instant Pot
You need 12 cups of water for 2 pounds of beans. But as I said above, you should only do this in an 8-quart or larger Instant Pot; the Instant Pot manual says to not fill over the half-full line for beans.
How many cups is 1 pound of pinto beans?
A pound of pinto beans is about 2¼ cups, so I just measure out a heaping 2 cups. Or I just go with 2 cups - that extra quarter cup of beans doesn't change the recipe.
💡Other Tips and Tricks
Quick Release: I quick release the pressure for these beans. The sudden drop in pressure throws the water into a boil, which roughs up the beans, releasing starch and thickening the pot liquid.
Natural Release: If you would prefer to use a natural release, cut the pressure cooking time back by five minutes. When the pressure cooking time is up, let the pressure come down naturally for at least 15 minutes. You can let it come down all the way, or quick release any remaining pressure if you're in a hurry.
Salt your bean water! "Salt toughens beans" is a myth. Salting before cooking helps season the beans all the way through as they cook. It also helps with older beans. Speaking of older beans...
Baking soda: Baking soda helps with older beans, so they tenderize. That's why I include it in most of my bean recipes.
If your beans are still tough when the cooking time is over, especially any "floaters" at the top of the pot, give the beans a stir, lock the lid, and pressure cook for another five minutes. Older beans take longer to cook, and if the beans have been sitting in the shelf at your store for a while, they may need extra time.
Simmer to thicken: If you have the time, and want thicker bean liquid, simmer the beans for 20 minutes after pressure cooking. I set my Instant Pot to Sauté mode adjusted to low, set the timer to 20 minutes, and leave the lid off to let the broth evaporate.
What to serve with pinto beans
Pinto beans are a traditional side dish for most Southwestern meals. Serve them with Texas Red Chili, Tacos, Enchiladas, Fajitas...If it's Tex-Mex (or Tex, or Mex), it's perfect with pinto beans.
Print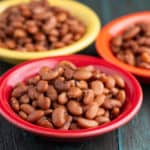 Instant Pot Pinto Beans
---
Author:

Mike Vrobel

Total Time:

1 hour 10 minutes

Yield:

6 cups

of beans

1

x
Description
Instant Pot Pinto Beans. Simple, delicious, dried beans, cooked in about an hour thanks to pressure cooking.
---
1

pound Pinto Beans

6 cups

water

1 teaspoon

fine sea salt

½ teaspoon

baking soda (optional)

1

small to medium onion, peeled and halved

2

bay leaves (optional)
Cilantro for garnish (Optional)
---
Instructions
Sort and rinse the beans: Sort the pinto beans, removing any broken beans, stones, and dirt clods. Put the beans in a strainer and rinse under running water.
Pressure cook the beans for 40 minutes with a quick pressure release: Put the rinsed beans in the Instant Pot or pressure cooker pot. Pour in the 6 cups of water, then stir in the teaspoon of salt, and the baking soda. Add the onion and bay leaves. Lock the lid on the pressure cooker. Cook on high pressure for 40 minutes in an electric pressure cooker or 35 minutes in a stovetop PC. (In an Instant Pot, use "Manual" or "Pressure Cook" mode set for 40 minutes). Quick release the pressure in the pot.
Serve: Remove the pressure cooker lid – open it away from you to protect yourself from the hot steam. Discard the onion and bay leaves. Ladle the beans into bowls, and serve.
Equipment
Notes
Want even thicker bean broth? After pressure cooking, remove the lid and simmer on Sauté Mode, uncovered, for 15 minutes. Or, if you're in a hurry, scoop a cup of beans and broth out and puree them with a blender (I use my stick blender), then stir the pureed beans back into the pot.
Want to soak your beans? Do the sort and rinse step, then cover the beans with water overnight. Drain the beans, and continue with the recipe, cutting the pressure cooking time to 18 minutes.
Prep Time:

10 minutes

Cook Time:

1 hour

Category:

Side Dish

Method:

Pressure Cooker

Cuisine:

Tex-Mex
Keywords: Instant Pot Pinto Beans, Pressure Cooker Pinto Beans
☃️ Storage
A 2-cup container of cooked pinto beans, with cooking liquid, replaces a 15-ounce can of beans from the grocery store. They'll last in the refrigerator for a few days, and freeze for up to 6 months. I always make extra beans, and freeze the leftovers for use in other recipes. Freezer beans are ready to use with about 5 minutes in the microwave, and are so much better than canned.
🤝 Related Posts
Pressure Cooker Refried Pinto Beans - DadCooksDinner
Pressure Cooker Refried Black Beans - DadCooksDinner
Pressure Cooker Southwestern Pinto Bean Soup - DadCooksDinner
Instant Pot Chorizo Chili (with Pinto Beans)
Recipe for Instant Pot Blacked Eyed Peas
My other Instant Pot and Pressure Cooker Recipes
Enjoyed this post? Want to help out DadCooksDinner? Subscribe to DadCooksDinner via email and share this post with your friends. Want to contribute directly? Donate to my Tip Jar, or buy something from Amazon.com through the links on this site. Thank you.