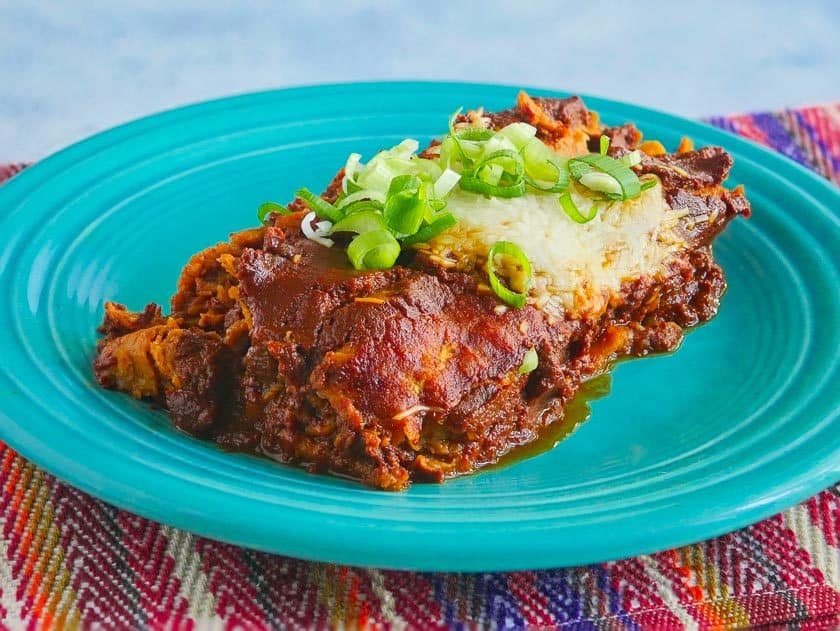 ---
Thank you to my friends at Certified Angus Beef® Brand for sponsoring DadCooksDinner.Please check them out at hashtag #BestBeef for more beef recipes, and visit them at the Certified Angus Beef Kitchen Community on Facebook. Thank you!
---
It started with my brother Pat's brisket. He did a real barbecued packer brisket, 12+ pounds, low and slow for 18 hours. He knew we wouldn't finish it in one sitting…we're carnivores, but that's a lot of beef, even for us. His plan for the leftovers was almost as good as the original brisket - beef brisket enchiladas.
I came home from vacation, opened up the freezer, and saw the brisket I bought back in May. Sigh. I had plans for it, a lazy weekend, multi-day, low and slow barbecue. And then life intervened. Suddenly, it's August, the kids are back in school, and I need to free up space in the freezer. Time to get to work.
I trim the brisket, save the point for another meal, and cut the flat into cubes so it will cook quicker. Instead of store-bought Enchilada sauce, I toss dried peppers, an onion, and some garlic in the pot. They're the base of my homemade enchilada sauce. They soften up in the long cooking time, and then I blend them up with tomatoes and some defatted pot liquid.
(If dried peppers are a step too far, you can use store-bought enchilada sauce - see the recipe notes. In fact, if you have a couple of pounds of leftover beef from my pressure cooker barbecued brisket, you can use canned enchilada sauce and skip to step 5 - shred the beef.)
Most pressure cooker recipes are quick…but not this one. Enchiladas are a multi-step process. Cooking the brisket, shredding the beef, rolling the enchiladas, and baking - it takes a couple of hours, end to end. Now, a lot of that is free time, because there's not much to do while the pressure cooker is cooking, or while the enchiladas are baking. The pressure cooker does what it does best - compress time, and cook the brisket in about an hour. (Not that there's anything wrong with low and slow barbecued brisket - but sometimes you don't have a whole weekend to dedicate to a cooking project.) My only request: don't try this recipe on a busy weeknight - make tacos instead.
Video: Pressure Cooker Beef Brisket Enchiladas - Time Lapse (3:05)
Pressure Cooker Beef Brisket Enchiladas
[YouTube.com]
Print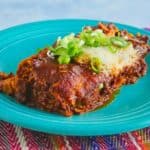 Pressure Cooker Beef Brisket Enchiladas with Red Chile Sauce
---
Author:

Mike Vrobel

Total Time:

1 hour 50 minutes

Yield:

14

Enchiladas

1

x
Description
Pressure Cooker Beef Brisket Enchiladas with Red Chile sauce. Shredded beef brisket smothered with homemade enchilada sauce from my pressure cooker.
---
2

pounds beef brisket, cut into 1 ½-inch squares

1 ½ teaspoons

fine sea salt

½ teaspoon

fresh ground black pepper

1

large onion, peeled and halved

4

cloves garlic, peeled and left whole

6

dried guajillo or dried New Mexico chile peppers, seeded and stemmed

1 cup

water

28

-ounce can fire roasted diced tomatoes with liquid

1 Tablespoon

apple cider vinegar

8 ounces

shredded Monterey Jack cheese

14

corn tortillas
Minced green onions for garnish
---
Instructions
Stem and seed the peppers: Use kitchen scissors to cut the stems off of the dried peppers, then cut along one side of the pepper to open it up, and shake out the seeds. Rinse the peppers.
Fill the pressure cooker: Sprinkle the brisket pieces with 2 teaspoons salt and pepper, then loosely pile them in the pressure cooker. Top with the onions, garlic, and dried chile peppers, then pour in the water.
Pressure cook the brisket for 40 minutes, with a short natural pressure release: Lock the lid on the pressure cooker. Cook on high pressure for 40 minutes in an electric pressure cooker, or 35 minutes in a stovetop PC. Let the pressure to come down naturally for 10 minutes, then quick release any pressure left in the pot. (Note: I use the short natural pressure release because I'm in a hurry to move on to the enchiladas; if you have the time, go with a full natural pressure release.)
Make the sauce: Remove the beef from the pressure cooker with tongs and a slotted spoon, and set aside. Strain everything left in the pot - the peppers, onions, garlic, and liquid - through a strainer, then put the pot liquid in a fat separator. Put the solids from the strainer into a blender, pour the fire roasted diced tomatoes into the blender, and add 1 cup of defatted pot liquid. Holding the lid of the blender down with a kitchen towel, start the blender on low and slowly turn it up to highest speed. Blend for 2 minutes, or until the sauce is completely smooth, then stir in the apple cider vinegar and set aside.
Shred the beef: Shred the beef with a pair of forks, then stir in ½ cup of the blender sauce to moisten.
Warm the tortillas: Put the stack of tortillas in a zip-top bag, fold the bag over, then microwave on high for 1 minute, and let stand for 1 minute. (Or use a tortilla warmer.)
Build and bake the enchiladas: Set the oven to 350°F. Roll ¼ cup shredded beef into each tortilla, then set them side by side in a 9-inch by 13 -inch baking dish - 10 down the length of the dish, then squeeze 4 in on the side. Pour the rest of the sauce from the blender over the enchiladas, making sure to completely cover the tortillas in sauce. (Dry tortilla edges come out tough). Sprinkle the Monterey Jack cheese over the top of the sauce. Put the pan in the oven and bake until the sauce is bubbling and the cheese has melted, about 20 minutes. Pull the pan out of the oven, sprinkle with minced green onions to garnish, and serve.
Notes
I had about a cup of shredded meat left over, and a few extra tortillas that wouldn't fit into the baking dish, so I had a few shredded beef tacos on the side as a Chef's treat.
If you want to substitute flour tortillas, get 6-inch tortillas ("fajita size"), and fill them with a ½ cup of each. You'll only get 10 to 12 in your pan, depending on how tight you roll and how much you squeeze them.
This recipe doubles easily - if you want to make two pans of enchiladas, start with 4 pounds of brisket, etc…
Want to use store-bought enchilada sauce? Substitute a 28-ounce can of enchilada sauce, and skip the dried peppers, onion, garlic, and diced tomatoes.
Tools
Prep Time:

30 minutes

Cook Time:

1 hour 20 minutes

Category:

Sunday Dinner

Method:

Pressure Cooker

Cuisine:

Mexican
What do you think?
Questions? Other ideas? Leave them in the comments section below.

Related Posts
Pressure Cooker Boneless Beef Short Rib Tacos with Dried Chile Pepper Sauce
Pressure Cooker Shredded Chicken in Black Mole Sauce
Pressure Cooker Braised Lamb Shoulder Tacos (Cordero Guisado) - Dad Cooks Dinner
My other Pressure Cooker Recipes
My other Pressure Cooker Time Lapse Videos
Enjoyed this post? Want to help out DadCooksDinner? Subscribe to DadCooksDinner via eMail or RSS reader, recommend DadCooksDinner to your friends, and buy something from Amazon.com through the links on this site. Thank you.