Refried beans are a staple in my house. Back when my oldest was a toddler, he went through a phase where he would only eat "smushy beans", so I've practiced this recipe a lot.
Canned beans are OK - they're good, and consistent - but if you want great refried beans, you have to cook your own. Homemade beans have an extra depth of flavor, and the cooking liquid is almost better than the beans. It's a shame that cooking dried beans takes so long.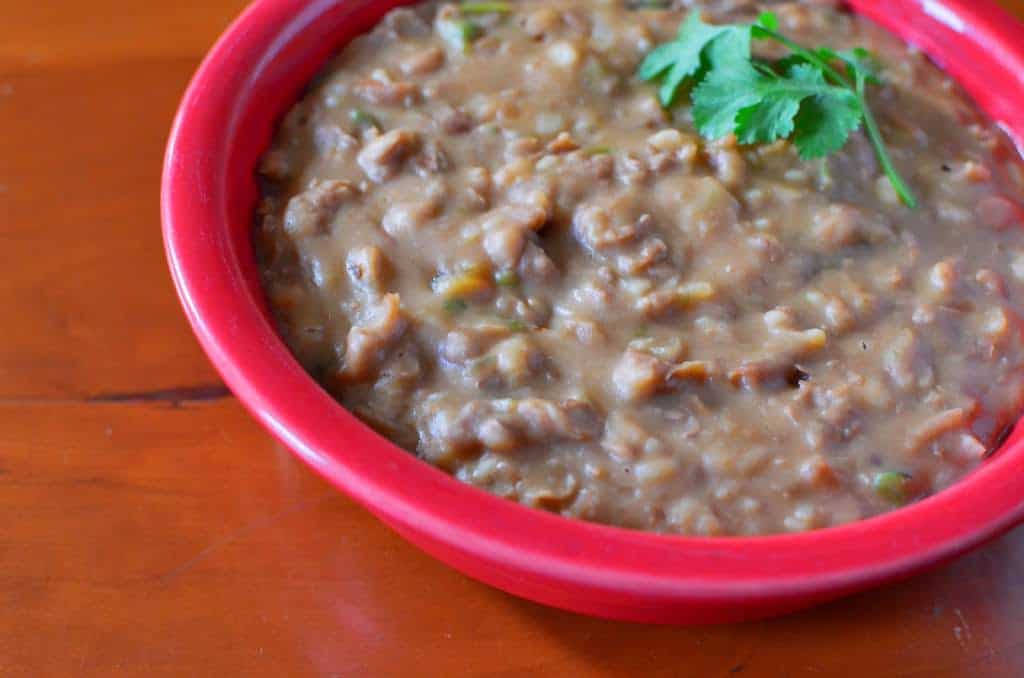 Jump to:
That's where the pressure cooker comes in. A cup of dried beans, three cups of water, and 45 minutes of cooking time (30 minutes under pressure, plus 15 minutes for the pressure to come down naturally and the beans to finish cooking). Homemade refried beans, from scratch, in about an hour. And most of that cooking time involves staring at the pressure cooker.
For weeknight beans, I try to get the pressure cooking going early. I don't want to be staring at the pressure cooker, willing it to finish, when everyone is sitting around the table. As soon as I get home, I throw everything in my Instant Pot, set the cooking time, and then go about the rest of my evening routine. The electric PC shuts itself off when the beans are done. The beans can sit in their liquid for a while once they're cooked. That way, the beans are waiting on me, not the other way around.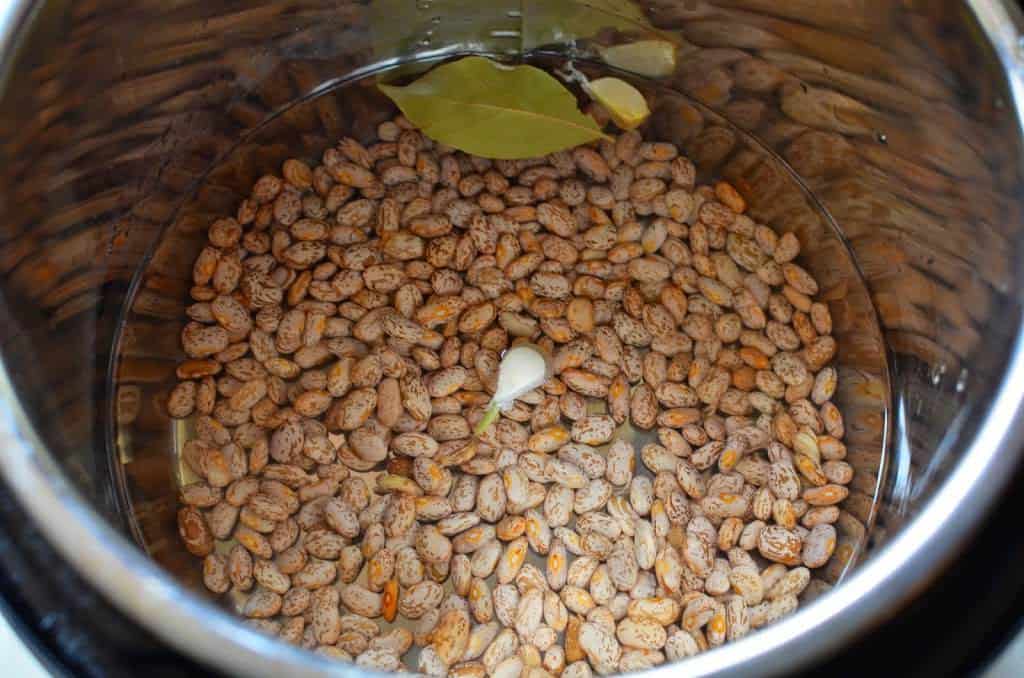 🥫Ingredients
Dried Pinto beans
Garlic
Bay leaf
Vegetable oil
Onion

Jalapeño
See recipe card for quantities.
🥘 Substitutions
If you can't take the heat, skip the Jalapeño pepper. If you want it hotter, replace the jalapeño with a serrano pepper, or add a second jalapeño
If you want to use canned beans, replace the dried beans with 2 cans of drained beans, and skip to the "Sauté the aromatics" step.
🛠 Equipment
I cooked this in my 6-quart pressure cooker, but it will fit in a 3-quart or larger pressure cooker. (Pressure cooker dried beans are one of the key reasons I became a pressure cooker convert.)
Potato masher
12-inch frypan (Mashing and simmering the beans is easier in a wide pan, but you can use your Instant Pot if you don't want to dirty another pan.)

📏Scaling
This recipe halves easily. You can double the beans in a 6-quart Instant Pot or other pressure cooker, but it might overflow a 12-inch frypan, so I switch to my 3-quart sauté pan or dutch oven for the sauté and mash step.
🤨 Soaking pinto beans?
I get the "to soak, or not to soak?" question all the the time. I don't soak my cannellini beans in this basic recipe. They don't need an overnight soak, and cook to tenderness with 35 minutes at high pressure.
That doesn't mean you can't soak the beans. They turn out fine, though the bean broth isn't quite as full bodied. Soaked beans cook much quicker, 12 minutes at high pressure. I use that when I'm cooking the beans with other ingredients, where the shorter cooking time keeps me from overcooking the whole dish just to get the beans tender.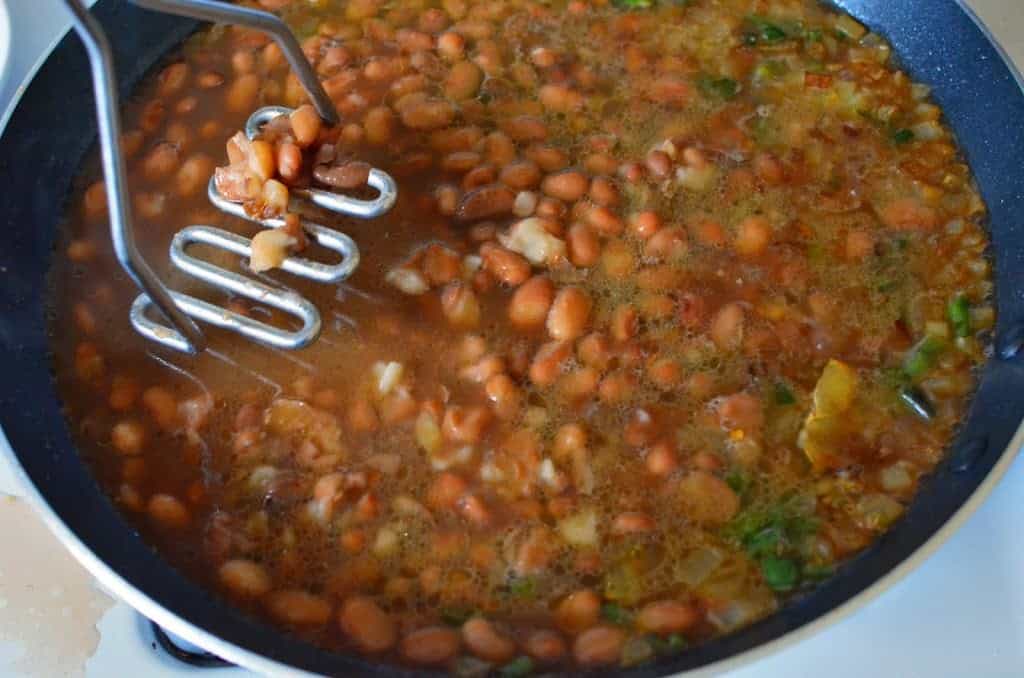 💡Tips and Tricks
I use both an Instant Pot (to pressure cook the beans) and a frypan (to sauté everything) in the instructions. You can make this recipe entirely in your Instant Pot by cleaning the pot liner out and switching to sauté mode when it comes to the Sauté step. I find it easier to work with a frypan, especially for simmering down the beans.
See my Instant Pot Pinto Beans recipe for more bean cooking details.
For an extra touch of flavor, sprinkle crumbled queso fresco (or substitute shredded pecorino romano) on top of the beans right before serving.
These are rustic, chunky refried beans. If you want smooth beans, use a food processor. After step 1 is complete, pour the beans and their liquid into a food processor. Process until smooth, about 1 minute.
No pressure cooker? No problem. Cook the beans in a large sauce pot with a lid. Instead of pressure cooking, bring the pot to a boil, reduce to a simmer, and cover with the lid ajar so some steam can escape. Cook for 2 hours, or until the beans are completely cooked. You may have to add water during the cooking time to keep the beans submerged. Once the beans are cooked, continue with Step 2.
No dried beans? No problem. Canned beans will work just fine. Replace step 1 with two 15- to 16-ounce cans of drained pinto beans, and add a cup of water to help the beans simmer in the pan.
Use make-ahead beans: Why cook a cup of beans when you can cook a pound? I freeze leftover beans in 2 cup containers, covering them with their liquid. Then this recipe is a quick weeknight side dish. I pull a container of beans out of the freezer, and thaw it in the microwave while I sauté the onions in step 2.
Adapted From: Lorna Sass, Pressure Perfect
Print
🔪Recipe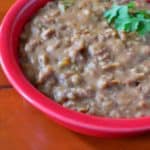 Pressure Cooker Refried Pinto Beans
---
Author:

Mike Vrobel

Total Time:

1 hour 10 minutes

Yield:

4

-

6

1

x
Description
Pressure Cooker Refried Pinto Beans - rustic, chunky beans from the pressure cooker.
---
Beans
8 ounces

(

1

heaping cup) dried pinto beans, sorted and rinsed

2

cloves garlic (whole, with skins still on)

1

bay leaf

3 cups

water
Aromatics
¼ cup

vegetable oil

1

medium onion, minced

½ teaspoon

fine sea salt

2

cloves garlic, smashed

1

jalapeño, minced

2 teaspoons

fine sea salt
---
Instructions
Pressure cook the beans: Put the beans, whole garlic cloves, bay leaf, and water in the pressure cooker. Stir, and then lock the pressure cooker lid, Cook on high pressure for 35 minutes in an Instant Pot or other electric pressure cooker ("Manual" or "Pressure Cook" mode , or 30 minutes in a stovetop pressure cooker. Turn off the heat and let the pressure come down naturally, about 10 minutes. Remove the lid and discard the bay leaf and garlic cloves. (Save the beans and the cooking liquid).
Sauté the aromatics: While the pressure is coming down on the beans: heat the vegetable oil in a large fry pan over medium-high heat until the oil is shimmering. Add the onion, smashed garlic cloves, jalapeño, and ½ teaspoon salt. Sauté until the onions are browned around the edges, about five minutes. (If the beans aren't done, turn the heat off and move the pan to a cool burner. When the beans are done, put the pan back over medium-high heat and continue with step 3.)
Fry the beans: Add the beans and all of their cooking liquid to the fry pan. Be careful - the hot oil may splatter when the wet beans are added. Sprinkle 2 teaspoons of salt over the beans. Start mashing the beans, stirring as you go to get the onions evenly distributed. Keep cooking the beans, mashing and stirring occasionally, until the beans thicken, about eight minutes. Serve and enjoy!
Equipment
Prep Time:

10 minutes

Cook Time:

1 hour

Category:

Pressure Cooker

Cuisine:

Tex-Mex
Keywords: Pressure Cooker Refried Pinto Beans, Instant Pot Refried Pinto Beans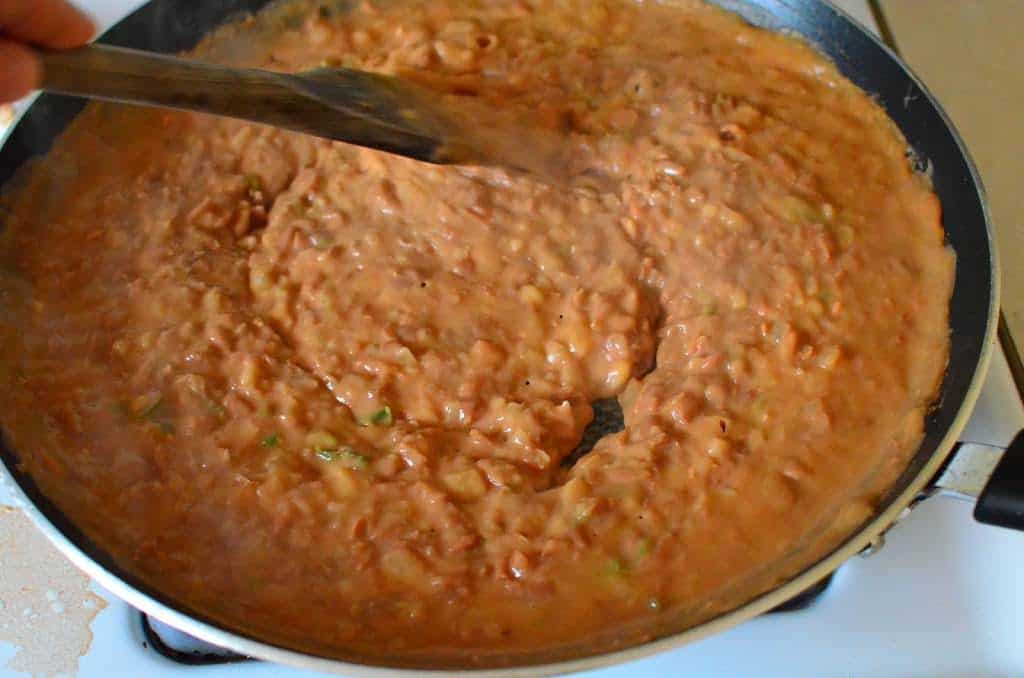 ☃️ Storage
To make the beans ahead, pressure cook them, and refrigerate them in 2-cup containers for up to 3 days, or freeze for up to 6 months. To make the recipe, thaw out the beans and continue with the "Sauté" step.
This recipe freezes well, in 2-cup containers, for up to 6 months.
🤝 Related Posts
Pressure Cooker Pinto Beans in Tex-Mex Broth
Pressure Cooker Pasta and Bean Soup (Pasta Fagioli)
Pressure Cooker Mexican Black Bean and Noodle Soup (Frijoles y Fideos)
Click here for my other pressure cooker recipes.
*Enjoyed this post? Want to help out DadCooksDinner? Subscribe to DadCooksDinner using the RSS or Email options on the right, link to this post from your blog, recommend DadCooksDinner to your friends, or buy something from Amazon.com through the links on this site. Thank you.