Pressure Cooker Pinto Beans, Tex-Mex style with bacon, onions, jalapeno, garlic, and cumin.
I consider beans an essential side dish for Tex-Mex meals. Give me some tortillas, some salsa, and a bowl of brothy beans, and I'm a happy guy.
While there's nothing wrong with plain beans, seasoned with a little salt, I like to boost the flavor with some aromatics, spices, and...bacon. This is a cowboy cooking* inspired version of beans, from the north of Mexico and south of Texas, where pinto beans are the local bean of choice, and culinary ideas have been crossing the border for years. It's a little more south of the border, more Caballero than Cowboy, but what it really is nowadays is the perfect example of a Tex-Mex dish using the best of both worlds.
*Cue Blazing Saddles
clip..."How 'bout some more beans, boss?" "I'd say you've had enough!" My inner 13 year old giggles every time I think about it.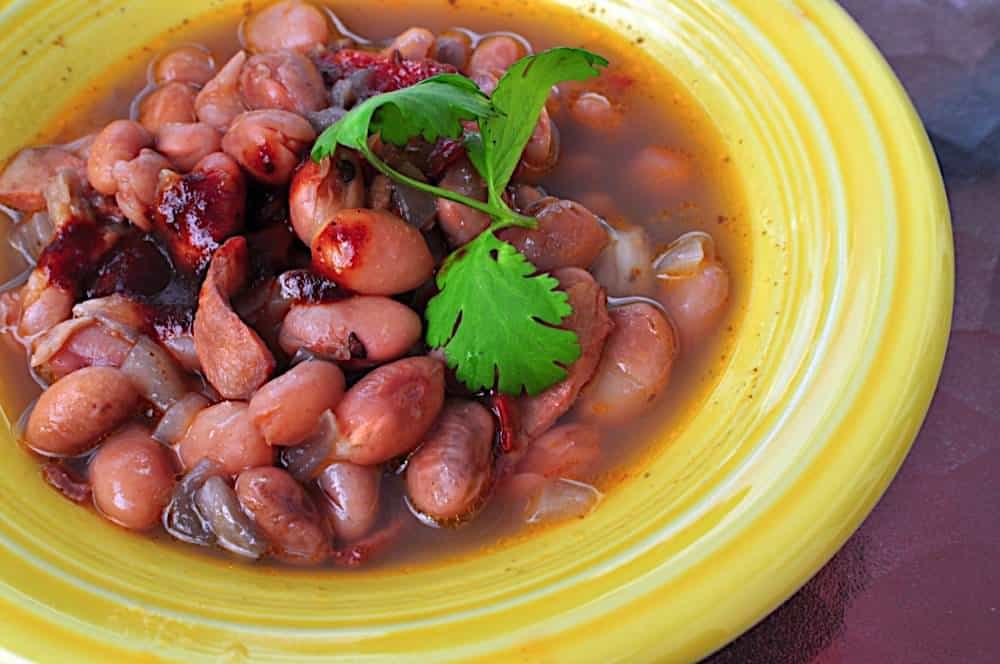 Jump to:
I'm using a "brine the beans while soaking" technique I learned from Cooks Illustrated. I sort and soak the beans the night before, or first thing in the morning; by the time I come home from work they're ready to go, and the soaking cuts the cooking time down dramatically. By soaking the beans, I can have my brothy, earthy side dish in right around a half an hour.
🥫Ingredients
This is a simple dried bean recipe, so the ingredients list is pretty basic
Dried Pinto beans
Bacon
Vegetable oil
Onion
Jalapeno
Garlic
Cumin
See recipe card for quantities.
🥘 Substitutions
No dried pinto beans? Check the tips and tricks section for canned bean instructions.
If you want to be really authentic, replace the vegetable oil in the recipe with lard. Pork fat makes everything taste better!
Or, go the other way, with the vegetarian option: skip the bacon entirely.
If you want smokier beans, substitute a canned chipotle en adobo, with sauce, for the fresh jalapeño.
Or, skip the jalapeño if you don't want any heat.
🛠 Equipment
A 6-quart pressure cooker. Pressure cooker dried beans are one of the reasons I became a pressure cooker convert, and love my Instant Pot. Try them - you'll never go back to canned beans. (OK, maybe you will, for convenience - but see the Storage section for tips on make ahead freezer beans.)
📏Scaling
This recipe scales down easily - cut everything in half if you don't need as many beans, or have a 3-quart pressure cooker. Scaling up runs into space issues; if you have an 8-quart pressure cooker, you can double this recipe, but it's too much to fit in a 6-quart pressure cooker.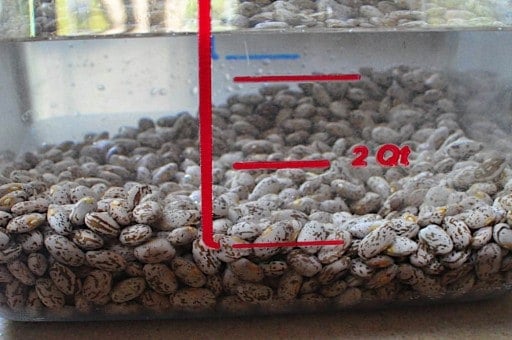 🤨 Soaking pinto beans
I get the "to soak, or not to soak?" question all the the time. I go both ways with my pinto beans. In this recipe I soak them overnight, with 18 minutes under pressure...when I remember.
When I forget to soak the beans, I skip the soaking step, and pressure cook the un-soaked beans for 40 minutes at high pressure. I get the same results both ways, so do whichever works better for you.
💡Tips and Tricks
Salt your bean water! "Salt toughens beans" is a myth. Salting before cooking helps season the beans all the way through as they cook. That's why I'm brining while I soak.
Try to buy beans from a store with lots of bean turnover. Beans dry out as they age, which makes them a little tougher to cook.
If your beans are still tough when the cooking time is over, especially any "floaters" at the top of the pot, you probably got some old beans. Give the pot a stir, lock the lid, and pressure cook the beans for another five minutes.
Simmer to thicken: If you have the time, and want thicker bean liquid, simmer the beans for 20 minutes after pressure cooking. I set my Instant Pot to Sauté mode adjusted to low, set the timer to 20 minutes, and leave the lid off to let the broth evaporate.
Use make-ahead beans: If you have pre-cooked pinto beans in the freezer, you can use those instead of cooking a new batch. Sauté the aromatics and the bacon, then add 4 cups of pre-cooked beans with their cooking liquid. Don't pressure cook the beans, just bring them to a boil, then simmer for 15 minutes to let the flavor mingle. (I either do this on the stovetop, or use Sauté mode in my Instant Pot for everything.
Use canned beans: If you're desperate, you have my permission: use canned beans. Drain and rinse two 15-ounce cans of pinto beans. Like the "make ahead beans", above, don't pressure cook, just do the Sauté the aromatics and the bacon step, add the beans and 1 cup of water, and simmer for 15 minutes to let the flavors mingle.
Adapted From: Robb Walsh The Tex-Mex Grill and Backyard Barbacoa Cookbook
Print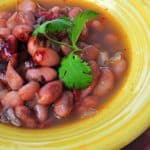 Pressure Cooker Pinto Beans in Tex-Mex Broth
---
Author:

Mike Vrobel

Total Time:

8 hours 45 minutes

Yield:

6

-8

1

x
Description
Pressure Cooker Pinto Beans, Tex-Mex style with bacon, onions, jalapeno, garlic, and cumin.
---
Soaking Beans
1

pound dried pinto beans, sorted and rinsed

2 teaspoons

fine sea salt

8 cups

water
Aromatics
2 ounces

bacon, cut into 1-inch pieces (I cut

1

inch off the end of a slab of bacon)

1

onion, diced

1

jalapeno, minced

½ teaspoon

fine sea salt

3

cloves garlic, minced

1 teaspoon

ground cumin
Bean cooking ingredients
5 cups

water
Optional - 1 tablespoon lard (or vegetable oil)

1

bay leaf

1 teaspoon

fine sea salt

½ teaspoon

fresh ground black pepper
---
Instructions
Soak the pinto beans: At least 8 hours before cooking, sort the pinto beans, removing broken beans, stones, and dirt clods. Rinse the beans, put them in a large container, sprinkle with 2 teaspoons of salt, pour in the 8 cups of water, and stir to dissolve the salt. Let the beans soak for at least 8 hours, or overnight.
Sauté the aromatics: Put the bacon in the pressure cooker pot over low heat, (Saute mode adjusted to low in an Instant Pot) and cook until the bacon renders its fat crisps up, about 10 minutes. Remove the bacon to a paper towel lined plate with a slotted spoon, leaving as much of the bacon fat behind as possible. (There should be 1 to 2 teaspoons of fat left in the pan; if there is a lot less, add a little vegetable oil.) Turn the heat up to medium (Sauté mode adjusted to medium), add the onion and jalapeno, sprinkle with ½ teaspoon of  salt, and sauté, stirring occasionally, until the onions soften, about 5 minutes. Make a hole in the middle of the onions and add the garlic and ground cumin; let sit in the pan for 1 minute, or until you can smell the garlic cooking. Stir the garlic and cumin into the onions.
Cook the pinto beans: Drain the pinto beans and add them to the pressure cooker. Pour in the water, stir, then add the bay leaf and vegetable oil. Lock the lid on the pressure cooker, and pressure cook on high pressure for 18 minutes (15 minutes in a stovetop PC). Quick release the pressure in the pot. Remove the lid carefully, opening away from you - even when it's not under pressure, the steam in the cooker is very hot.
Finish the beans: Discard the bay leaf, and stir in the reserved bacon. Stir in the teaspoon of salt and ½ teaspoon of pepper, serve, and enjoy!
Equipment
Prep Time:

8 hours

Cook Time:

45 minutes

Category:

Pressure Cooker

Cuisine:

Tex-Mex
Keywords: Pressure Cooker Pinto Beans in Tex-Mex Broth, Instant Pot Pinto Beans in Tex-Mex Broth
☃️ Storage
A 2-cup container of beans, with cooking liquid, replaces a 15-ounce can of beans from the grocery store. They'll last in the refrigerator for a few days, and freeze for up to 6 months. I always make extra beans, and freeze the leftovers for use in other recipes. Freezer beans are ready to use with about 5 minutes in the microwave, and are so much better than canned.
🤝 Related Posts
Basic Technique: Pressure Cooker Beans
Refried Pinto Beans
Click here for my other pressure cooker recipes.
Adapted from:
Robb Walsh The Tex-Mex Grill and Backyard Barbacoa Cookbook
*Enjoyed this post? Want to help out DadCooksDinner? Subscribe using your RSS reader or by Email, recommend DadCooksDinner to your friends, or buy something from Amazon.com through the links on this site. Thank you!