Pressure Cooker Red Beans and Rice. The Cajun classic, ready in about an hour thanks to pressure cooker beans.
Everything I know about New Orleans comes from television. The mystery of the week set in the French Quarter, Justin Wilson on PBS, and pregame shots of the Superdome parking lot, with tailgaters chanting "Who dat!" while stirring kettles of red beans. (As I've said before, this is the biggest hole in my culinary knowledge. I need to make a pilgrimage to New Orleans)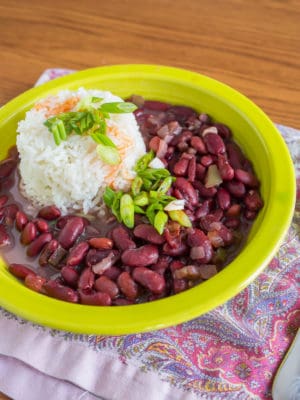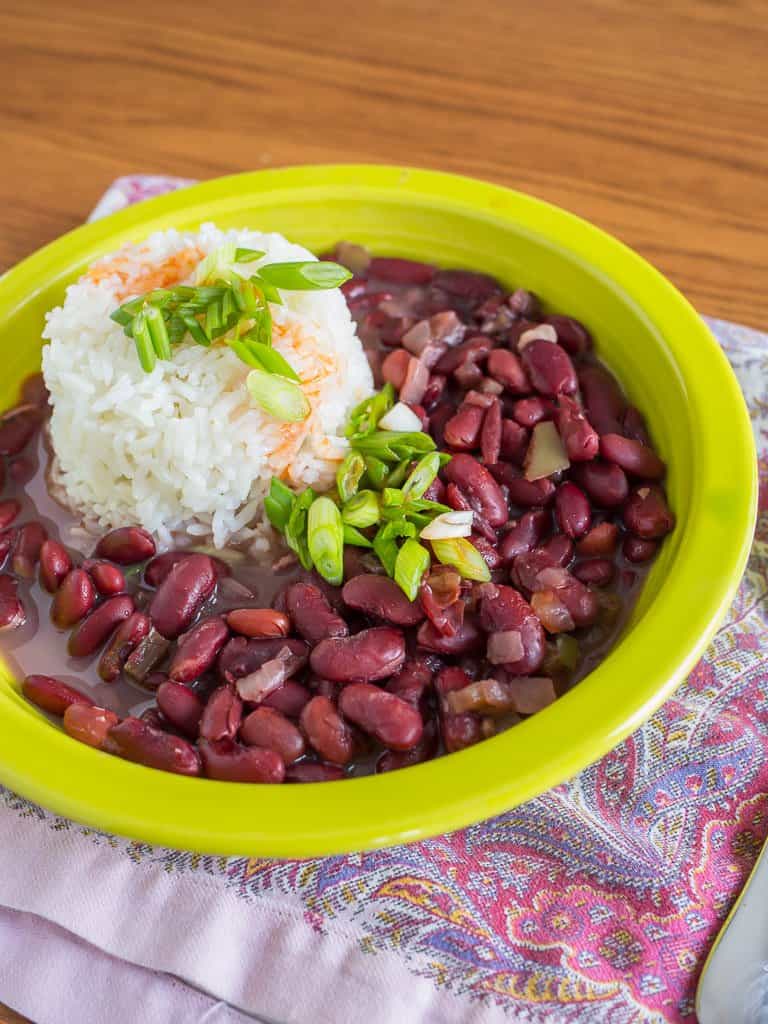 I don't let that stop me from celebrating New Orleans every Fat Tuesday. Why would I pass up the chance to cook from one of America's great regional cuisines? But, there is one creole recipe I make year round, not just on Mardi Gras - pressure cooker red beans and rice.
Under pressure, red beans and rice are done in about an hour, perfect for both Fat Tuesday and a regular Tuesday after work. All I have to do is sort and soak the beans before I go to bed the night before. (If I forget, I can cook the beans without soaking, but it will take a little more than an hour to get dinner on the table.)
(This recipe is similar to my Cajun Pinto beans recipe, and if you need a white rice recipe, here is my stovetop white rice recipe, and my pressure cooker rice recipe.)
Cajun vs Creole?
Cajun is rural, and Creole is urban. Cajun is the Acadians, fleeing religious persecution in France to Canada, and then fleeing the British takeover to America, settling in the countryside and bayous surrounding New Orleans. Creole is the cuisine of the city itself, a blending of the original aristocratic French settlers with the African cuisine of slaves and free people of color. For more info, see this article at [LouisianaTravel.com].
Jump to:
🥫Ingredients
This is a simple dried bean recipe, so the ingredients list is pretty basic
Dried red kidney beans
Smoked Sausage
Onion, Celery, Bell Pepper (the Cajun Trinity)
Garlic (Bam!)
Thyme
Bay leaf
See recipe card for quantities.
🥘 Substitutions
Small red beans are a great substitute, and pinto beans will work in a pinch. Both cook quicker, 15 minutes at high pressure when soaked overnight.
Want a vegetarian or vegan version of the recipe? Skip the smoked sausage.
🛠 Equipment
A 6-quart pressure cooker. Pressure cooker dried beans are one of the reasons I became a pressure cooker convert, and love my Instant Pot. Try them - you'll never go back to canned beans. (OK, maybe you will, for convenience - but see the Storage section for tips on make ahead freezer beans.)
📏Scaling
This recipe scales down easily - cut everything in half if you don't need as many beans, or have a 3-quart pressure cooker. Scaling up runs into space issues; if you have an 8-quart pressure cooker, you can double this recipe, but it's too much to fit in a 6-quart pressure cooker.
🤨 Soaking kidney beans
I give my kidney beans an overnight soak - when I remember - and a quick soak when I don't remember. (Which, unfortunately, is most of the time. I'm an enthusiastic home cook, but not that good at planning ahead.)
I get the best results from pressure cooking my kidney beans - they must be a dense bean, because it takes a *long* time to pressure cook them to tenderness if they are not soaked. But, if I completely forget, I cook them without soaking, for 40 minutes at high pressure with a natural pressure release.
💡Tips and Tricks
Salt your bean water! "Salt toughens beans" is a myth. Salting before cooking helps season the beans all the way through as they cook.
Try to buy beans from a store with lots of bean turnover. Beans dry out as they age, which makes them a little tougher to cook.
If your beans are still tough when the cooking time is over, especially any "floaters" at the top of the pot, you probably got some old beans. Give the pot a stir, lock the lid, and pressure cook the beans for another five minutes.
Puree to thicken: The sealed environment of a pressure cooker means no evaporation, so the bean sauce is kind of thin straight out of the cooker. I like a thick, gravy-like sauce, so I puree a cup of cooked beans and broth, and stir it back in to thicken the liquid.
Simmer to thicken: If you have the time, and want even thicker bean sauce, simmer the beans for 20 minutes after pressure cooking. I set my Instant Pot to Sauté mode adjusted to low, set the timer to 20 minutes, and leave the lid off to let the broth evaporate.
No pressure cooker? No worries. See the Notes section for stovetop instructions.
Print
Pressure Cooker Red Beans and Rice
---
Author:

Mike Vrobel

Total Time:

8 hours 45 minutes

Yield:

6

-8

1

x
Description
Pressure Cooker Red Beans and Rice. The Cajun classic, ready in about an hour thanks to pressure cooker beans.
---
Beans and soaking
1

pound dried red kidney beans, sorted and rinsed

2 teaspoons

fine sea salt

8 cups

of water
Aromatics
1 teaspoon

vegetable oil

1

pound smoked sausage (preferably andouille), quartered lengthwise and cut crosswise into ¼ inch wedges

1

large onion, minced

1

stalk celery, minced

1

green bell pepper, seeded and minced

4

cloves garlic, sliced thin

1 teaspoon

fresh thyme leaves (or dried thyme)

½ teaspoon

fine sea salt

2

bay leaves

1 teaspoon

fine sea salt

5 cups

water

1 teaspoon

fresh ground pepper (or to taste)
For serving
Cooked long grain white rice
Minced parsley
Minced green onions
Hot sauce (Tabasco)
---
Instructions
Sort and rinse the beans: Sort the beans, discarding any stones, dirt, or broken beans. Rinse the beans, then do an overnight or a quick soak.
Overnight soak: Cover the beans with the 8 cups of water, and sprinkle with the 2 teaspoons of salt. Leave the beans to soak at least 8 hours, or overnight. Drain and rinse the beans.
OR: Pressure Quick Soak for 1 minute with a 30 minute rest: Put the beans and 8 cups of water in the pressure cooker pot, then sprinkle with the 2 teaspoons of salt. Pressure cook at high pressure for 1 minute ("Manual" or "Pressure Cook" mode in an Instant Pot for 1 minute), then let the beans sit for 30 minutes. Quick release any remaining pressure, and drain and rinse the beans.
Sauté the aromatics and sausage: Heat the oil in an Instant Pot or other pressure cooker over Saute mode until the oil starts to shimmer. (Use medium heat in a stovetop PC). Add the smoked sausage, onion, celery, bell pepper, garlic, and thyme, and sprinkle with the ½ teaspoon of salt. Sauté, stirring often, until the onions and sausage are just starting to brown around the edges, about 5 minutes.
Pressure cook the beans: Pour the soaked and rinsed beans into the pressure cooker, add the bay leaves and 1 teaspoon of salt, and then stir in the 5 cups of water. Lock the lid on the pressure cooker and cook at high pressure for 18 minutes in an electric PC or 15 minutes in a stovetop PC. (Use "Manual" or "Pressure Cook" mode set to 18 minutes in an Instant Pot). Let the pressure release naturally, about 20 minutes. Remove the lid carefully, opening away from you – even when it's not under pressure, the steam in the cooker is very hot.
Thicken and serve: Discard the bay leaves. Ladle out 1 cup of the beans and bean liquid, puree, and stir back into the pot. (I do this in a quart measuring cup with my stick blender.) If you have time, simmer uncovered for another 20 minutes to thicken the broth. Stir in the teaspoon of fresh ground black pepper, serve, and enjoy!
Equipment
Notes
Forgot to soak? Increase the water to 6 cups and cook the beans at high pressure for 45 minutes (40 minutes in a stovetop PC) with a natural release.
No pressure cooker? No worries. Increase the water to 8 cups, and follow the directions, cooking everything in a 6 quart or larger heavy dutch oven. Instead of locking the lid and pressure cooking, bring the pot of beans to a boil, then reduce the heat, partially cover the pot, and simmer until the beans are tender, about 2 hours. Continue with the thicken and serve step.
Prep Time:

8 hours

Cook Time:

45 minutes

Category:

Pressure Cooker

Cuisine:

Cajun
Keywords: Pressure Cooker Red Beans and Rice, Instant Pot Red Beans and Rice
☃️ Storage
A 2-cup container of cooked red beans, with cooking liquid will last in the refrigerator for a few days, and freeze for up to 6 months.
🤝 Related Posts
Pressure Cooker Chicken Gumbo
Pressure Cooker Shrimp Etouffee
My other Pressure Cooker Recipes
Enjoyed this post? Want to help out DadCooksDinner? Subscribe to DadCooksDinner via eMail or RSS reader, recommend DadCooksDinner to your friends, and buy something from Amazon.com through the links on this site. Thank you.