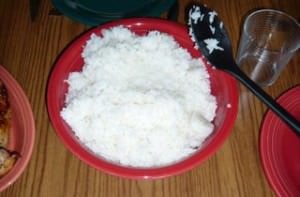 This is, by far, the side dish I make most often. Why? Because The Kids will eat it. Always. I think they'd be happy if this was all I ever made for them. "White rice? Just plain white rice this time, right, Dad?"*
*Translation: No funny stuff, right? You're not getting fancy on us again, right?
It's the perfect side dish for Asian meals - I usually make it with a stir fry of some sort, but it also goes well with grilled chicken, barbecued pork, and many other meals.*
*Red beans and rice, of course, how could I forget red beans and rice...
Recipe: Basic White Rice
Cook time: 30 minutes
Ingredients:
2 cups rice (my preferences are: jasmine rice, CalRose rice, or Carolina long grain rice)
3 cups water
½ teaspoon fine sea salt (or table salt)
1 tablespoon butter (optional)
Directions:
Put ingredients in a 3 quart or larger saucepan with a tight fitting lid. Cover, and bring to a boil over high heat. Remove the cover once the water is boiling, reduce the heat to medium, and continue to boil until the water boils away to just below the level of the rice.* Cover, reduce heat to low, and cook for 10 minutes. Remove from heat, and let the pot stand, covered, for another 10 minutes. Fluff with a fork and serve.
*Tom Johnson of the WRSOC referred to this as "Fish Eyes" - the boiling water coming from just below the surface of the rice creates holes in the surfaced of the rice, and you will see bubbles forming in the holes of the rice.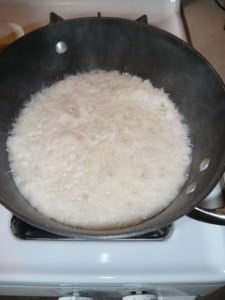 Notes:
*You need a pot with a tight fitting lid for this recipe - I use this one from
Calphalon
, which you can usually get a good deal on at Bed Bath and Beyond. It doesn't have to be nonstick, but it helps the cleanup.
*Don't skip the salt! The rice is pretty plain to begin with, but without the salt, it's plain AND bland. The butter, however, I will only add if I'm cooking rice for a western-influenced meal. The rice just tastes better without the butter if I'm having it with, say, a stir fry.
*To halve this recipe, go with 1 cup rice, and 1.5 cups water. I usually wind up cooking 3 cups rice and 4.5 cups water - The Kids will eat it all if I only cook 2 cups worth of rice, and usually I want some leftover rice to go with the leftover meal.
*Leftovers - I store the rice in a Gladware container, and reheat it directly in the microwave - the liquid in the rice gives you enough steam to help reheat it. The Kids eat the reheated, leftover rice just about as willingly as they eat it freshly cooked.