Instant Pot Red Kidney Beans. Dried kidney beans, ready in under an hour thanks to pressure cooking.
Wait…I don't have a recipe for plain old red kidney beans in the Instant Pot? Just Red Beans and Rice? Well, it's time to fix that…
Thanks to the Camellia bean subscription box again. A bag of kidney beans came in the same box that inspired me to make Instant Pot Cajun White Beans, and that's when I realized I had a big hole in my basic bean recipes. Time to fix that!
Jump to:
🥫Ingredients
Dried Red Kidney beans
Onion
Baking Soda
Bay Leaf
See recipe card for quantities.
🥘Substitutions
Red Kidney beans come in two varieties in my local stores, light red (more common) and dark red (less common). They taste exactly the same, but I have a slight preference for the dark red color. White kidney beans are also called Cannellini beans in Italian, and can substitute for red kidney beans in this recipe.
I don't have a great source for red kidney beans. Camellia brand are good, but can sit around at my local stores. I try to get my kidney beans from a local organic or health food store, since they tend to sell more beans, and that extra turnover leads to fresher beans.
Don't have an onion? Use a couple of cloves of unpeeled garlic, or skip it.
The baking soda helps keep the beans tender in case of hard water. (Hard water is acidic, and baking soda helps counter that.) You can skip it if you want, but I like the extra insurance for tender beans.
Don't have bay leaf? It adds a nice flavor note, but it's not necessary. Skip it, or substitute a pinch of dried thyme.
🛠 Equipment
A 6-quart pressure cooker. Pressure cooker dried beans are one of the reasons I became a pressure cooker convert. Try them - you'll never go back to canned beans. (OK, maybe you will, for convenience - but see the Storage section for tips on make ahead freezer beans.)
📏Scaling
This recipe scales down easily - cut everything in half if you don't need as many beans, or have a 3-quart pressure cooker. Scaling up runs into space issues; if you have an 8-quart pressure cooker, you can double this recipe, but it's too much to fit in a 6-quart pressure cooker. Either way, scaling up or scaling down, the cooking time is the same. The cooking time is determined by cooking each bean all the way through, not the total number of beans - 15 minutes under pressure is the same to them either way.
🤨 Soaking Kidney beans?
I get the "to soak or not to soak?" question all the the time. Kidney bean are one of the few beans I prefer to soak. They must be a denser bean than most, because it takes a long time to pressure cook them to tenderness if they are not soaked.
When I remember, I soak my kidney beans overnight; when I don't I use the quick soak method. (I do the quick soak more often than I should. I'm an enthusiastic home cook, but not great at planning ahead.)
If I completely forget to soak, I cook them without soaking, for 40 minutes at high pressure with a natural pressure release. Then I'll check them, and if they need it, I'll pressure cook them for another 5 minutes with a quick release. (See the "Tips and Tricks" section about floaters, below - I seem to get a lot of those in my Kidney beans.)
Sorting Beans
Beans are an agricultural product, and stuff tends to creep in when they are processed. Beans should always be sorted and rinsed before using, to get rid of any twigs, stones, clumps of dirt, or broken beans.
To sort the beans, I pour them out on one side of a rimmed baking sheet (a half-sheet pan), to keep the beans from escaping. Then I slowly run my fingers through the pile of beans, pulling them towards me on the sheet. I watch the beans as they move, looking for anything that doesn't seem right. If I see something, I poke around in the beans until I find what caught my eye, and discard it. I repeat this a couple of times, until I'm satisfied everything is out of the beans.
Then I dump the beans into a fine mesh strainer and rinse them under cold running water, to wash off any dirt or dust still on the beans.
Now the beans are sorted, rinsed, and ready for soaking or cooking.
💡Tips and Tricks
Quick release the pressure for beans. The sudden drop in pressure throws the water into a boil, which roughs up the beans, releasing starch and thickening the pot liquid.
Salt your bean water! "Salt toughens beans" is a myth. Salting before cooking helps season the beans all the way through as they cook.
If your beans are still tough when the cooking time is over, especially any "floaters" at the top of the pot, give the beans a stir, lock the lid, and pressure cook for another five minutes. Older beans take longer to cook, and if the beans have been sitting on the shelf for a while, they may need extra time.
Simmer to thicken: If you have the time, and want thicker bean liquid, simmer the beans for 15 minutes after pressure cooking. I set my Instant Pot to Sauté mode adjusted to low, set the timer to 15 minutes, and leave the lid off to let the broth evaporate.
Print
🔪🔪Recipe🔪🔪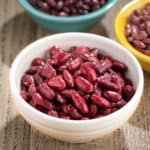 Instant Pot Red Kidney Beans
---
Author:

Mike Vrobel

Total Time:

8 hours 25 minutes

Yield:

6 cups

of beans

1

x

Diet:

Vegetarian
1

pound Red Kidney beans

6 cups

water

1 ½ teaspoons

fine sea salt (for soaking)

½ teaspoon

baking soda (optional)

1 teaspoon

fine sea salt (for cooking the beans)

1

small to medium onion, peeled and halved
2 bay leaves
---
Instructions
Sort and rinse the kidney beans: Sort the kidney beans, discarding any stones, dirt, or broken beans. Rinse the beans, then do an overnight or a quick soak.
Overnight soak: Cover the kidney beans with 6 cups of water, and sprinkle with 1 ½ teaspoons of salt. Leave the beans to soak at least 8 hours, or overnight. Drain and discard the soaking liquid.
OR: Pressure Quick Soak for 1 minute with a 30 minute rest: Put the kidney beans and 6 cups of water in an Instant Pot or other pressure cooker. Sprinkle with 1 ½ teaspoons of salt. Pressure cook at high pressure for 1 minute ("Manual" or "Pressure Cook" mode in an Instant Pot for 1 minute), then quick release the pressure. Let the beans soak in the pot for 30 minutes, then drain the beans and discard the soaking liquid.
Everything in the pot: Put the soaked beans in an Instant Pot (or other pressure cooker). Pour in the 6 cups of water, then stir in ½ teaspoon of baking soda, 1 teaspoon of salt, the onion halves, and bay leaves.
Pressure cook the beans for 15 minutes with a quick pressure release: Lock the lid on the pressure cooker. Cook on high pressure for 15 minutes in an Instant Pot or other electric pressure cooker, or for 12 minutes in a stovetop PC. (In an Instant Pot, use "Manual" or "Pressure Cook" mode set for 15 minutes). Quick release the pressure in the pot.
Serve: Remove the pressure cooker lid – open it away from you to protect yourself from the hot steam. Discard the onion and bay leaves. Ladle the beans into bowls and serve, or store for later.
Prep Time:

8 hours

Cook Time:

25 minutes

Category:

Side Dish

Method:

Pressure Cooker

Cuisine:

American
Keywords: Instant Pot Red Kidney Beans, Pressure Cooker Red Kidney Beans
☃️ Storage
A 2-cup container of cooked Kidney beans, with cooking liquid, replaces a 15-ounce can of beans from the grocery store. They'll last in the refrigerator for a few days, and freeze for up to 6 months. I always make extra beans, and freeze the leftovers for use in other recipes. Freezer beans are ready to use with about 5 minutes in the microwave, and are so much better than canned.
🤝 Related Posts
Pressure Cooker Red Beans and Rice
Pressure Cooker Ground Beef and Bean Chili
Instant Pot Indian Black Lentils and Kidney Beans (Dal Makhani)
My other Instant Pot and Pressure Cooker Recipes
My other Instant Pot Bean Recipes
Enjoyed this post? Want to help out DadCooksDinner? Subscribe to DadCooksDinner via email and share this post with your friends. Want to contribute directly? Donate to my Tip Jar, or buy something from Amazon.com through the links on this site. Thank you.