Instant Pot Small Red Beans (Domingo Rojo Beans). A pot of beans, ready in about an hour thanks to pressure cooking.
A few years ago, I got a bag of Domingo Rojo beans - small red beans - in my Rancho Gordo bean club box. These were new beans to me; I googled around and found out they're native to the Caribbean.
I'm used to larger red Kidney beans; small red beans have a similar taste, and can be used in place of kidney beans, with a quick-cooking. There are a number of Caribbean versions of red beans and rice that use this bean. The small bean's big advantage is that it cooks quicker and more evenly than kidney beans. I'm a small red bean convert.
Jump to:
🥫Ingredients
This is a simple dried bean recipe, so the ingredients list is pretty basic
Dried small red beans
Onion
Bay leaf
🥘 Substitutions
Don't have onions? Substitute a couple of cloves of unpeeled garlic.
Don't have a bay leaf? Skip it. The beans will still be good.
🛠 Equipment
A 6-quart pressure cooker. Pressure cooker dried beans are one of the reasons I became a pressure cooker convert. Try them - you'll never go back to canned beans. (OK, maybe you will, for convenience - but see the Storage section for tips on make ahead freezer beans.)
📏Scaling
This recipe scales down easily - cut everything in half if you don't need as many beans, or have a 3-quart pressure cooker. Scaling up runs into space issues; if you have an 8-quart pressure cooker, you can double this recipe, but it's too much to fit in a 6-quart pressure cooker.
🤨 Soaking small red beans?
I get the "to soak, or not to soak?" question all the the time. I don't soak my small red beans. They're small enough that they cook through to tenderness with 25 minutes at high pressure and a Natural Pressure Release.
That doesn't mean you can't soak the beans. They turn out fine, though the bean broth isn't quite as full bodied. Soaked beans cook much quicker, 10 minutes at high pressure. I use that when I'm cooking the beans with other ingredients, where the shorter cooking time keeps me from overcooking the whole dish just to get the beans tender. (For example, in this this Turkey Chili with Small Red Beans.)
💡Tips and Tricks
Salt your bean water! "Salt toughens beans" is a myth. Salting before cooking helps season the beans all the way through as they cook.
If your beans are still tough when the cooking time is over, especially any "floaters" at the top of the pot, give the beans a stir, lock the lid, and pressure cook for another five minutes. Older beans take longer to cook, and if the beans have been sitting in the shelf at your store for a while, they may need extra time.
Simmer to thicken: If you have the time, and want thicker bean liquid, simmer the beans for 20 minutes after pressure cooking. I set my Instant Pot to Sauté mode adjusted to low, set the timer to 20 minutes, and leave the lid off to let the broth evaporate.
Recipe: Instant Pot Small Red Beans (Domingo Rojo Beans)
Print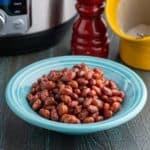 Instant Pot Small Red Beans (Domingo Rojo Beans)
---
Author:

Mike Vrobel

Total Time:

55 minutes

Yield:

6 cups

of beans

1

x
Description
Instant Pot Small Red Beans (Domingo Rojo Beans). A pot of beans, ready in about an hour thanks to pressure cooking.
---
1

pound small red beans, sorted and rinsed

8 cups

water for soaking (optional, see instructions)

2 teaspoons

fine sea salt for soaking (optional, see instructions)

6 cups

water

1 teaspoon

fine sea salt

1

onion, peeled and halved

1

bay leaf
---
Instructions
Sort and rinse the beans: Sort the beans, discarding any stones, dirt, or broken beans. Rinse the beans. If you want to, do an overnight or quick soak.
Overnight soak: Cover the beans with 8 cups of water and sprinkle with the 2 teaspoons of salt. Leave the beans to soak at least 8 hours, or overnight.
OR: Pressure Quick Soak for 1 minute with a 30 minute rest: Put the beans, 8 cups of water, and 2 teaspoons of salt in an Instant Pot or other pressure cooker. Pressure cook at high pressure for 1 minute ("Manual" or "Pressure Cook" mode in an Instant Pot), Quick Release the pressure, then let the beans sit for 30 minutes.
Pressure Cook for 10 minutes (soaked) or 25 minutes (unsoaked) with a 15 minute Natural Release: Drain the beans, discarding the soaking liquid. Put the beans in the pressure cooker, add 6 cups of water, sprinkle with the teaspoon of salt, then add the onion halves and bay leaf. Lock the lid and pressure cook at high pressure: 10 minutes for soaked beans, or 25 minutes for unsoaked beans. (In a stovetop PC, cook for 8 minutes soaked/20 minutes unsoaked). For soaked beans you can quick release the pressure, or let the pressure naturally release. For unsoaked beans, don't quick release - let the pressure come down naturally. (If you're in a hurry, you can stop the natural pressure release after 15 minutes by quick releasing any remaining pressure.)
Serve: Discard the onion and bay leaf. To use as a side dish, serve the beans with their broth; to add to another recipe, drain the beans. Enjoy!
Notes
I freeze leftover beans with their broth in 2-cup containers. A thawed container will replace a 15-ounce can of beans in other recipes.
Thank you to Rancho Gordo for the fantastic Domingo Rojo Beans.
The other place I can reliably find small red beans is my local Walmart super center. Unfortunately, they are not carried by other grocery stores here in Northeastern Ohio.
Prep Time:

10 min

Cook Time:

45 min
☃️ Storage
A 2-cup container of beans, with cooking liquid, replaces a 15-ounce can of beans from the grocery store. They'll last in the refrigerator for a few days, and freeze for up to 6 months. I always make extra beans, and freeze the leftovers for use in other recipes. Freezer beans are ready to use with about 5 minutes in the microwave, and are so much better than canned.
🤝 Related Posts
Instant Pot Scarlet Runner Beans
Instant Pot Chipotle Beans
Instant Pot Cannellini Beans with Tomatoes and Pancetta
My other Instant Pot Pressure Cooker Recipes

Enjoyed this post? Want to help out DadCooksDinner? Subscribe to DadCooksDinner via email and share this post with your friends. Want to contribute directly? Donate to my Tip Jar, or buy something from Amazon.com through the links on this site. Thank you.