Instant Pot Cannellini Beans with Tomatoes and Pancetta. A hearty Italian-inspired pressure cooker bean stew (or side dish) with pancetta and tomatoes.
I need to use up a pound of cannellini beans - gotta make room for my next bean box - and I'm searching for ideas when I see stewed cannellini beans with tomatoes and guanciale. That's it! Time for some beans and pork. This is a fancy version of my basic Cannellini Beans recipe.
Jump to:
🥫Ingredients
dried Cannellini beans
pancetta
garlic (lots of garlic)
Italian Seasoning
Red Pepper Flakes
Canned crushed tomatoes
See recipe card for quantities.
🥘 Substitutions
If you can't find Cannellini beans, you can substitute great northern beans. They're not as creamy, but otherwise cook the same.
To make this a vegetarian recipe, skip the pancetta. There's enough going on that you won't miss it.
The red pepper flakes add a hint of heat, and are optional - if you can't take the heat, skip 'em.
🛠 Equipment
A 6-quart pressure cooker. Pressure cooker dried beans are one of the key reasons I became a pressure cooker convert, and love my Instant Pot so much.
A 2-quart oven safe baking dish, or individual serving sized gratin dishes.
📏Scaling
Cut all the ingredients in half and this recipe will fit in a 3-quart pressure cooker. It's a little too much to double in a 6-quart pressure cooker, but an 8-quart pressure cooker can handle a double recipe.
💡Tips and Tricks
OK, we've got a lot of bean myths to get to, so let's get started...
This recipe hits a lot of points on my Bean Myth Checklist:
Does salting beans make them hard?
Do I need to soak my beans?
Does cooking beans with tomatoes make them hard?
Should I cook my beans with pork?

The answers are, in order:
No
No, but…
Yes, but…
Absolutely!
Does salting beans make them hard?
No, it does not make them hard. In fact, it softens the skins, making them less likely to burst during cooking. It also seasons them more evenly - adding the salt early in the cooking process gives it time to penetrate into the bean. (For more details, see my rant about salting beans.)
Do I need to soak my beans?
Need to? No. If you cook your beans long enough, they will get soft. But, there are a few provisos, a couple of quid pro quos…
I don't soak smaller beans, like navy, black, and pinto beans. They cook through quickly enough. I do soak larger beans most of the time, to help them 1. The big reason I soak beans is to make them fit a recipe. If I'm just making beans, I probably won't soak them. But if I'm making a recipe that has other ingredients - a stew, or a chili - then I'll soak the beans if it helps them match the cooking time of the other ingredients. Also, I soak beans if I'm going to cook them with tomatoes…but that's the next topic.
Does cooking beans with tomatoes make them hard?
Yes…in theory. Beans take longer to cook in an acidic environment, and tomatoes are acidic2. I work around that by soaking my beans - see the previous question. In all the years I've pressure cooked beans, I've never had problems with them being tough as long as I soak the beans.
Should I cook my beans with pork?
Yes, yes, a thousand times yes! Pork and beans are a perfect pair for a reason. That's why the guanciale in the Food and Wine recipe caught my eye. Guanciale (cured pork cheek) is tricky to find in my local grocery stores - I have to go to an Italian specialty market - but diced pancetta is readily available, and a good substitute for this recipe.
Inspired by: Stewed Cannellini Beans, Tomatoes, and Guanciale [FoodAndWine.com]
Print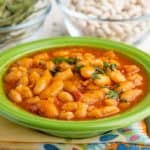 Instant Pot Cannellini Beans with Tomatoes and Pancetta
---
Author:

Mike Vrobel

Total Time:

1 hour 30 minutes

Yield:

6 cups

of beans

1

x
Description
Instant Pot Cannellini Beans with Tomatoes and Pancetta. A hearty Italian-inspired pressure cooker side dish (or bean stew) with cured pork and tomatoes.
---
1

pound cannellini beans, sorted, rinsed, and soaked

4 ounces

diced pancetta (or diced bacon)

2

cloves crushed garlic

1 teaspoon

dried Italian seasoning (or a sprig of fresh rosemary)
pinch red pepper flakes

3 cups

water

½ teaspoon

fine sea salt

15

-ounce can crushed tomatoes
---
Instructions
Sort and rinse the beans: First sort the beans, discarding any stones, dirt, or broken beans. Rinse the beans, then do an overnight or a quick soak.
Overnight soak: Cover the beans by an inch with water. Leave the beans to soak at least 8 hours, or overnight. Drain and discard the soaking liquid.
OR: Pressure Quick Soak for 1 minute with a 30 minute rest: Put the beans and 8 cups of water in the pressure cooker pot. Pressure cook at high pressure for 1 minute ("Manual" or "Pressure Cook" mode in an Instant Pot for 1 minute), then let the beans sit for 30 minutes. Drain and discard the soaking liquid.
Sauté the pancetta and spices: Spread the pancetta on the bottom of the cold pressure cooker pot. Turn on sauté mode adjusted to high in the Instant Pot (medium-high heat in another PC), and cook the pancetta, stirring often, until it crisps up, about 8 minutes. Stir in the crushed garlic, Italian seasoning, and red pepper flakes, and let them sizzle until you smell garlic, about 1 minute.
Everything in the pot: Stir in the drained beans, pour in the 3 cups of water, sprinkle with the ½ teaspoon salt, and stir. Pour the can of crushed tomatoes over the top, but do not stir. (The tomatoes can burn on the bottom of the pot, and we want the water and beans to act as a buffer.)
Pressure Cook the beans: Lock the lid and

pressure cook at high pressure for 12 minutes, then quick release the pressure in the pot.

(Use "Manual" or "Pressure Cook" mode set to 12 minutes in an Instant Pot. Cut the cooking time back to 10 minutes for a stovetop PC.)
Serve: Carefully remove the lid - tilt it away from you to avoid the hot steam. Stir the beans to mix in the tomatoes and serve.
Equipment
Notes
Vegetarian version: Replace the pancetta with a diced onion.
This is either a side dish or a main course, depending on my mood. I served it as a side dish for a roast, and then ate the leftovers as a lunch later in the week.
Tools
6 quart or larger pressure cooker (I love my Instant Pot electric pressure cooker)
Prep Time:

1 hour

Cook Time:

30 min

Category:

Side Dish

Method:

Pressure Cooker

Cuisine:

Italian
Keywords: Instant Pot Cannellini Beans with Tomatoes and Pancetta, Pressure Cooker Cannellini Beans with Tomatoes and Pancetta
☃️ Storage
This recipe freezes well, in 2-cup containers, for up to 6 months.
🤝 Related Posts
Instant Pot Minestrone
Pressure Cooker Venetian Pasta and Beans (Pasta e Fagioli alla Veneta)
Pressure Cooker Tuscan Bean Soup
My other Instant Pot Pressure Cooker Recipes
Enjoyed this post? Want to help out DadCooksDinner? Subscribe to DadCooksDinner via email and share this post with your friends. Want to contribute directly? Donate to my Tip Jar, or buy something from Amazon.com through the links on this site. Thank you.
Kidney beans and great northern beans in particular - they turn out grainy if I don't soak them. ↩
So is hard water. It's also why bean recipes add baking soda - it's a base, reducing the acidity in the cooking liquid
. ↩