As far as I'm concerned, Halloween starts chili season. My mom made a bowl of chili every year, which we would ignore - there was candy to eat! Now that I'm older3And a little wiser? Nah., I look forward to the chili as much as the candy.
This is the chili of my youth. Ground beef, beans, tomatoes, and chili powder. 4Texans, I don't want to hear it. Beans? Tomatoes? I know this is Sissy Chili. I don't care. I believe in the big tent approach to chili - if you call it chili, I am probably going to enjoy it, no matter what is in there. I've updated my recipe for modern tastes - heavy on the chili powder and other spices - but the big change is using the pressure cooker. It lets me cook the chili with dried kidney beans, adding more flavor than the canned beans of my youth.
Kidney beans are tricky in the pressure cooker. They are one of the few beans that I make sure to soak overnight before cooking - unsoaked kidney beans always take forever to cook. And, why not take advantage of the soaking time to brine the beans?
Here it is, my favorite chili for Halloween. Or a rainy fall weeknight. Or, really, whenever I want a taste of my youth.
Recipe: Pressure Cooker Ground Beef and Bean Chili
Video

Video: Pressure Cooker Ground Beef and Bean Chili - Time Lapse [YouTube.com]
Equipment
Print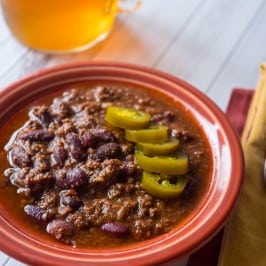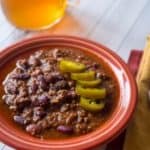 Pressure Cooker Ground Beef and Bean Chili
---
Author:

Mike Vrobel

Total Time:

8 hours 45 minutes

Yield:

6

-

8

1

x
1

pound dried red kidney beans, sorted and rinsed

2 quarts

water

1 tablespoon

Diamond Crystal kosher salt or

1 ½ teaspoons

table salt

1 tablespoon

vegetable oil

1

large onion, diced

4

cloves garlic, crushed

½ teaspoon

Diamond Crystal kosher salt

¼ cup

chili powder

1 tablespoon

ground cumin

1 tablespoon

ground coriander

1 tablespoon

oregano

¼ teaspoon

ground cloves

2

pounds ground beef (Preferably 85% lean ground round or 80% lean ground chuck)

1 cup

beer (or water)

2 cups

chicken stock (preferably homemade) or water

1

(28 ounce) can crushed tomatoes

1 teaspoon

fresh ground black pepper
Salt
---
Instructions
Soak the beans: Sort and rinse the kidney beans, then cover with 2 quarts water and add the salt. Soak the beans overnight (or at least 8 hours) at room temperature. Drain and rinse the beans.
Saute the aromatics: Heat 1 tablespoon of vegetable oil in the pressure cooker pot over medium heat until shimmering. Add the onions, garlic, and ½ teaspoon salt to the pressure cooker. Saute the onions and garlic until softened, about 5 minutes.
Toast the spices and cook the beef: Make a hole in the center of the onion mix and add the chili powder, cumin, coriander, oregano, and cloves. Let sit for 30 seconds, then stir into the onions. Add the ground beef, stir to coat with the onions and spices, then add the beer. Cook, stirring often, until the beef just loses its pink color, about 3 minutes.
Cook the chili: Stir the kidney beans, chicken stock, and crushed tomatoes into the pot. Lock the lid on the pressure cooker and bring up to high pressure. Reduce the heat to maintain the pressure, and cook at high pressure for 12 minutes in a stove top cooker, 15 minutes in an electric cooker. Turn off the heat and let the pressure come down naturally, about 20 minutes. Remove the lid carefully, opening away from you – even when it's not under pressure, the steam in the cooker is very hot.
Season and serve: Stir in the black pepper, then taste and add salt if needed. (I usually add another teaspoon of kosher salt.)
Prep Time:

8 hours

Cook Time:

45 minutes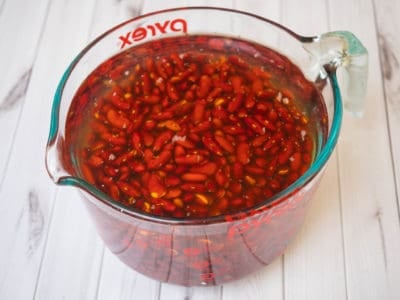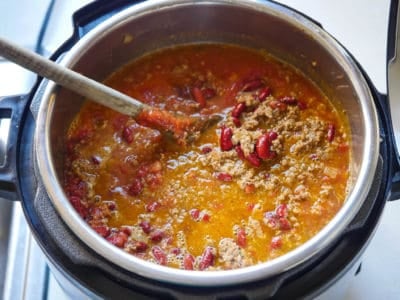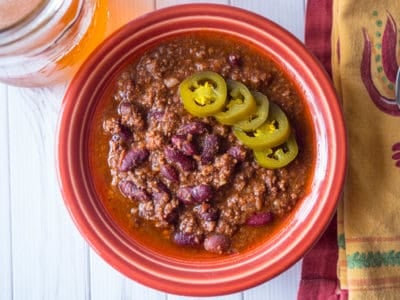 Notes
I make this chili to be kid-friendly - but it doesn't have much heat. I serve with a collection of hot sauces on the side. (Or pickled jalapenos, as you see in the picture.)
No pressure cooker? No worries. Use a dutch oven with a lid, and double the chicken stock (or water). Follow the instructions until "lock the lid". Then, bring the pot of chili to a boil and boil for 10 minutes. Then reduce the heat to a simmer, and cover the pot with the lid slightly ajar. Simmer until the beans are tender, about 90 minutes. Continue with the Season and serve step.
Forgot to soak? Increase the chicken stock to 4 cups and cook the beans at high pressure for 35 minutes (45 minutes electric PC). Now, that's just an estimate - unsoaked kidney beans have a wide range of cooking times in the PC. Check the beans after the natural pressure release, and if any are still tough, lock the lid and cook for another five to ten minutes, depending on how done they seem. (Soaking evens out the cooking time; that's why I recommend soaking kidney beans, as opposed to, say, black beans, which do fine unsoaked.)
What do you think?
Questions? Other ideas? Leave them in the comments section below.
Related Posts
Pressure Cooker Texas Red Chili
Pressure Cooker Pumpkin Chili
Pressure Cooker Turkey Chili with Chorizo and Pinto Beans
My other Pressure Cooker Recipes
Enjoyed this post? Want to help out DadCooksDinner? Subscribe to DadCooksDinner via eMail or RSS reader, recommend DadCooksDinner to your friends, and buy something from Amazon.com through the links on this site. Thank you.