As far as I'm concerned, Halloween starts chili season. My mom made a bowl of chili every year, which we would ignore - there was candy to eat! Now that I'm older, I look forward to the chili as much as the candy. (And a little wiser? Let's not get crazy.)
This is the chili of my youth. Ground beef, beans, tomatoes, and chili powder. Texans, I don't want to hear it. Beans? Tomatoes? I know this is Sissy Chili. I don't care. I believe in the big tent approach to chili - if you call it chili, I am probably going to enjoy it, no matter what is in there. I've updated my recipe for modern tastes - heavy on the chili powder and other spices - but the big change is using the pressure cooker. It lets me cook the chili with dried kidney beans, adding more flavor than the canned beans of my youth.
Kidney beans are tricky in the pressure cooker. They are one of the few beans that I make sure to soak overnight before cooking - unsoaked kidney beans always take forever to cook. And, why not take advantage of the soaking time to brine the beans?
Here it is, my favorite chili for Halloween. Or a rainy fall weeknight. Or, really, whenever I want a taste of my youth.
Jump to:
🥫Ingredients
Dried red kidney beans
Vegetable oil
Onion
Garlic
Chili powder
Cumin
Coriander
Oregano
Ground cloves
85% Ground beef
Beer
Chicken broth
Baking soda
Crushed tomatoes
Fresh ground black pepper
See recipe card for quantities.
🥘 Substitutions
Kidney beans are the key to this recipe; they add a bean backbone to this chili. You can substitute canned, but they will get a bit mushy by the time the beef is cooked through. You can substitute pinto beans, black beans, or small red beans if you want.
85/15 Ground beef means 85% meat and 15% fat, which is usually called ground round at my local grocery store. You can go as high as 80/20% fat (ground chuck), but I wouldn't go past that, or there's too much fat in the dish. (You can also substitute ground turkey if you want.)
Onion and garlic: These aromatics are the base of any chili or stew. You can skip them...but I consider onion and garlic essential to the recipe.
The spice blend - chili powder, ground cumin, ground coriander, and cloves - can be replaced with all chili powder if you want to make things simple. But I love the extra complexity the coriander, cumin, and cloves add to the dish. (Especially the coriander, which is unusual in chili - but well worth it.)
If you want to eliminate the heat entirely, substitute paprika (preferably smoked Spanish paprika) for the chili powder. Now, I'm not judging you, but…why are you making chili if you don't want any heat?
Beer adds a hint of acid to the chili, and the alcohol helps bring out the flavor in the spices. I prefer a darker beer for chili, because I like the roasted, sweeter flavor of those beers. I use Elliot Ness from Great Lakes brewery, an amber lager, but a dark ale, porter, or stout are also good. That said, almost any beer will work.
Skipping the beer: If you don't want any alcohol in the dish, substitute a little more chicken broth or water.
Chicken broth adds body and flavor to this chili. If you have a pressure cooker, you should be making your own homemade broth. If you don't have the time, you can use store-bought low-sodium broth (either beef or chicken broth), or water. If you use store-bought broth, cut back on the salt in the recipe where specified.
The baking soda helps keep the beans tender. There are some acidic ingredients in this chili (beans, tomatoes), and an acidic environment toughens up the beans. The baking soda helps counter the acid in the other ingredients.
🛠 Equipment
📏Scaling
This recipe scales down easily - cut everything in half and it will fit in a 3-quart pressure cooker. Scaling up runs into space issues; if you have an 8-quart pressure cooker, you can double this recipe, but it's too much to fit in a 6-quart pressure cooker.
🤨 Soaking Kidney Beans?
I always soak kidney beans before cooking. They are one of the few beans that I always soak before pressure cooking. They take forever to cook through when they are not soaked. That said, if you forget to soak, you can pressure cook unsoaked kidney beans for 40 minutes at high pressure to cook them through.
Sorting Beans
Kidney beans are an agricultural product, and like other beans, stuff tends to creep in when they are processed. Dried beans should always be sorted and rinsed before using to get rid of any twigs, stones, clumps of dirt, or broken beans.
To sort beans, I pour them out on one side of a rimmed baking sheet (a half-sheet pan), to keep the beans from escaping. Then I slowly run my fingers through the pile of beans, pulling them towards me on the sheet. I watch the beans as they move, looking for anything that doesn't seem right. If I see something, I poke around in the beans until I find what caught my eye, and discard it. I repeat this a couple of times, until I'm satisfied everything is out of the beans.
Then I dump the beans into a fine mesh strainer and rinse them under cold running water to wash off any dirt or dust.
Now the beans are sorted, rinsed, and ready for soaking or cooking.
🎬Video
Video:
Pressure Cooker Ground Beef and Bean Chili - Time Lapse
[YouTube.com]
💡Tips and Tricks
Simmer to thicken: If you have the time, and want thicker chili, simmer for 10 to 20 minutes after pressure cooking. Set the Instant Pot to Sauté mode adjusted to low, with a 20 minute cooking time, and leave the lid off to let the broth evaporate. Stir occasionally, scraping the bottom of the pot with a flat-edged wooden spoon to make sure nothing is sticking and burning. When the chili is thickened to your liking, cancel the heat and it is ready to serve.
Salt your bean water! "Salt toughens beans" is a myth. Salting before cooking helps season the beans all the way through as they cook.
Acid does make beans tough, though, and tomatoes are acidic. So, to balance out the acid in the tomatoes, I add Baking soda. (Remember Chemistry class? Baking soda is a base, counteracting the acid in the tomatoes).
If your beans are still tough when the cooking time is over, especially any "floaters" at the top of the pot, give the beans a stir, lock the lid, and pressure cook for another five minutes. Older beans take longer to cook, and if the beans have been sitting in the shelf at your store for a while, they may need extra time.
Print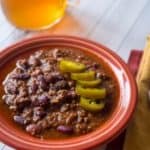 Pressure Cooker Ground Beef and Bean Chili
---
Author:

Mike Vrobel

Total Time:

8 hours 45 minutes

Yield:

6

-

8

servings

1

x
1

pound dried red kidney beans, sorted and rinsed

2 quarts

water

1 ½ teaspoons

fine sea salt

1 tablespoon

vegetable oil

1

large onion, diced

4

cloves garlic, crushed

½ teaspoon

fine sea salt

¼ cup

chili powder

1 tablespoon

ground cumin

1 tablespoon

ground coriander

1 tablespoon

oregano

¼ teaspoon

ground cloves

2

pounds ground beef (Preferably 85% lean ground round or 80% lean ground chuck)

1 cup

beer (or water)

2 cups

chicken broth (preferably homemade, or low-sodium store-bought), or water

1 teaspoon

fine sea salt (if using homemade broth or water)

½ teaspoon

baking soda

28

-ounce can crushed tomatoes

1 teaspoon

fresh ground black pepper
---
Instructions
Soak the beans: Sort and rinse the kidney beans, then cover with 2 quarts water and add the salt. Soak the beans overnight (or at least 8 hours) at room temperature. Drain and rinse the beans.
Saute the aromatics: In an Instant Pot or other pressure cooker, heat 1 tablespoon of vegetable oil using sauté mode (medium heat in a stovetop PC) until the oil is shimmering. Add the onions, garlic, and ½ teaspoon salt to the pressure cooker. Sauté the onions and garlic until softened, about 5 minutes.
Toast the spices and cook the beef: Make a hole in the center of the onion mix and add the chili powder, cumin, coriander, oregano, and cloves. Let sit for 30 seconds, then stir into the onions. Add the ground beef, stir to coat with the onions and spices, then add the beer. Cook, stirring often, until the beef just loses its pink color, about 3 minutes.
Pressure cook the chili for 20 minutes with a Natural Release: Stir the kidney beans, chicken broth, 1 teaspoon of salt, baking soda, and crushed tomatoes into the pot. Lock the lid on the pressure cooker and cook at high pressure for 20 minutes in an Instant Pot or other electric pressure cooker, or for 16 minutes in a stovetop PC. Turn off the heat and let the pressure come down naturally, about 20 minutes. Remove the lid carefully, opening away from you – even when it's not under pressure, the steam in the cooker is very hot.
Season and serve: Stir in the black pepper, serve, and enjoy!
Prep Time:

8 hours

Cook Time:

45 minutes

Category:

Weeknight Dinner

Method:

Pressure Cooker

Cuisine:

American
Keywords: Pressure Cooker Ground Beef and Bean Chili, Instant Pot Ground Beef and Bean Chili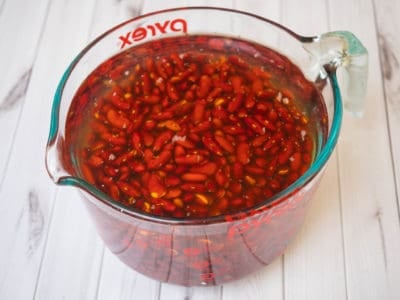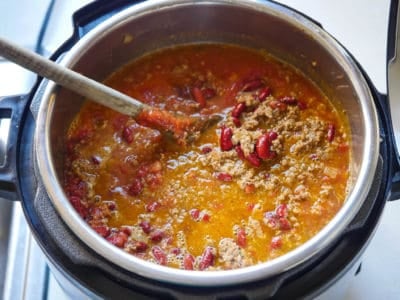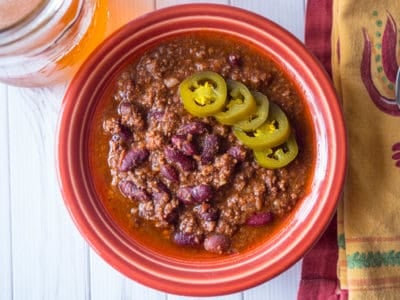 ☃️ Storage
This chili can be made a day ahead, refrigerated, and reheated - if anything, it tastes better this way, thanks to a day of letting the flavors mingle.
To store for later, portion into 2-cup containers, and refrigerate for up to 3 days, or freeze for up to 6 months. I love having chili in the freezer - I use them as grab-and-go lunches, which reheat in about 5 minutes in the microwave.
🤝 Related Posts
Pressure Cooker Texas Red Chili
Pressure Cooker Pumpkin Chili
Pressure Cooker Turkey Chili with Chorizo and Pinto Beans
My other Pressure Cooker Recipes
Enjoyed this post? Want to help out DadCooksDinner? Subscribe to DadCooksDinner via eMail or RSS reader, recommend DadCooksDinner to your friends, and buy something from Amazon.com through the links on this site. Thank you.