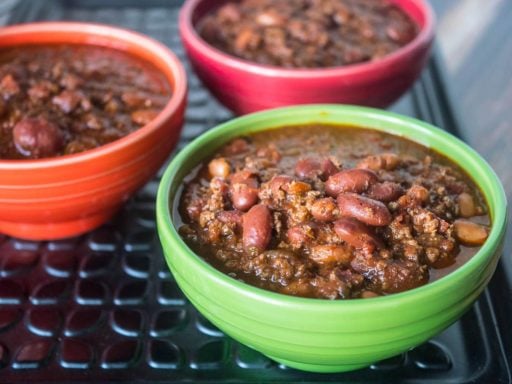 The #1 question about my Pressure Cooker Ground Beef and Bean Chili recipe? "What if I want to use canned beans instead of dried?"
I dashed off a quick answer in the comments…"five minutes!"…but then it started to nag at me. Was five minutes under pressure enough time for the chili flavors to mingle?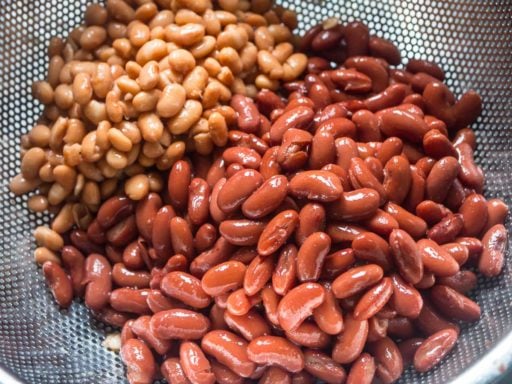 Normally, cooking time is determined by how long it takes to cook all the ingredients through. Ground beef takes almost no time to cook. 4You don't need a pressure cooker for ground beef. By the time the beef is no longer pink, it is done. In my regular recipe, the beans decide the cooking time - when the beans are done, we're done. But with canned beans, they're already cooked. The cooking time is based entirely on flavor. We don't want a ground beef, bean, and chili soup, with each a distinct flavor; we want a chili, with all the flavors blended together, something greater than the sum of its parts. Time for some testing!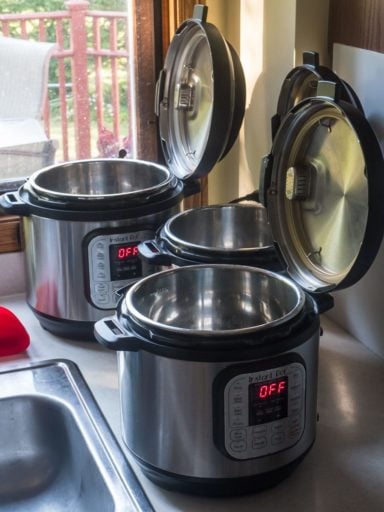 I bought beef, canned beans, tomatoes, and got out my pressure cookers. 5What? Doesn't everyone own three…four…um…OK, I actually own six pressure cookers right now. I may have a problem. The recipe was the same in all three until I locked the lid: sauté the onions and garlic, toast the spices, mix in the beef, then the liquids and the beans. Then I set one cooker to 5 minutes, one to 10, and one to 15 minutes, and let them pressure cook with a natural pressure release.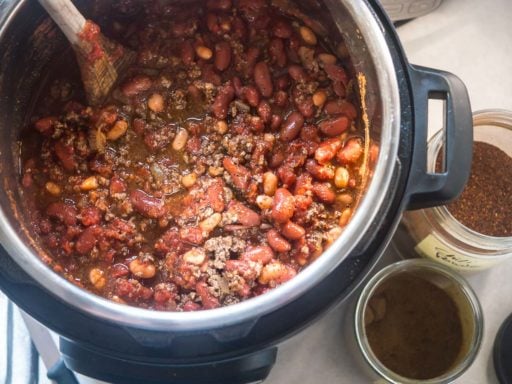 The results? Ten minutes is the Goldilocks zone. Five minutes is too short. The beans are the best in after five minutes - still having a little bit to them - but the rest of the ingredients don't quite come together, tasting like a beef and tomato and bean soup. Fifteen minutes is too long. I get a thick, chili flavor, but the beans are way overcooked, starting to melt away. Ten minutes is just right, a rich chili with beans that have absorbed the chili flavors. 6The beans are right on the edge of overcooked at 10 minutes. Hey, we're working with canned beans here, it's the best we can do.
Which brings me to my last two points: One, even the 5 minute chili was good - chili is hard to mess up. Two, chili is better if you make your own beans in the pressure cooker. Make the beans ahead and freeze them in 2 cup containers. That lets you pull beans out of the freezer, and they taste much better than canned. (And yes, I know that contradicts point one. Hey, who says I have to be consistent?)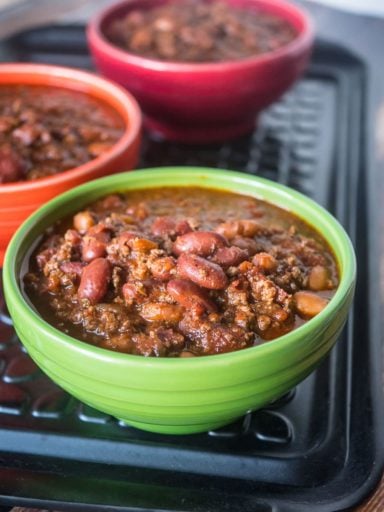 Video
Note: I took this video while making a version of this recipe scaled up for an 8 quart pressure cooker. I'm including it here because it's the same instructions; just use the ingredient amounts in the recipe on this page if you have a 6 quart pressure cooker.

Pressure Cooker Quick Chili (in an 8 Quart Pressure Cooker) [YouTube]
Recipe: Pressure Cooker Quick Chili with Canned Beans
Equipment
Print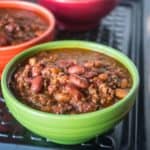 Pressure Cooker Quick Chili with Canned Beans
---
Author:

Mike Vrobel

Total Time:

40 minutes

Yield:

6

-

8

servings

1

x
Description
Pressure Cooker Quick Chili with Canned Beans recipe. What's the quickest way to get dinner on the table? Pressure cooker chili, of course.
---
1 tablespoon

vegetable oil

1

large onion, diced

4

cloves garlic, crushed

½ teaspoon

Diamond Crystal kosher salt

¼ cup

chili powder

1 tablespoon

ground cumin

1 tablespoon

oregano

1

pound ground beef (Preferably 85% lean ground round or 80% lean ground chuck)

1 ½

 cups water (or homemade chicken broth)

4

(14- to 16-ounce) cans of beans, drained (kidney, pinto, black, or a mix of beans)
(28-ounce) can crushed tomatoes

1 teaspoon

fresh ground black pepper
Salt to taste
---
Instructions
Sauté the aromatics: Heat 1 tablespoon of vegetable oil in the pressure cooker pot over medium heat until shimmering. Add the onions, garlic, and ½ teaspoon salt to the pressure cooker. Sauté the onions and garlic until softened, about 5 minutes.
Toast the spices and cook the beef: Make a hole in the center of the onion mix and add the chili powder, cumin, and oregano. Let sit for 30 seconds, then stir into the onions. Add the ground beef and stir to coat with the onions and spices, scraping any browned bits from the bottom of the pot. Add the water and cook the beef, stirring often, until the beef just loses its pink color, about 3 minutes.
Cook the chili: Stir the beans and crushed tomatoes into the pot. Lock the lid on the pressure cooker and cook at high pressure for 10 minutes in an electric PC or 8 minutes in a stove top cooker. Turn off the heat and let the pressure come down naturally, about 15 minutes. (Or, if you're really in a hurry, high pressure for 12 minutes in an electric PC or 10 minutes in a stovetop, then quick release the pressure.) Remove the lid carefully, opening away from you – even when it's not under pressure, the steam in the cooker is very hot.
Season and serve: Stir in the black pepper, then taste and add salt if needed. (Canned beans tend to be salty, so I rarely need to add more salt.)
Notes
Troubleshooting scorching or overheating: I have one pressure cooker that runs hotter than my others, and it had problems with overheating in this recipe. (Overheat usually means the pressure cooker noticed that things are burning on the bottom of the pot.) If you have overheating or scorching in your cooker, add an extra cup of water to the recipe and make sure the bottom of the cooker is scraped well before stirring in the beans.
Homemade beans: If you have leftover pressure cooker beans, this recipe is a great way to use them up. Substitute 6 to 8 cups of cooked homemade beans for the canned beans.
Prep Time:

15 minutes

Cook Time:

25 minutes

Category:

Pressure Cooker

Cuisine:

American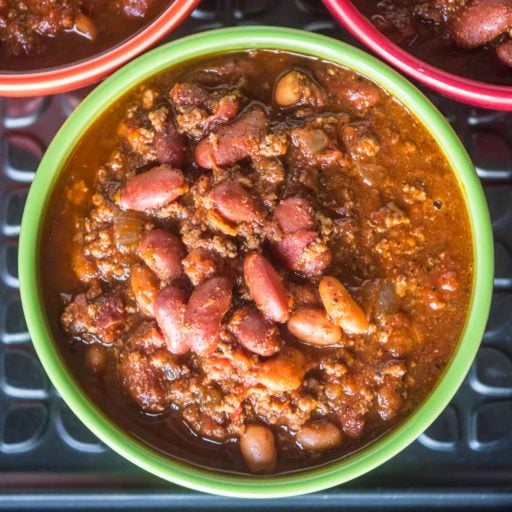 What do you think?
Questions? Other ideas? Leave them in the comments section below.
Related Posts
Pressure Cooker Ground Beef and Bean Chili
Pressure Cooker Turkey and Black Bean Chili
Instant Pot White Turkey Chili
Pressure Cooker Beans: Basic Technique
My other Pressure Cooker Recipes
Enjoyed this post? Want to help out DadCooksDinner? Subscribe to DadCooksDinner via eMail or RSS reader, recommend DadCooksDinner to your friends, and buy something from Amazon.com through the links on this site. Thank you.