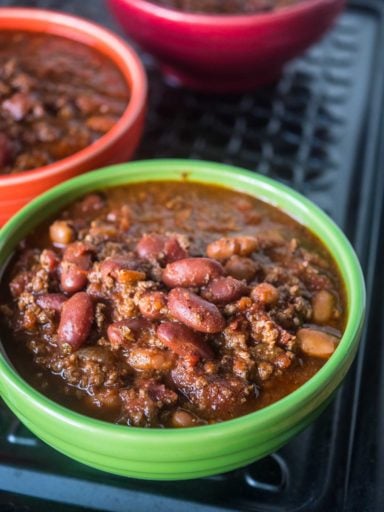 ---
Special thanks to my friends at Certified Angus Beef® Brand for sponsoring DadCooksDinner.
Please check them out at the hashtag #BestBeef for more chili ideas, and the Virtual #BestBeef Chili Cook-Off on Instagram. Or visit them at the Certified Angus Beef Kitchen Community on Facebook. Thank you!
---
I write my recipes for 6 quart pressure cookers - it is the most common size, especially with how the Instant Pot has taken off. But, now that the 8 quart Instant Pot is available, I get a lot of questions about scaling up recipes to fit.
My answer is, in general "Keep the cooking time the same, but increase the ingredients by a third". That's how much extra space you get using an 8 quart cooker vs a 6 quart cooker. Let me show you my math (and if you were promised there would be no math, skip to the next paragraph):
6 quarts with 70% useable space to max fill = 4.2 quarts
8 quarts with 70% useable space to max fill = 5.6 quarts
5.6/4.2 = 33.3% more space (or about a quart and half of extra space).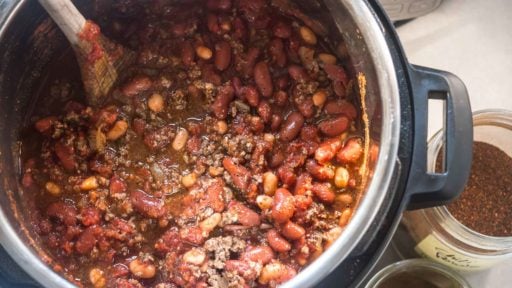 Unfortunately, no one likes that answer. And, really…I don't use it either. I pay more attention to the extra 1.5 quarts, the max fill line, and the ingredients I think will fill out the recipe.
Let's take my Pressure Cooker Quick Chili with Canned Beans recipe, a recent blog favorite, and one I'll be making for a super bowl party this weekend. Instead of just scaling everything up - which I could have done - I picked my spots. I use beans to bulk up the chili, so I added an extra two cans - a 50% increase. To balance that out, I need to increase the beef - and my grocery store sells ground beef in 1 pound or 3 pound packages (on average). Instead of trying to split the family pack, I bought two smaller 1-pound packs of beef. (I'm not just trying to keep my friends at Certified Angus Beef happy. Honest.) And, I bumped the spices by 50% to match the beef and beans.
Now, that's more than a 33% increase, so I only increased the liquid by a little - from 3 cups to 4 cups. I was still just below my max fill line, so I was good to go. Everything else - the onions, garlic, crushed tomatoes - I left the same. Of course, it helps that chili is a flexible recipe. For example: want to use the extra space by going with 4 pounds of beef? Sure, that works. Or, go with a couple more cans of beans? It's all good. As long as you keep the pot below 70% full, and have enough liquid to build pressure, you'll be fine.
So, here it is - a big batch of chili for the 8 quart Instant Pot. Enjoy!
What's that? What about a 12 quart pressure cooker? Sigh.
…
Just kidding - that one is really easy - just double my 6 quart recipe. The math works perfectly.
Video
Big Batch of Quick Chili in the 8 Quart Pressure Cooker [YouTube]
Print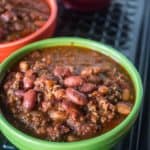 Big Batch of Quick Chili in the 8 Quart Pressure Cooker
---
Author:

Mike Vrobel

Total Time:

40 minutes

Yield:

5 quarts

of chili

1

x
Description
Looking to make a big batch of ground beef and bean chili in your 8 quart pressure cooker? Here you go:
---
1 tablespoon

vegetable oil

1

large onion, diced

4

cloves garlic, crushed

½ teaspoon

kosher salt

6 tablespoons

chili powder (

¼ cup

plus

2 tablespoons

)

1 ½ tablespoon

ground cumin

1 tablespoon

oregano

2

pounds ground beef (Preferably 85% lean ground round or 80% lean ground chuck)

4

 cups water (or chicken broth)

6

(14- to 16-ounce) cans of beans, drained (kidney, pinto, black, or a mix of beans)

28

-ounce can crushed tomatoes
Fresh ground black pepper and salt to taste
---
Instructions
Sauté the aromatics: Heat 1 tablespoon of vegetable oil in the pressure cooker pot over medium heat until shimmering. Add the onions, garlic, and ½ teaspoon salt to the pressure cooker. Sauté the onions and garlic until softened, about 5 minutes.
Toast the spices and cook the beef: Make a hole in the center of the onion mix and add the chili powder, cumin, and oregano. Let sit for 30 seconds, then stir into the onions. Add the ground beef and stir to coat with the onions and spices, scraping any browned bits from the bottom of the pot. Add the water, bring to a simmer, and simmer the beef, stirring often, until the beef just loses its pink color, about 3 minutes.
Cook the chili: Stir the beans and crushed tomatoes into the pot. Lock the lid on the pressure cooker and cook at high pressure for 10 minutes in an electric PC or 8 minutes in a stove top cooker. Turn off the heat and let the pressure come down naturally, about 15 minutes. (Or, if you're really in a hurry, high pressure for 12 minutes in an electric PC or 10 minutes in a stovetop, then quick release the pressure.) Remove the lid carefully, opening away from you – even when it's not under pressure, the steam in the cooker is very hot.
Season and serve: Stir in the black pepper, then taste and add salt if needed. (Canned beans and tomatoes tend to be salty, so I usually don't need more salt.)
Notes
Recommended Equipment: 8 quart or larger Pressure Cooker (I love my Instant Pot IP-Duo80)
If you like cooking dried beans in your pressure cooker - one of its killer features, in my opinion - a pound of dried beans will make about 6 cups of cooked beans, perfect for substituting in this recipe. So, if you make your beans ahead of time, you can toss them in the pressure cooker and have chili in no time. (Just make sure to add extra salt in the "season and serve" step - homemade beans are a lot less salty.)
Prep Time:

15

Cook Time:

25

Method:

Pressure Cooker

Cuisine:

American
Related Posts
Pressure Cooker Quick Chili with Canned Beans (for a 6 Quart Instant Pot)
Pressure Cooker Texas Red Chili
Pressure Cooker Chili Verde - Green Pork Chili
My other Pressure Cooker Recipes
Enjoyed this post? Want to help out DadCooksDinner? Subscribe to DadCooksDinner via eMail or RSS reader, recommend DadCooksDinner to your friends, and buy something from Amazon.com through the links on this site. Thank you.