I was surfing the web, reading my usual suspects (that is, food-related sites) when I saw this post by Kevin Pang on TheTakeout.com: The utter deliciousness of braised oxtails can't be overstated. He's right - the deliciousness of braised Oxtails *can't* be overstated. Even better is Kevin's simple recipe. I'm taking his idea and running with it, to make Instant Pot Easy Braised Oxtail.
Oxtail is precisely what it says it is - the tail of a steer. It's not a common cut in the US, but it's worth seeking out, and it's getting easier to find. In the old days, I'd tell you to check your local Mexican market. Now I can find it at my local grocery store (if I dig deep into the meat case), and Costco sells entire tails, cross-cut and sealed in cryovac.
Now, this is about as simple as a recipe gets, but don't be fooled - simple doesn't mean boring. Oxtail is a great cut for the pressure cooker. It's full of tough connective tissue, fat, and bones, and it needs long, slow cooking to melt it to tender, shreddable meat. Or, I need to apply some pressure - that's where my Instant Pot steps in. A long, slow braise (cooking the oxtails with a little liquid) takes just over an hour in my pressure cooker.
Looking for an easy braise using an unusual cut? Try these Instant Pot Easy Braised Oxtails.
Print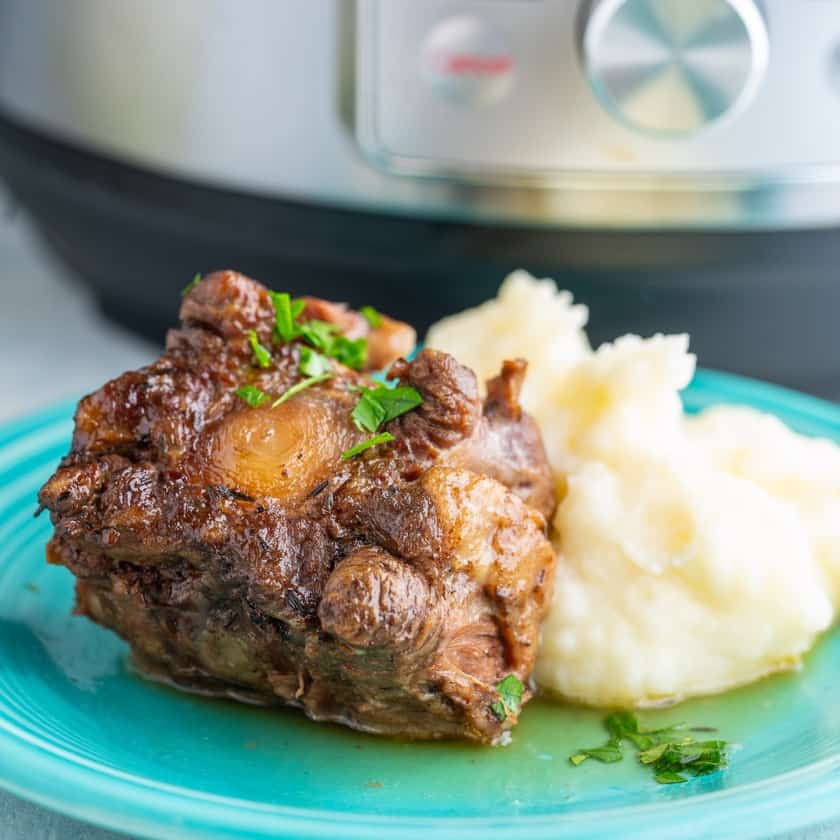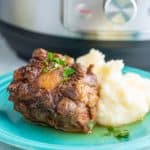 Instant Pot Easy Braised Oxtail
---
Description
Instant Pot Easy Braised Oxtail. Simple and delicious, braised oxtail in a little over an hour thanks to pressure cooking.
---
1 tablespoon

vegetable oil

3

pounds oxtail, cut into

3

-inch lengths

½ teaspoon

fine sea salt

¼ teaspoon

fresh ground black pepper

1 cup

beef or chicken broth (or water)

½ teaspoon

dried thyme

1 tablespoon

Worcestershire sauce

1 tablespoon

soy sauce
---
Instructions
Sear the oxtail on one side:Heat the vegetable oil in the Instant Pot over Sauté mode set to high (medium-high heat in a stovetop PC) until the oil starts to shimmer. While the pot heats, sprinkle the oxtail with ½ teaspoon of salt and ¼ teaspoon of pepper. Add the oxtails to the pot in a single layer (they will just barely fit in a 6-quart Instant Pot - think jigsaw puzzle) and sear until well browned on the bottom, about 5 minutes. Flip the oxtails and immediately move on to the next step.
Add the thyme and liquid: Pour the broth into the pot, then sprinkle the oxtails with the dried thyme. Drizzle the Worcestershire sauce and soy sauce over everything.
Pressure cook for 45 minutes with a Natural Pressure Release:Lock the lid on the pressure cooker. Cook at high pressure for 45 minutes ("Manual" or "Pressure Cook" mode in an Instant Pot), or for 40 minutes in a stovetop PC. Let the pressure come down naturally, about 30 more minutes. (If you're in a hurry, you can quick release any remaining pressure after 20 minutes.) Remove the lid, tilting it away from you to avoid the hot steam.
De-fat the sauce and serve: Remove the oxtails from the pot with tongs or a slotted spoon. Be gentle - the oxtails will be fall-apart tender. Pour the cooking liquid into a 1-quart fat strainer, and let it settle to separate the fat. Pour a little of the de-fatted liquid on the oxtails and pass the rest at the table to use as a sauce. Enjoy!
Notes
Searing the oxtails: I only sear them on one side, for the best balance between flavor and speed. Browning adds a lot of flavor to braises, as the cooking liquid melts the browned bits. You can skip the browning step if you're in a big hurry, and the oxtail will still be great, but not quite as great as it could be. Or, if you have the patience, you can brown the meat on multiple sides to build even more flavor. Elaborate French braises ask you to brown the meat on all sides before braising. "Brown on one side" is my compromise between building flavor and speed.
Tools
Prep Time:

5 minutes

Cook Time:

1 hour 15 minutes

Category:

Sunday Dinner

Method:

Pressure Cooker

Cuisine:

American
What do you think?
Questions? Other ideas? Leave them in the comments section below.
Related Posts
Pressure Cooker Beef Shank (Osso Bucco) - DadCooksDinner
Pressure Cooker Short Ribs Braised with Beer - DadCooksDinner
Pressure Cooker Beef Brisket - DadCooksDinner
My other Pressure Cooker Recipes
Enjoyed this post? Want to help out DadCooksDinner? Subscribe to DadCooksDinner via email and share this post with your friends. Want to contribute directly? Donate to my Tip Jar, or buy something from Amazon.com through the links on this site. Thank you.