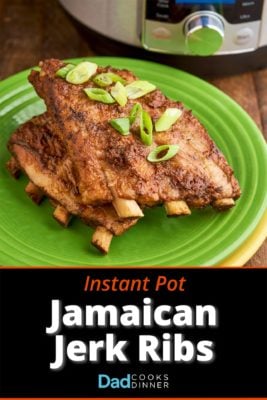 Instant Pot Jerk Ribs. Jamaican style pork ribs, with a Scotch Bonnet and allspice marinade, cooked in the pressure cooker.
No, *You're* a Jerk.
Ahem…sorry. Saying "Jerk" makes my inner 8-year-old come out. It may sound like I'm calling it names, but Jamaican jerk is derived from the same root word as jerky - it was originally meat dried over an open wood fire.
Jamaican Jerk is a justly famous spice blend. Made primarily of Scotch Bonnet peppers and allspice berries, it has a bunch of other flavors in it, including onions, garlic, thyme, and cinnamon. Soy sauce is a surprisingly common ingredient - I think Jamaican cooks, like cooks the world over, like the salty, umami depth that soy sauce adds.
A warning about Scotch Bonnet peppers, and their close relative, Habanero peppers. These peppers are not messing around, and should come with a biohazard warning. I once rubbed my nose after handling Habanero peppers, and it's not a mistake I'm going to repeat. I wear gloves while seeding these peppers, and even then I wash my hands when I'm done handling them. I seed the peppers to reduce the heat, leaving their delicious fruity flavor as one of the main parts of the Jerk paste. That doesn't mean no heat - I'd rate these ribs a medium to medium-high heat level - but they're definitely not Atomic Death By Fire ribs. (Not that there's anything wrong with that - if you want extra heat, go ahead and leave the seeds in the peppers when you add them to the food processor.)
My big Jerk change is a liquid substitute: I replace the rum in the jerk paste with pineapple juice. (It's not traditional, but hey, the Jamaican flag has a pineapple right in the middle - it can't be that far off.)
Most marinades don't actually tenderize, but this one does, thanks to pineapple containing the enzyme Bromelain. Bromelain is a natural meat tenderizer, breaking down meat fibers. This is great in small doses, but don't over-marinate these ribs, or you'll have mushy meat. I go for 4 hours max of marinating.
Of course, my other big change is not cooking the ribs over a fire of pimento wood - the wood that allspice berries come from. I'm cooking the ribs in my Instant Pot, where they're pull-apart tender after a half hour at high pressure.
Looking for a taste of the Islands? Try these jerk ribs - you won't be disappointed.
Recipe: Instant Pot Jerk Pork Ribs
Print
Instant Pot Jerk Ribs
---
Author:

Mike Vrobel

Total Time:

1 hour 20 minutes

Yield:

1

slab of ribs

1

x
Description
Instant Pot Jerk Ribs. Jamaican style pork ribs, with a Scotch Bonnet and allspice marinade, cooked in the pressure cooker.
---
1

slab St. Louis Cut spareribs (about

3

pounds), membrane peeled off

1½ teaspoons

fine sea salt

1 tablespoon

liquid smoke (optional)
Jerk Paste
4

scotch bonnet (or habanero) peppers, stemmed and seeded

4

cloves garlic, peeled

4

scallions (green onions), root ends trimmed, cut into rough 2-inch pieces

2 tablespoons

brown sugar

1 tablespoon

ground allspice

1 tablespoon

paprika (preferably Pimenton, smoked Spanish paprika)

1 tablespoon

dried thyme

¼ teaspoon

cinnamon

¼ cup

vegetable oil

¼ cup

soy sauce

¼ cup

pineapple juice
---
Instructions
Remove the membrane from the ribs: On the bone side of the slab of ribs, work a butter knife between the membrane and a bone, then grab the membrane with a paper towel and pull it off of the ribs. Pull gently but firmly; if the membrane tears while you're pulling, work the knife under the remaining pieces and pull them off as well. Trim the flap of meat from the bone side as well – either discard it, or marinate it and add it to the pot with the ribs. (It makes a nice cook's snack.)
Make the Jerk Marinade: Put the seeded scotch bonnet peppers, garlic, and scallions in a food processor, and pulse with 1-second pulses until finely chopped, about 5 pulses. Add the brown sugar, allspice, paprika, thyme, and cinnamon, and pulse a few times to mix. Add the vegetable oil, soy sauce, and pineapple juice, then run the food processor for 30 seconds to blend into a marinade.
Season the ribs: Cut the rack of ribs into 4 pieces, cutting between every 3rd bone. Sprinkle the ribs with the 1½ teaspoons of sea salt. Put the ribs in a zip-top plastic bag, pour in the Jerk marinade, and seal, squeezing out any extra air from the bag. (Or, put the ribs in a baking dish, pour the Jerk marinade over the ribs, and cover with plastic wrap). Refrigerate for 1 to 4 hours, flipping the bag of ribs every now and then to redistribute the marinade.
Pressure cook the ribs for 30 minutes with a Natural Release: Pour ½ cup of water into the Instant Pot (or use the minimum liquid amount for your pressure cooker), and (optional) add 1 tablespoon of liquid smoke. Lift the ribs out of the marinade, letting any excess drip off, then stack the ribs loosely in the cooker, bone side down. Lock the lid and cook on high pressure for 30 minutes in an Instant Pot or other electric PC (use "Manual" or "Pressure Cook" mode in an Instant Pot), or for 24 minutes in a stovetop PC. Let the pressure come down naturally, about 15 more minutes. If you're in a hurry, you can quick release any remaining pressure after 15 minutes.
Broil the ribs (optional): Put the ribs, bone side down, on a rimmed baking sheet. Put the baking sheet under a broiler set to high. Broil the ribs until just starting to brown, about 5 minutes. Remove the ribs from the broiler, serve, and enjoy!
Equipment
Notes
Want your Jerk Pork to have next level heat? Don't seed the peppers. Remove the stems and then toss them in the food processor, seeds and all. (I think of removing the stem like pulling the pin on a grenade, and I want to shout "fire in the hole!" when I toss them in the food processor.)
I like St. Louis Cut spareribs for this recipe; they're a trimmed version of a full slab of spareribs. Can't find St. Louis Cut Spareribs? Baby back ribs are also very good, and cook the same - use them in the recipe as written. Full slabs of spareribs take a little longer to cook, because they're larger. Cook for 40 minutes at high pressure in an Instant Pot or other electric PC, or for 36 minutes in a stovetop PC.
Tools
Prep Time:

20 minutes

Cook Time:

60 minutes

Category:

Sunday Dinner

Method:

Pressure Cooker

Cuisine:

Jamaican
Keywords: Instant Pot Jerk Ribs, Jamaican Jerk Pork Ribs, Pressure Cooker Jerk Ribs
What do you think?
Questions? Other ideas? Leave them in the comments section below.
Related Posts
Instant Pot Tuscan Pork Ribs (with Rosemary, Fennel, and Garlic)
Instant Pot Jamaican Beef Stew
Instant Pot Baby Back Ribs with Chili-Honey Glaze
My other Instant Pot and Pressure Cooker Recipes
Enjoyed this post? Want to help out DadCooksDinner? Subscribe to DadCooksDinner via email and share this post with your friends. Want to contribute directly? Donate to my Tip Jar, or buy something from Amazon.com through the links on this site. Thank you.