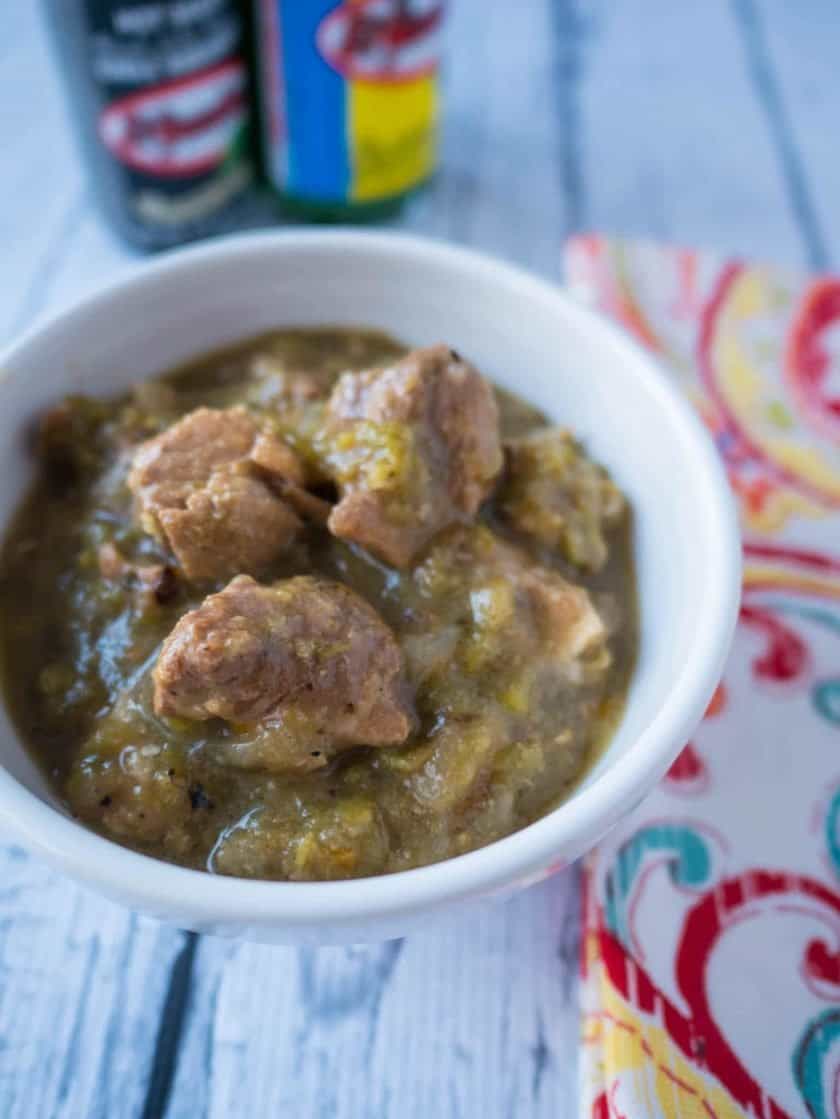 Pressure Cooker Chili Verde
Is this chili? I mean…it isn't red.
Meat simmered in a chile based sauce? Of course it's chili. It is just…different.4Come at me, chili purists.
Chili Verde, or Green pork chili, is a staple of the Southwest. Once you leave Texas and its dried ancho based chiles, you get into long green chili territory. The most famous long green is the Hatch chili of New Mexico, which is the start of Chili Verde territory, but Chili Verde stretches north to Colorado, and west through Arizona and in to California. 5Of course, it also stretches down into Mexico. Salsa Verde, the green sauce we simmer the pork in, came from the Frontera of Northern Mexico and Southwestern America. The Frontera region has always been a porous border, with lots of food ideas crossing the border, mixing, and heading back the other way.
I'm sharing two different versions of the Salsa Verde recipe - one is the real deal, with home-roasted chiles. If I can get New Mexico or Anaheim long green chiles (and fresh tomatillos), I use them - the results are fantastic.
At least, that's what I do in the summer. For all my talk of the Southwest, I only get to visit; I live in Ohio. In the winter, long green chiles are hard to come by - and ridiculously expensive when you can find them. That's when I have to improvise, and canned green chiles and jarred tomato salsa have to be good enough for my Salsa Verde. 6While I dream of the hot, dry Southwest during a February snowstorm.
Recipe: Pressure Cooker Chili Verde (Green Pork Chili)
Equipment
Print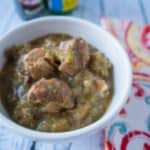 Pressure Cooker Chili Verde (Green Pork Chili)
---
Author:

Mike Vrobel

Total Time:

1 hour 20 minutes

Yield:

8

-

12

1

x
Description
Pressure Cooker Chili Verde (Green Pork Chili) recipe - green pork chili from the great American Southwest, sped up using the pressure cooker.
---
Homemade Salsa Verde
1

pound tomatillos, husked and rinsed

2

pounds Anaheim chiles, halved, stemmed and seeded (or New Mexico chiles)

2

jalapeño peppers, halved and stemmed

½ cup

cilantro leaves and stems

1 teaspoon

Diamond Crystal kosher salt
Quick Salsa Verde (from cans)
27 ounces

mild fire roasted diced green peppers (one

28 ounce

can, or 6 (4-ounce) cans)

16 ounce

jar tomatillo salsa or salsa verde
Chili
4

pounds pork shoulder, cut into 1½-inch cubes (trim off as much fat as possible)

2 teaspoons

Diamond Crystal Kosher salt

1 tablespoon

vegetable oil

1

large onion, diced

½ teaspoon

Kosher salt

4

cloves garlic, crushed

1 tablespoon

ground cumin

1 tablespoon

ground coriander

1 tablespoon

dried oregano (preferably Mexican oregano)

1 cup

chicken stock (preferably homemade) or water
Juice of

1

lime
Salt and pepper
---
Instructions
Option 1: Homemade Salsa Verde: Spread the tomatillos, anaheim chiles, and jalapeno peppers skin side up on a rimmed baking sheet. Put the baking sheet 6 inches below a broiler set to high, and broil until the tomatillos and peppers are blackened in spots, about 5 minutes. Flip the tomatillos and broil until the tomatillos are browned on the other side and the skins of the peppers are blackened all over, about another five minutes. Remove the baking sheet from the oven and let the peppers cool for a few minutes, then peel the blackened skin from the peppers and discard. (A little leftover blackened skin is fine.) Pour the contents of the baking sheet into a blender or food processor, including as much of the liquid as possible. Add the cilantro and the teaspoon of Kosher salt, then blend until smooth, about 30 seconds.
Option 2: Quick Salsa Verde: Mix the canned diced chiles and tomatillo salsa in a medium bowl.
Brown the pork: Sprinkle the pork with the 2 teaspoons kosher salt. Heat the oil in the pressure cooker pot over medium-high heat until shimmering. (Saute mode in an electric PC). Brown the pork in two to three batches - put pork cubes in the pot without crowding, and brown each batch of pork on one side, about 4 minutes. Transfer the pork to a bowl with a slotted spoon, leaving as much fat behind as possible.
Saute the aromatics and toast the spices: There will be extra fat in the pot from the pork; pour out the fat to get down to 1 tablespoon. Add the onions to the pot and sprinkle with ½ teaspoon of kosher salt. Saute the onions until softened and starting to brown around the edges, about 5 minutes, scraping often to release any browned pork bits from the bottom of the pot. Make a hole in the middle of the onions and add the garlic, cumin, coriander, and oregano. Cook until you smell the garlic and spices, about one minute, then stir into the onions.
Pressure cook the chili for 30 minutes with a Natural Release: Stir the chicken stock, salsa verde, pork, and any pork juices in the bowl into the pot. Lock the lid and cook at high pressure for 30 minutes in an Instant Pot or other electric PC, or for 25 minutes in a stovetop PC. Let the pressure come down naturally, about 20 minutes.
Serve the chili: Stir in the lime juice. Taste and add more salt and pepper if it needs it. (Homemade salsa verde will need more salt; the quick version from cans probably does not - canned ingredients already have a lot of salt. Go by taste; If the chili tastes flat, it needs more salt.) Serve.
Notes
Why brown only one side of the pork? I find it the best compromise between flavor and speed. Browning one side of the pork gives me the browned bits on the bottom of the pan that build flavor in a chili; browning only one side means I don't spend forever browning pork.br][br]Like beans in chili? Serve with [Pressure Cooker Pinto Beans and stir in as much as you want. (In the Southwest, beans are a condiment, added in as needed.)
Prep Time:

20 minutes

Cook Time:

1 hour

Category:

Pressure Cooker

Cuisine:

American
What do you think?
Questions? Other ideas? Leave them in the comments section below.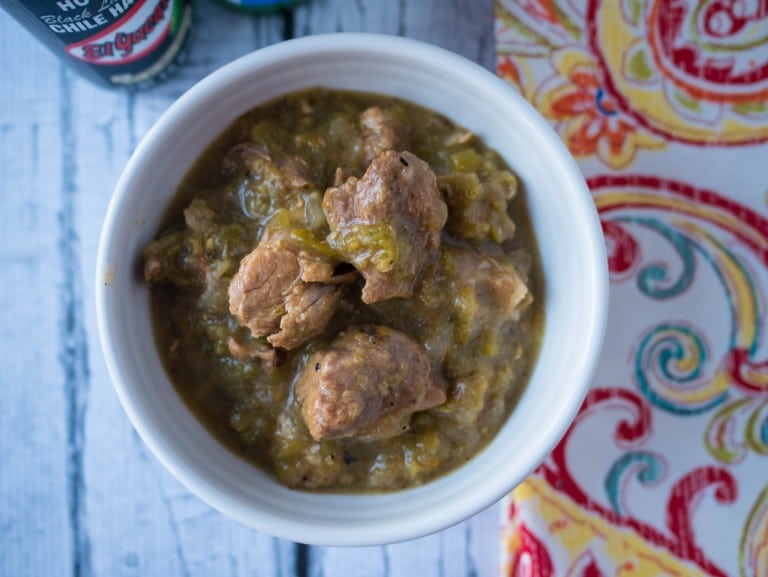 Related Posts
My Top 5 Pressure Cooker Chilies
Pressure Cooker Texas Red Chili
Slow Cooker Chili Verde
My other Pressure Cooker Recipes
Enjoyed this post? Want to help out DadCooksDinner? Subscribe to DadCooksDinner via eMail or RSS reader, recommend DadCooksDinner to your friends, and buy something from Amazon.com through the links on this site. Thank you.