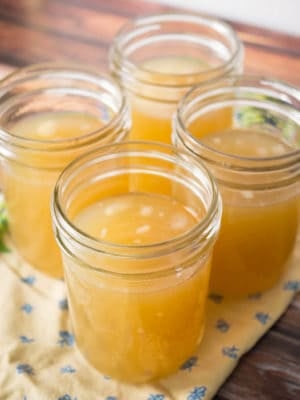 I'm a fan of "use it up" chicken broth, where I use the leftovers from roast chicken to make stock. But…I use a lot of chicken broth in my cooking - in soups, sauces, and stews - and sometimes I have to make stock on purpose.
That's when I head to the store to get random chicken parts. For chicken broth, I want two things: mostly bones, and cheap. Wings work, but they fail the "cheap" test for me - wings are as expensive as chicken breast nowadays. Instead, I look for necks and backs; my grocery store has chicken backs in the freezer for less than a dollar a pound.3Unless I can make a trip to the poultry butcher downtown - then I get a mix of backs, necks and feet. Yes, feet - they have a lot of connective tissue, and make for extra-gelatinous stock.
You can toss the bones straight into the pot to make what the French call "white broth" - and I do that often. But, when I have the time, I like the roasted flavor that comes from browning the chicken. I spread the bones out on a rimmed baking sheet, add the garlic and onions that are going in the pot, and roast everything for an hour to get it nice and toasted. It's not much extra work, and it pays off in a richer flavored broth. 4And the smell of roasting garlic is heavenly. Then, everything goes in the pot, and about 2 hours later I have a pot full of broth.
Yes, that's right, 2 hours later. The timing is 1 hour at high pressure, but the big variable in pressure cooking is the amount of liquid in the pot. And, we want to fill it to the max fill line. Boiling that much water to bring the pot to pressure, and letting it cool down with a natural pressure release take time. Don't worry - it still takes hours less than a stove top stock, and the results are worth the wait.
Recipe: Pressure Cooker Browned Chicken Broth (with Garlic)
Adapted from: Marco Canora Brodo: A Bone Broth Cookbook
Video
Pressure Cooker Browned Chicken Broth - Time Lapse
[YouTube.com]
Equipment
Print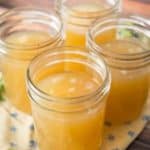 Pressure Cooker Browned Chicken Broth
---
Description
Pressure Cooker Browned Chicken Broth recipe - rich browned chicken broth from the pressure cooker.
---
3

pounds chicken backs, necks, or wings

1

large onion, peeled and halved

2

heads garlic, top ⅓ trimmed off

4 ounces

baby carrots (or

2

large carrots, peeled and rough chopped)

1

celery stalk, rough chopped

1 teaspoon

peppercorns

2

bay leaves

1 teaspoon

fine sea salt (or

1 ½ teaspoons

Diamond Crystal kosher salt)
Water to cover (about 2 quarts)
---
Instructions
Brown the chicken and aromatics: Roast the chicken parts, onion, and garlic for an hour in a 400°F oven to brown, flipping after 30 minutes.
Pressure cook the broth: Move the chicken, onion, garlic, and the juices in the pan into the pressure cooker pot. Add the carrots, celery, peppercorns, bay leaves, and salt to the pressure cooker pot, then add water to cover by 1 inch, or to the max fill line on the pressure cooker. (About 2 quarts of water) Pressure cook for 60 minutes in an electric PC, 50 minutes in a stovetop PC. Let the pressure come down naturally - about 30 minutes. (It takes a long time for all that water to cool off. If you're in a hurry, let the pressure come down for at least 20 minutes, then quick release any remaining pressure.)
Strain and reserve: Scoop the bones and vegetables out of the pot with a slotted spoon and discard. Strain the broth through a fine mesh strainer and discard the solids. At this point, the broth is ready - use it right away if you need it. (If you have the time, let the broth settle in a fat separator for five minutes before using.) I refrigerate the broth overnight (or up to 3 days) to let the fat float to the top. I scrape the fat off the top of the broth, portion it into 2 and 4 cup containers, and freeze for up to 3 months.
Prep Time:

1 hour

Cook Time:

1 hour

Category:

Pressure Cooker

Cuisine:

American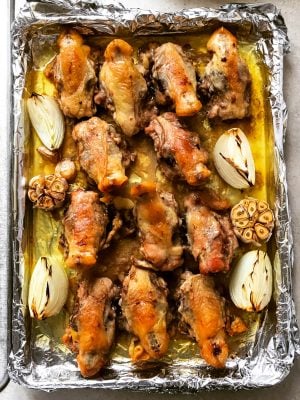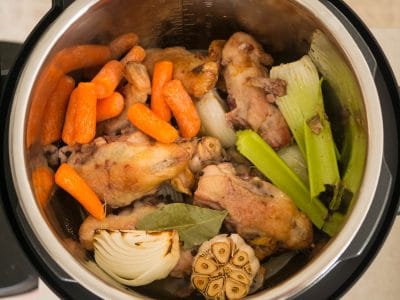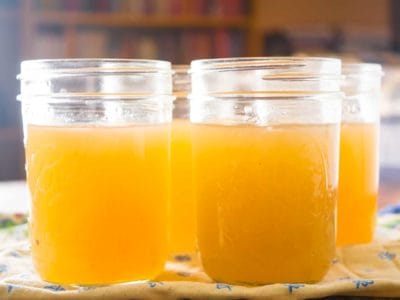 Notes
If you are freezing the broth, don't fill the containers right up to the top. (Frozen broth expands - it is mostly water, after all.) I only fill my broth containers ¾ full before freezing.
If you have a larger pressure cooker, you can scale up the broth amount; I can squeeze 4 pounds of bones and 3 quarts of water into my new 8 quart Instant Pot, and double it in my massive 12 quart Kuhn Rikon.
What do you think?
Questions? Other ideas? Leave them in the comments section below.
Related Posts
Pressure Cooker Chicken Noodle Soup with Vegetables
Pressure Cooker Chicken Broth and Shredded Chicken
Pressure Cooker Browned Beef Stock
Enjoyed this post? Want to help out DadCooksDinner? Subscribe to DadCooksDinner via eMail or RSS reader, recommend DadCooksDinner to your friends, and buy something from Amazon.com through the links on this site. Thank you.