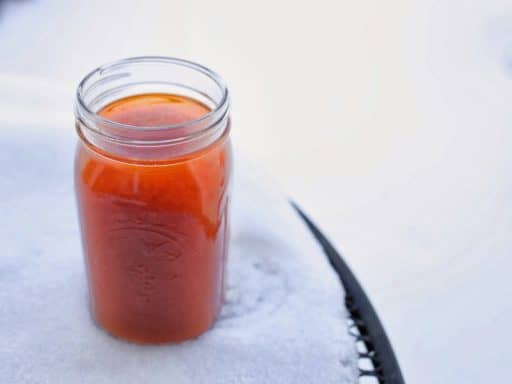 I got a complaint about my Pressure Cooker Beef Stock: it is too expensive!
I think this is because oxtail and beef shanks can be cheap throwaway cuts or expensive gourmet ingredients, depending on your grocery store. Sometimes, even at the same store, the prices vary. (Thanks to a manager's special, beef shank cost less than beef soup bones when I was shopping for this recipe.) So…use whatever is cheapest at your store. As long as it is about half bones and half meat, you'll get good results.
If you're really trying to save money, don't make beef stock. Make chicken stock instead. Chicken necks and backs are dirt cheap, less than a dollar a pound at my local stores, and they make a great stock. Even better - a leftover carcass from a roast chicken is essentially free, after you pick all the meat off of it.
Now, to make up for the cheap bones, we're going to add a lot of umami to the stock by browning the beef with tomato paste. This is a classic French technique to build flavor; browned beef stock is one of the hallmarks of french cooking.
Though, beef stock is not as versatile as veal stock. Veal stock is neutral tasting, liquid umami…but that's a recipe for another day.
Also, to be more frugal this time around, we're going to save the meat from the beef stock. The meat on the beef shanks is mostly spent…but I shred it and save it for use in soup.
What kind of soup? A recipe for Beef and Noodle Soup with Mushrooms and Carrots is coming later this week.
Recipe: Pressure Cooker Browned Beef Stock
Adapted from: Beef Stock Technique, ChefSteps.com
Equipment
Print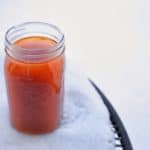 Pressure Cooker Browned Beef Stock
---
Author:

Mike Vrobel

Total Time:

2 hours 40 minutes

Yield:

2

-

3

quarts of stock

1

x
Description
Pressure Cooker Browned Beef Stock - rich, roasted, beefy stock tor use in soups, stews, and chilis.
---
2

pounds beef bones

1 ½

pound meaty oxtails (or chuck roast, or short ribs - you want cheap and on the bone)

1

can (6 ounces) tomato paste

2

medium onions, peeled and halved

1

head garlic, top ⅓rd trimmed off

2

carrots, peeled

2

stalks celery, trimmed

4

sprigs fresh thyme

10

peppercorns

1 teaspoon

fine sea salt
Water to cover (8 to 12 cups)
---
Instructions
Brown bones and aromatics: Heat the oven to 425°F. In a large roasting pan, rub the tomato paste over the beef bones and oxtails. Add the onions, garlic, carrots, and celery to the pan. Put the pan in the oven and roast for 30 minutes. Turn the beef and aromatics and roast for another 15 to 30 minutes, until the beef and aromatics are browned.
Add the ingredients to the pot: Scrape the browned bones and aromatics into the pressure cooker pot. Put the roasting pan on the stove top over medium heat, add a cup of water, and bring the water to a simmer, scraping the browned bits on the bottom of the pan into the water. When all the browned bits are loose, pour the water into the pressure cooker pot. Add the thyme, peppercorns, and teaspoon of salt, and then add 8 to 12 cups of water (stop at 12 cups or the pressure cookers max fill line.)
Pressure cook the stock: Lock the lid on the pressure cooker and bring the cooker to high pressure. Cook on high pressure for 1 hour (1 hour 12 minutes in an electric PC). Turn off the heat and let the pressure come down naturally about 30 more minutes. (12 cups of water hold a lot of heat, so it takes a while for the pressure to drop.) If you get impatient, you can quick release the heat after 15 minutes.
Strain the stock, shred the beef: Using tongs and a slotted spoon, fish out the solids and discard, saving the meat from the beef shanks. (Save any meat from the soup bones that looks useable…but I don't usually see a lot of meat on my soup bones. Also, the carrots make a nice chef's treat if you sprinkle them with a little salt.) Set the shank meat aside to cool. Strain the stock through a fine mesh strainer into another large pot, and discard anything the fine mesh strainer catches. Shred the reserved beef. The stock and beef are ready to use; if you are preparing them in advance, let them cool, then refrigerate separately for a couple of days, or freeze for up to six months.
Prep Time:

10 minutes

Cook Time:

2 hours 30 minutes

Category:

Pressure Cooker

Cuisine:

American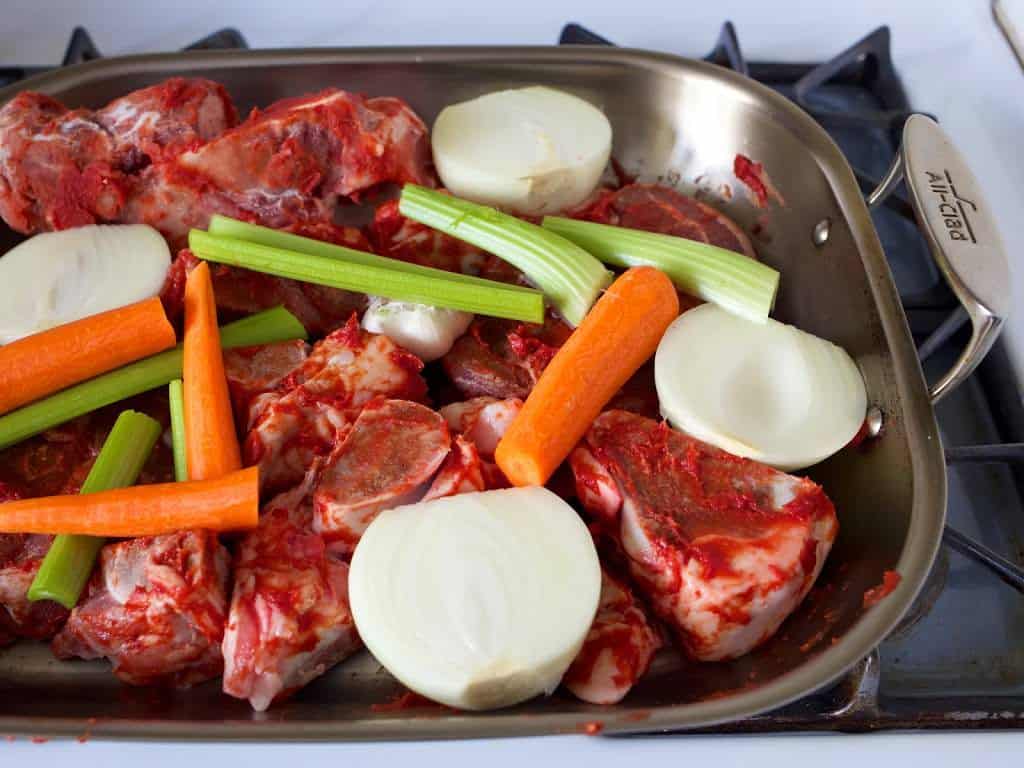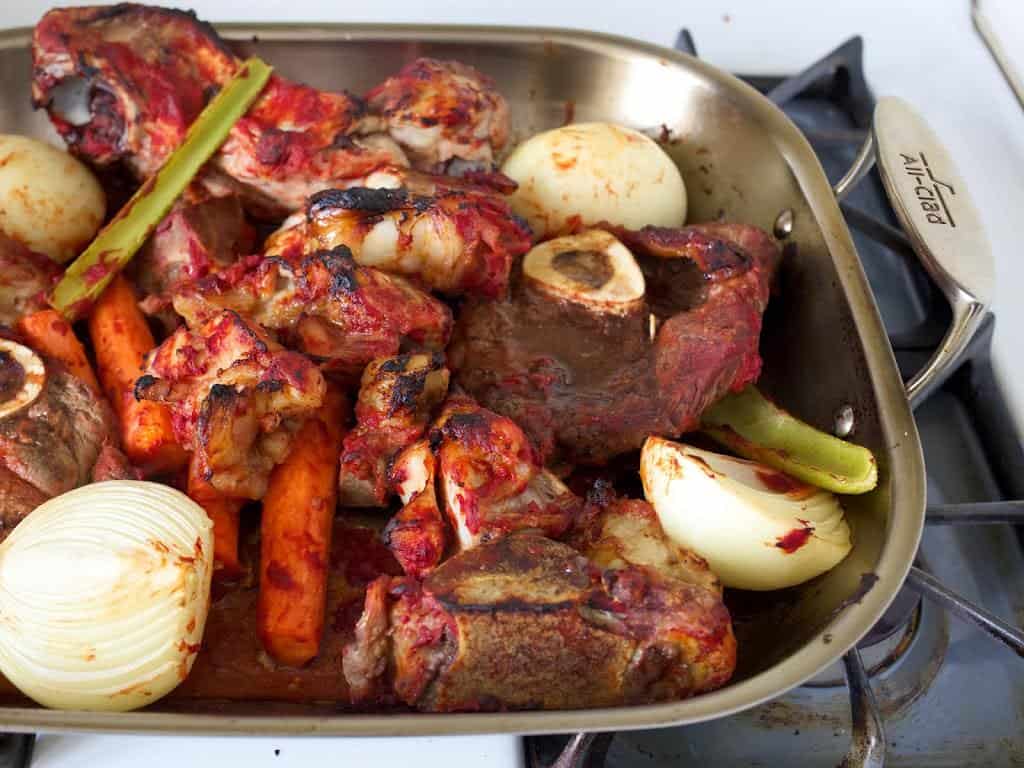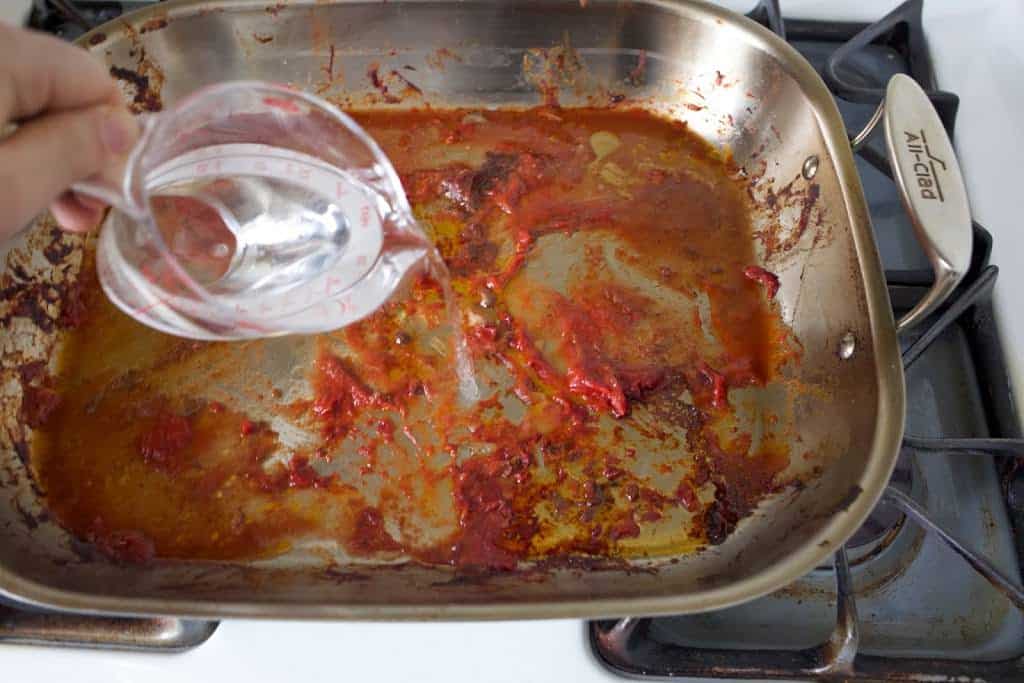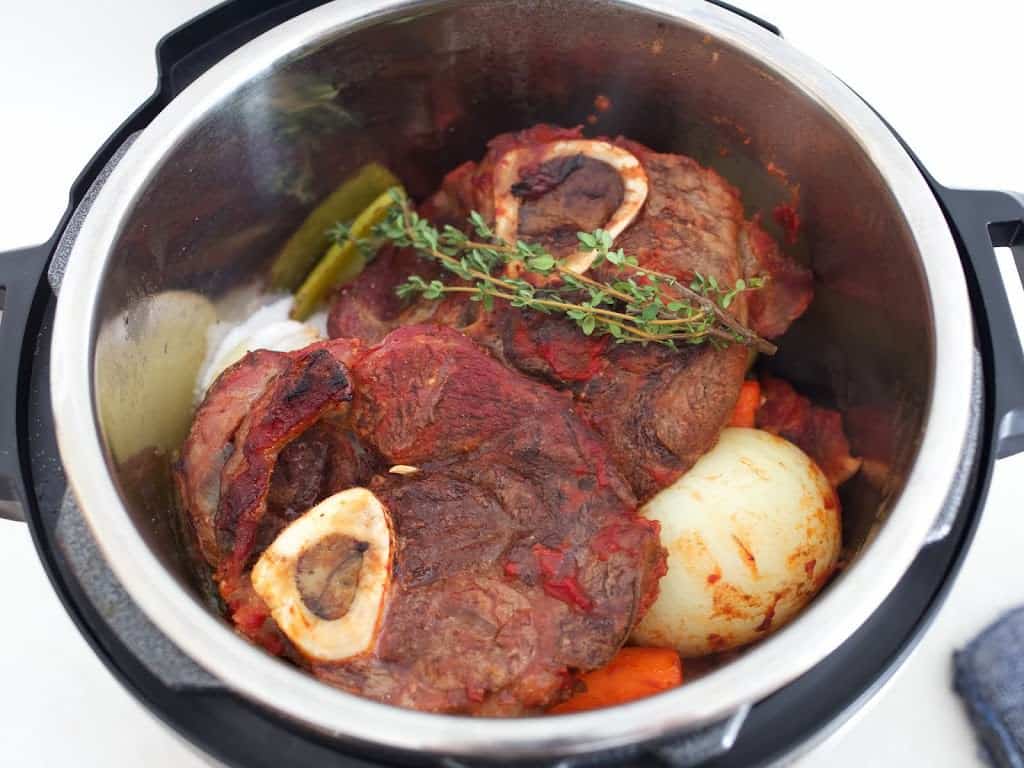 Notes
No pressure cooker? No worries. When you get to step 4, instead of pressure cooking the stock, slide the pot into an oven set to 180°F (or as low as you can get it) and simmer the stock in the oven for twelve hours. (Or simmer it on the stove top - but the oven holds low heat better.)
Stock is best made the night before, cooled, and refrigerated. The fat in the stock will float to the surface and harden into a solid disk, which is easy to remove with a slotted spoon.
What do you think?
Questions? Other ideas? Leave them in the comments section below.
Related Posts
Pressure Cooker Beef Stock - Less browned, more of an Asian flavor
Pressure Cooker Chicken Stock
Pressure Cooker Turkey Stock Revisited
Enjoyed this post? Want to help out DadCooksDinner? Subscribe to DadCooksDinner using the RSS or Email options on the right, recommend DadCooksDinner to your friends, buy something from Amazon.com through the links on this site, or donate through my tip jar. Thank you.