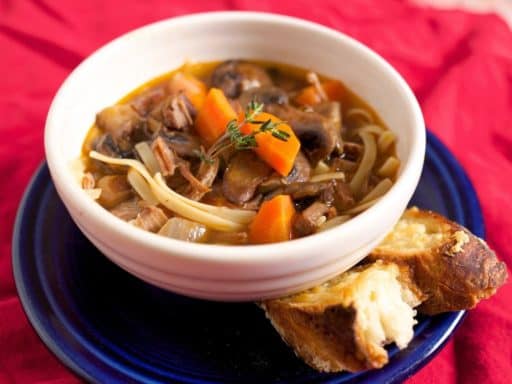 How do I use my browned beef stock? I make the best beef and noodle soup ever. (That's how it was rated by three finicky recipe testers, aged twelve, ten and nine.)
I lucked out on the timing of this recipe. When I made my weekly meal plan, I didn't know there was a storm coming. (This year, I should always assume a storm is coming…but I digress.) The kids took advantage of the snow day and headed outside to play with their friends. I took advantage of the piece and quiet and made beef stock. As they came back in the house, leaving a trail of snowy clothes behind them, each one said "what smells so good?"
Oh, just beef noodle soup. "Cool!" was the universal answer, followed by the sound of them pounding downstairs to play Xbox.
(Later, one came upstairs while the broth was cooling on the deck and asked in a worried tone: "Why don't I smell the beef soup any more?")
Homemade stock is the key to this recipe; it adds flavor and body that store-bought broth can't duplicate. The soup starts with sauteed mushrooms, adding another layer of umami to the bones and tomato paste in the beef stock. After that comes a base of aromatic onions and garlic, with a touch of crushed red pepper to spice it up a bit. Then we build the soup with thick pieces of carrot, shredded beef, and egg noodles.
Watch out with the noodles. One cup of dried noodles will not look like enough, but please, don't add more. More noodles will suck up all the broth, leaving you with a noodle stew instead of a soup.
A soup is not ready to serve until it has been aggressively seasoned. (Think of Remy fixing the soup…adding a dash of this and a bit of that, tasting some more, snapping his fingers, wondering if it needs something else.) A splash of vinegar adds some acid. Then use a heavy hand seasoning the soup with salt and pepper. Keep adding salt until the soup tastes sweet and suddenly has a lot of body - salt brings out the flavors of the broth, and the soup tastes bland without it.
Want the best beef and noodle soup ever*? Here it is.
*After all the mushrooms are picked out, according to one of the finicky reviewers.
Recipe: Pressure Cooker Beef Noodle Soup with Mushrooms and Carrots
Equipment
Print
Pressure Cooker Beef Noodle Soup with Mushrooms and Carrots
---
Author:

Mike Vrobel

Total Time:

2 hours 20 minutes

Yield:

6

-8

1

x
Description
Pressure Cooker Beef Noodle Soup with Mushrooms and Carrots. Use a batch of pressure cooker browned beef stock to make noodle soup.
---
1 tablespoon

vegetable oil

8 ounces

sliced mushrooms

½ teaspoon

kosher salt

1 tablespoon

vegetable oil

1

medium onion, minced

2

cloves garlic, crushed

4

large carrots, peeled and cut into

½

inch pieces

½ teaspoon

kosher salt

1

pinch red pepper flakes (optional)

10 cups

browned beef stock or other homemade beef broth

1 cup

egg noodles

2 cups

shredded cooked beef (from the browned beef stock, or other leftovers)

1

bay leaf

1

sprig fresh thyme

1 teaspoon

balsamic vinegar (or red wine vinegar)
More salt and pepper to taste
---
Instructions
One batch of pressure cooker Browned Beef Stock: See Pressure Cooker Browned Beef Stock recipe from earlier this week. Can be made a day or two ahead and refrigerated, or up to a few months ahead and frozen. (If broth frozen, thaw before using.)
Saute the mushrooms: Heat one tablespoon of vegetable oil over medium-high heat in a large pot until the oil is shimmering. (I used my pressure cooker pot since it was already dirty). Add the mushrooms, sprinkle with ½ teaspoon of salt, toss to coat with oil, and saute until the mushrooms are browned, about five minutes. Remove the mushrooms from the pot, and set them aside until later.
Saute the aromatics: Add another tablespoon of oil to the pot and heat until shimmering. (Mushrooms soak up oil, so there won't be much left in the pan.) Add the onion, garlic, and carrots, sprinkle with ½ teaspoon of salt, toss to coat with oil, and saute until the onions are softened, about 5 minutes.
Simmer soup, noodles, and beef: Add the broth to the pot, scrape the bottom to loosen any browned bits of onion or mushroom, then turn the heat to high and bring the broth to a simmer. Add the noodles, shredded beef, browned mushrooms, and bay leaf, and bring back to a simmer. Reduce the heat to maintain a simmer and cook until the noodles are tender, about 10 minutes.
Season to taste: Remove the bay leaf and thyme sprig and discard. Stir in the balsamic vinegar, and then add salt and pepper. As I mentioned in the opening, salt is important - there isn't much salt in the broth if it is homemade. Keep adding salt until the broth suddenly has a lot of body, tastes ever so slightly sweet, and you start to feel the taste of the salt on the tip of your tongue. (For 10 cups of broth I used 2 ½ teaspoons of kosher salt.) Ladle into bowls and serve.
Prep Time:

2 hours

Cook Time:

20 minutes

Category:

Pressure Cooker

Cuisine:

American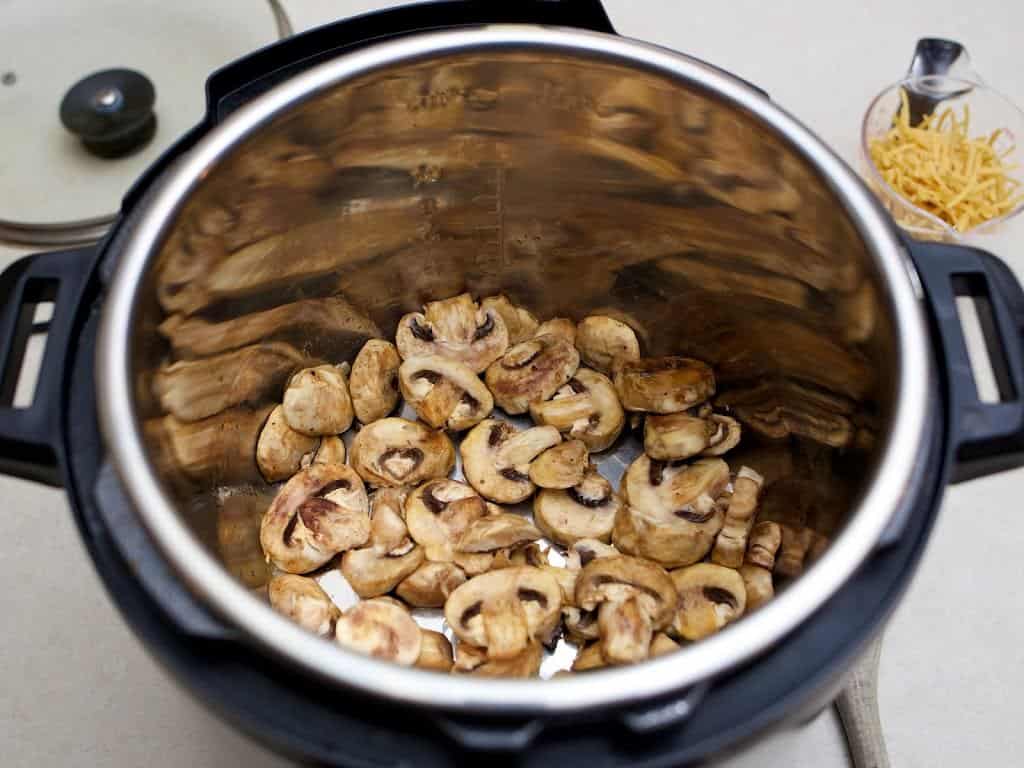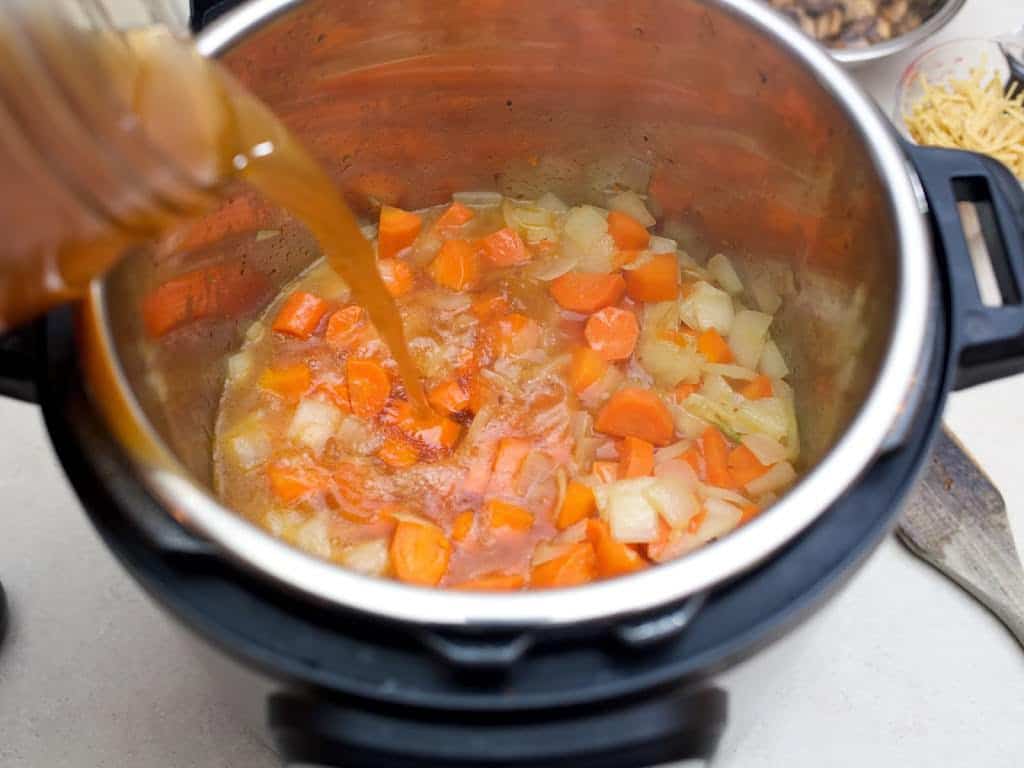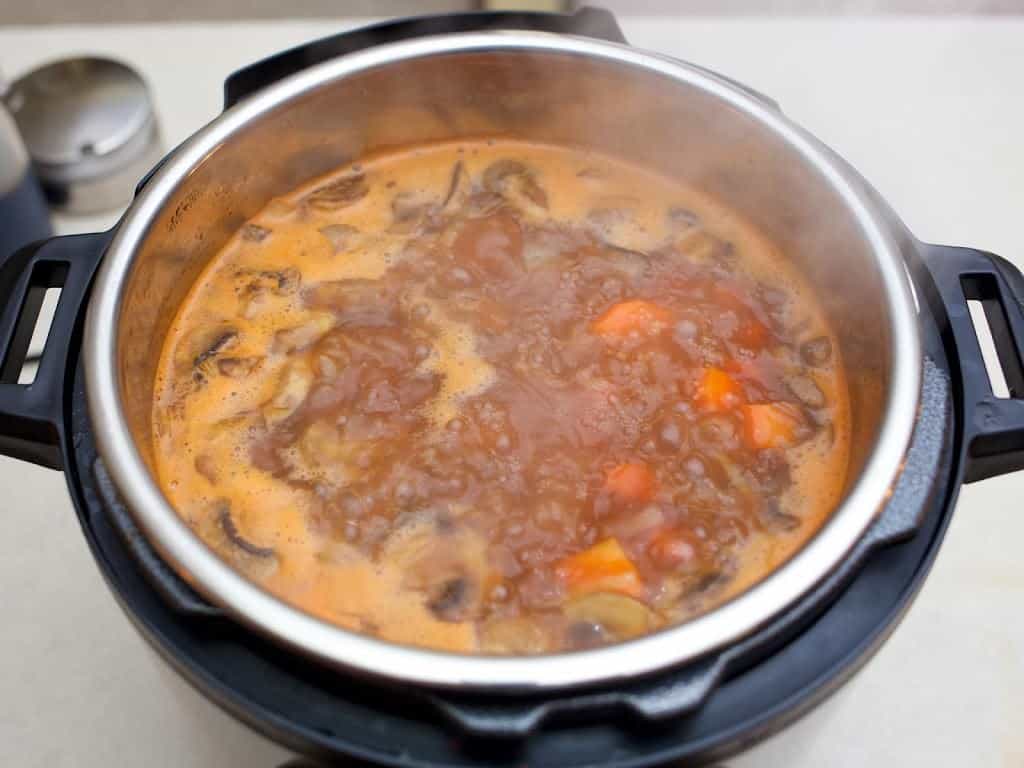 Notes
No pressure cooker? No worries. You only need it for making the beef stock. (See the Pressure Cooker Beef Stock recipe for stove top instructions.) Nothing else on this page is pressure cooked - it's all stove top cooking.
Following a tip from Jacques Pepin, I always buy mushrooms discounted for closeout. A little slimy around the edges? No worries, by the time you're done sauteing them, they'll be indistinguishable from perfect mushrooms.
Don't have beef stock? Substitute chicken stock. It won't be as beefy…but it will still be a great soup.
I cooked this recipe in my electric pressure cooker, using it as a regular pot. That way, I didn't dirty another pot after I made the broth.
What do you think?
Questions? Other ideas? Leave them in the comments section below.
Related Posts
Pressure Cooker Pho Bo - Vietnamese Beef Soup
Pressure Cooker Turkey Noodle Soup with Vegetables
Pressure Cooker Pasta and Bean Soup
Enjoyed this post? Want to help out DadCooksDinner? Subscribe using the RSS or Email options on the right, recommend DadCooksDinner to your friends, buy something from Amazon.com through the links on this site, or donate through my tip jar. Thank you.