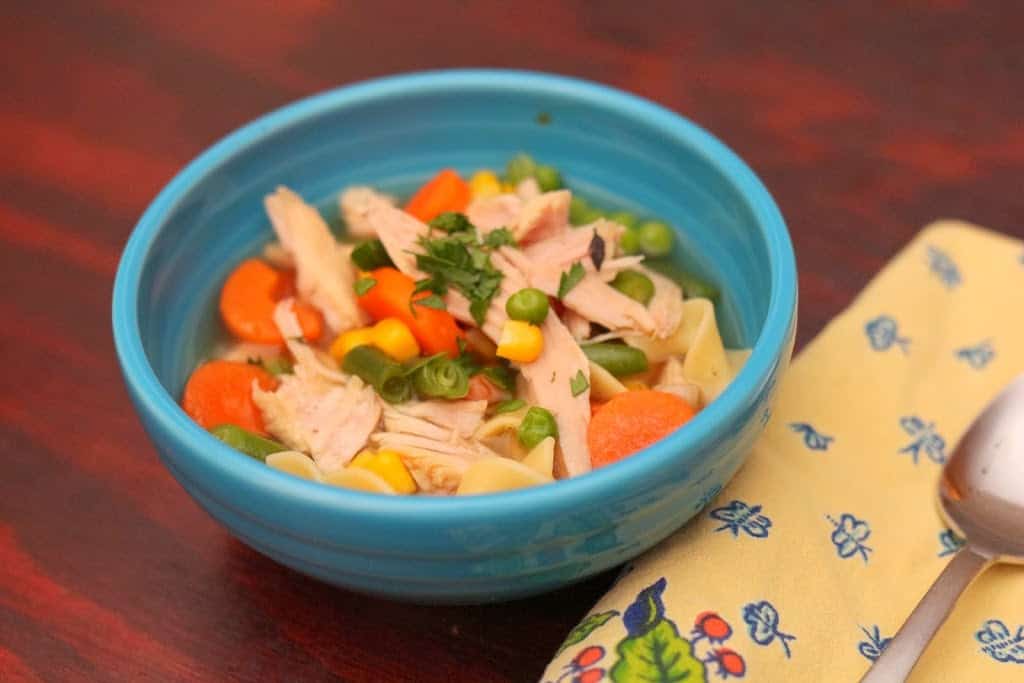 I had big plans for my post-Thanksgiving turkey soup...until life got in the way.
I woke up the day after Thanksgiving feeling run down. I wanted to lie in bed all day, but we had a schedule to keep, picking up our Christmas tree, getting it set up, and (unfortunately) facing the Black Friday onslaught to get a new television set 2The old TV picked the perfect time to go on the fritz. On the one hand, I got a Black Friday deal on the replacement. On the other hand, I'd pay twice as much to avoid standing in that line again. So long, so boring, and so many terrible versions of Christmas carols. What did Irving Berlin and Mel Torme do to deserve it?
By the time we got home, I needed something comforting. This is a basic Turkey, noodle, and vegetable soup, based on what I had in the house. Much to my surprise, I was out of a lot of my pantry basics - even onions and carrots were out, used up in the stuffing - so I had to make do.
This means I…I…I had to use frozen mixed vegetables. Mixed Vegetables? I should be ashamed, and turn in my locavore membership card. But there was no way I was facing that traffic again just for some carrots and celery.
Beyond the frozen mixed vegetables issue, this was a breeze. The turkey carcass went in the cooker, and pressure cooked for about an hour, while I collapsed on the sofa. I strained out the bones, sauteed shallots and thyme, and cooked noodles, leftover turkey, and the vegetables in the broth. A tossed salad, some saltine crackers, and dinner was on the table with maybe fifteen minutes of actual work.
No pressure cooker? No worries. See the notes section for stove top instructions.
Recipe: Pressure Cooker Turkey Noodle Soup with Vegetables
Equipment:
Print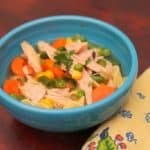 Pressure Cooker Turkey Noodle Soup with Vegetables
---
Author:

Mike Vrobel

Total Time:

1 hour 55 minutes

Yield:

6

-8

1

x
Description
Turkey Noodle Soup from the pressure cooker. This is why I hoard the bones from turkeys on Thanksgiving.
---
Turkey Broth
Bones from a turkey, with some meat still clinging, broken up enough to fit below the max fill line on the pressure cooker

1

large onion, halved

1

large carrot, peeled and broken into

2

or

3

pieces

1

stalk celery, broken into

2

or

3

pieces

2

bay leaves

1 teaspoon

salt

3 quarts

water (or enough to cover the turkey bones)
Soup
1 tablespoon

butter

1

shallot, minced or

1

medium onion, minced

1 teaspoon

fresh thyme leaves or

½ teaspoon

dried thyme leaves

½ teaspoon

kosher salt

2 quarts

of reserved turkey stock

1 ½ cups

egg noodles (medium width are my favorite for soup)

2 cups

shredded cooked turkey

2 cups

frozen mixed vegetables (or

2 cups

worth of diced fresh carrots, celery, and/or green beans)
Salt and pepper to taste (homemade stock will probably need 2 more teaspoons of kosher salt)
---
Instructions
Make Turkey Broth: Put the turkey carcass, onion, carrot, celery, bay leaves, salt, and water in the pressure cooker. Lock the lid and bring the cooker up to high pressure over high heat. Lower the heat to maintain pressure, and cook on high pressure for 50 minutes (60 minutes in an electric pressure cooker). Let the pressure come down naturally - this will take 20 minutes or more; if you're in a hurry, let the pressure come down naturally for 15 minutes, then quick release the rest of the pressure. Open the pressure cooker lid away from you to avoid the scalding steam. Using a slotted spoon, scoop as much of the solids out of the pressure cooker as you can, then pour the broth through a fine mesh strainer into a 4 quart or larger pot. Discard the solids and contents of the mesh strainer. Reserve 2 quarts of the turkey stock for the soup, and freeze the for later.
Saute the aromatics: Melt the butter in a large pot over medium-high heat. (If you want to use the pressure cooker pot, rinse it out, and then wipe it with a paper towel to clean it.) Add the shallot and thyme leaves, sprinkle with ½ teaspoon of salt, then saute until the shallot starts to brown around the edges, about 5 minutes.
Cook the soup: Add the turkey stock to the pot, turn the heat to high, and bring the stock to a boil. Add the noodles, shredded turkey, and mixed vegetables. When the pot returns to a boil, turn the heat down to medium and simmer for ten minutes (or for the time stated on the noodle package), until the noodles are tender. Add salt and pepper to taste, and don't be shy. Homemade stock is bland without salt; I usually add 2 teaspoons of kosher salt.
Prep Time:

10 minutes

Cook Time:

1 hour 45 minutes

Category:

Pressure Cooker

Cuisine:

American
| | |
| --- | --- |
| | |
Notes
No pressure cooker? No worries. Put everything in a large, oven safe pot, bring it to a boil, then put it into an oven preheated to 200°F for 4 hours. (Or, simmer on the stove for 4 hours - but the oven method is less work.)
This is great as a make-ahead meal - step one can be completed in advance, leaving about fifteen minutes of actual cooking time. Stock can be refrigerated for up to three days, or frozen for months.
It also makes great leftovers for lunch - freeze the soup in 2 cup containers, and microwave it for about 6 minutes on high, or until the middle of the soup is hot.
You don't want to make turkey stock, but you still want soup? Sigh. I guess you can use two quarts of store bought chicken broth instead of making your own turkey stock. But…it's so good, and it's so easy…try making your own stock, just once, then see if that cardboard carton of stock seems like a good idea.
You will be tempted to add more noodles to the soup. They'll look lost in all that broth. Don't do it! The noodles act like sponges, sucking up the broth; any more, and what you're left with is a very thick noodle stew, not soup.
What do you think?
Questions? Other ideas? Leave them in the comments section below.
Related Posts:
Turkey Soup with Chickpeas and Vegetables
Turkey Ramen Noodle Soup
Southwestern Turkey and Black Bean Soup
*Enjoyed this post? Want to help out DadCooksDinner? Subscribe to DadCooksDinner using the RSS or Email options on the right, recommend DadCooksDinner to your friends, buy something from Amazon.com
through the links on this site, or donate through my tip jar. Thank you.