I love leftovers from Thanksgiving dinner. What would I do without them? I'd be lost...
"The heavenly aroma still hung in the house. But it was gone, all gone! No turkey! No turkey sandwiches! No turkey salad! No turkey gravy! Turkey hash! Turkey a la king! Or gallons of turkey soup! Gone, ALL GONE!"
[Ralphie, A Christmas Story]
But even I'll admit that turkey sandwiches get old after a few days. If you're looking for something different, with a spicy, southwestern flavor to it, have I got the recipe for you...
Recipe: Southwestern Turkey and Black Bean Soup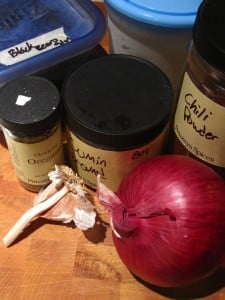 Ingredients:
1 tablespoon vegetable oil
1 medium onion, diced
1 jalapeno, minced (optional)
½ teaspoon kosher salt
1 tablespoon chili powder
1 teaspoon cumin
½ teaspoon oregano (dried mexican oregano, if you can find it)
3 cloves of garlic, minced or pressed
15oz can of diced tomatoes, drained (Muir Glen fire roasted diced tomatoes are preferred)
4 cups cooked black beans (Homemade are best, but you can substitute 2 cans, drained)
1 quart homemade turkey stock
1 teaspoon kosher salt
4 cups cooked turkey, diced (One half of a turkey breast, cut it into rough 1" cubes)
Juice of 1 lime
1 tablespoon brown sugar
Toppings
Optional toppings and garnishes
Sour Cream
Hot Sauce
Shredded cheese
Diced avocado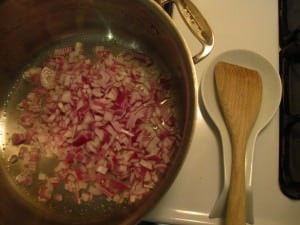 Saute the onion
Directions:
1. Saute the aromatics: Heat the vegetable oil in a dutch oven over medium-high heat until shimmering, then add the onion and peppers, and sprinkle with the ½ teaspoon of salt. Saute until softened, about 5 minutes. Make a hole in the center of the pan and add the garlic, chili powder, cumin and oregano. Toast for 30 seconds to 1 minute, or until you start to smell garlic. Stir into the rest of the aromatics, and saute for another 1-2 minutes or until they just start to brown.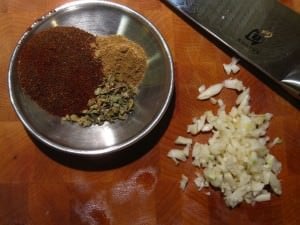 Garlic and spices, ready to go
2. Simmer the broth: Add the tomatoes, beans and turkey stock to the pot. Turn the heat to high and bring to a boil, then boil for 1 minute. Reduce the heat and simmer, add the turkey, and simmer for 10 minutes to allow the flavors to mingle.
*I keep my stock in the freezer, so I thaw it in the microwave while I'm doing step 1. If it's still frozen at this point, that's OK. Just put the big ice cube of stock into the pot, and it will melt on its way to boiling.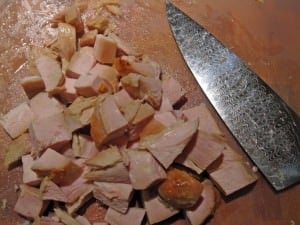 One turkey breast, diced into 1 inch cubes
3. Season the soup: Add the lime juice and brown sugar, then season to taste with salt, pepper, more lime juice, more sugar, and maybe a little hot sauce.
4. Serve: Ladle into bowls, and top with a little minced cilantro. Serve, with the garnishes available for adding on at the table.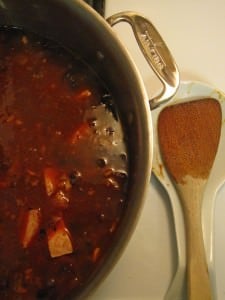 Variations:
*If you like a "soupier" soup, up the turkey stock to 2 quarts.
*If you like it heartier, add a cup of cooked rice when you add the turkey cubes.
*For the onion/tomato/pepper/garlic aromatics, substitute 1.5 to 2 cups of leftover tomato salsa. In step 1, Cook the salsa in the oil until it turns dark red in color, then move on to step 2 and the chicken stock.
*No limes? Add a splash of cider vinegar.
*You can always substitute chicken stock and leftover chicken for the turkey, if you're reading this recipe after Thanksgiving.
Notes:
*I serve this with a salad and tortilla chips on the side.
*This is a great "refrigerator velcro" meal for me, to use up leftover turkey and frozen black beans. Oh, and I was out of tomatoes, so I skipped them. As you can probably tell, this recipe is pretty flexible.
Questions? Comments? Other ideas? Leave them in the comments section below.
Related Posts:
Pressure Cooker Turkey Stock
Turkey Stock the right way
Turkey Noodle Soup
Slow Cooker Black Beans
Inspired by:
The Cook's Illustrated Complete Book of Poultry
*Enjoyed this post? Want to help out DadCooksDinner? Subscribe to DadCooksDinner using the RSS or Email options on the right, link to this post from your blog, recommend DadCooksDinner to your friends, or buy something from Amazon.com
through the links on this site. Thank you!