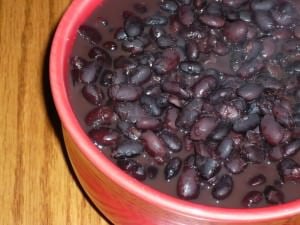 [Updated 9/10/2010:] Warning: kidney beans have a natural toxin in them that is only destroyed by heating them to boiling temperatures (212F, 100C) for ten minutes. I've updated this technique to boil any beans for 10 minutes before putting them in the slow cooker; make sure you don't skip this new step, particularly with red or white kidney beans. More details available here:Slow Cookers and Red Kidney Bean Poisoning.
I'm a big fan of beans; this is the technique that introduced me to the joys of a simple pot of beans.*
*Beans, beans, the magic fruit. The more you eat, the more you...yes, I'm really an 8 year old, why do you ask?

With this recipe, you can have beans that are cheaper and taste much better than canned beans. And, it's remarkably easy. It will take you less time to have the beans going than it will for you to read this blog post.** The recipe freezes well, so you can make a big batch and always have homemade beans ready for you.
**OK, I admit it. I tend to ramble. If I was more succinct, you'd be making beans by now.
Basic Technique: Slow Cooker Dried Beans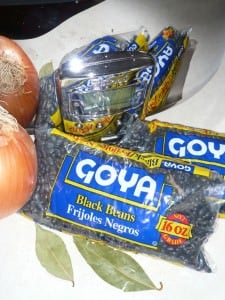 Equipment:
6 quart or larger slow cooker (Crock pot brand is fine, but I like my fancy ones from All-Clad and KitchenAid)
Ingredients:
1 lb beans (black, pinto, kidney, great northern), sorted and rinsed
1 onion, peeled and halved
2 cloves garlic, peeled and crushed
1 bay leaf
2 tablespoon lard (optional)
8 cups water
salt to taste
Directions:
1. Sort the beans: Pour the beans onto the far side of a sheet pan, then rake them over to the near side of the sheet, picking out anything that looks wrong.* Watch for stones, small twigs, or beans that look bad. Then, pour into your colander, and rinse with cold water.
*It's kind of a zen thing. If you think you saw something that didn't look right, you probably did - look closer and you'll find it.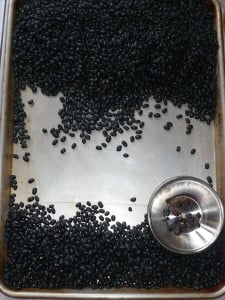 2. Cook the beans: Put the beans in a pot, cover with 2 inches of water, and bring to a boil. Boil for ten minutes, then drain. Put the drained beans, the 8 cups of water, and the rest of the ingredients except the salt into the crock pot. Cook on low for 8 hours.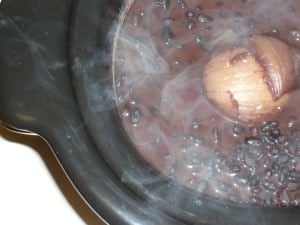 Variations:
*Double the recipe, like I did in all the pictures: Use 2 lb beans, and 12 cups water (Note: this just barely fits in my 6.5 quart crock pot). Leave the rest of the ingredients as they are. You'll need to check the water level after about 6 hours of cooking, and stir to make sure everything is submerged. (Or, if you have a really big crock pot, just add another couple of cups of water to start.)
*Beans: I've also used this recipe with navy beans and Pink Beans
from Goya. It will work with just about any bean of this size; just don't try it with something like lima beans, which are much larger.
*Vegetarian (vegan?) crock pot beans: Skip the lard.
*Pork products, because every thing tastes better with pork: For a more interesting taste, replace the lard with a couple pieces of cooked bacon, or a smoked ham hock, or a ham bone - any leftover smoked pork product works well.
*Flavor profiles: the above beans are pretty general, and can go with almost any cuisine, but two variations I use a lot are:
Mexican beans: Add a dried chili pepper (I usually use an Ancho, aka dried poblano), and replace the bay with a couple of sprigs of cilantro, or epazote, or dried avocado leaves.
Italian beans: Use great northern beans, and add a 2" piece of fresh rosemary.
Notes:
*This recipe freezes really well - to the point that I rarely buy canned beans any more. I make a doubled batch of beans almost ever week, and freeze the leftovers in
Gladware 3 qt
containers. They make a great substitute for 2 cans of beans in recipes, and taste much better.
*Salt. Normally, I add salt early in the cooking, but many people say that you shouldn't add salt until after beans are cooked, or they'll come out tough. I don't know if this is an old wife's tale or not, but since I don't have an old wife*, I figured I wouldn't take any chances.
Make it a meal:
I'll have some recipes coming in the near future, but a couple quick ways to turn this into a meal are:
*Ham and beans: instead of the lard, add a ham steak. When the beans are done, pull the steak out, cut into a small dice, stir it back into the beans, and serve.
*Beans and greens: After cooking, and removing the spent aromatics, add a couple of large handfuls of chopped greens. For quick cooking greens (like spinach or chard), just stir them in, and the beans are ready to go. For tougher greens (kale, collard), let them cook in the crock pot for another half hour or so, until tender. Add greens to some Great Northern or Cannellini beans with the Italian flavor profile listed above, and you have Tuscan White beans, just ready for a drizzle of olive oil, and some crusty bread. Mmmm...beans.
Related Posts:
Slow Cooker Caribbean Black Beans
Slow Cooker Red Beans and Rice
Slow Cooker White Beans with Greens and Sausage
Inspired by:
Robb Walsh - Legends of Texas Barbecue cookbook

Rick Bayless - Mexican Everyday