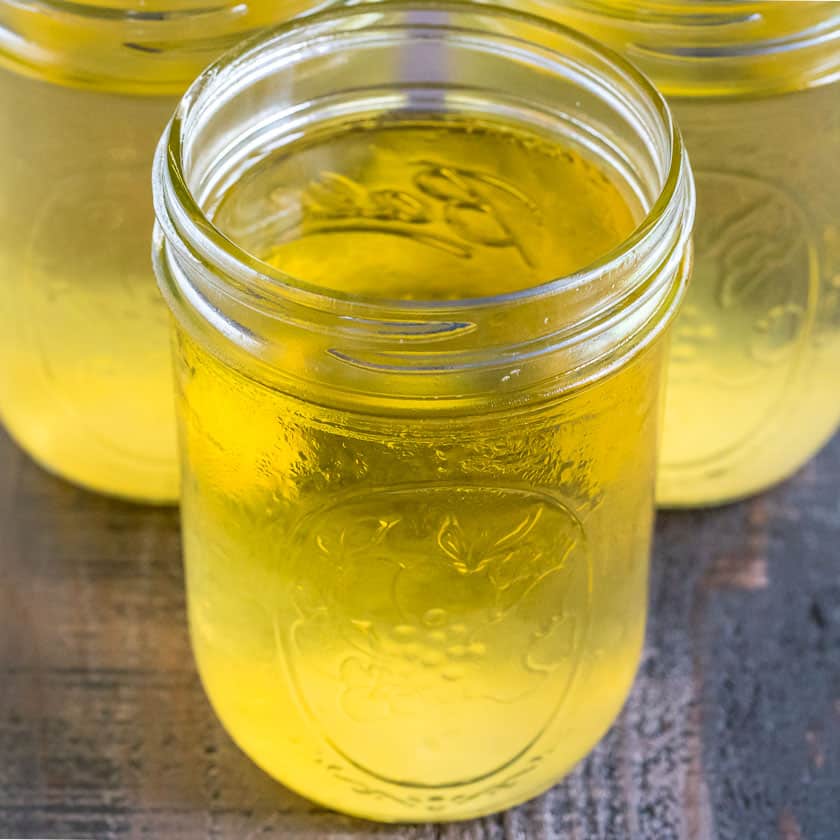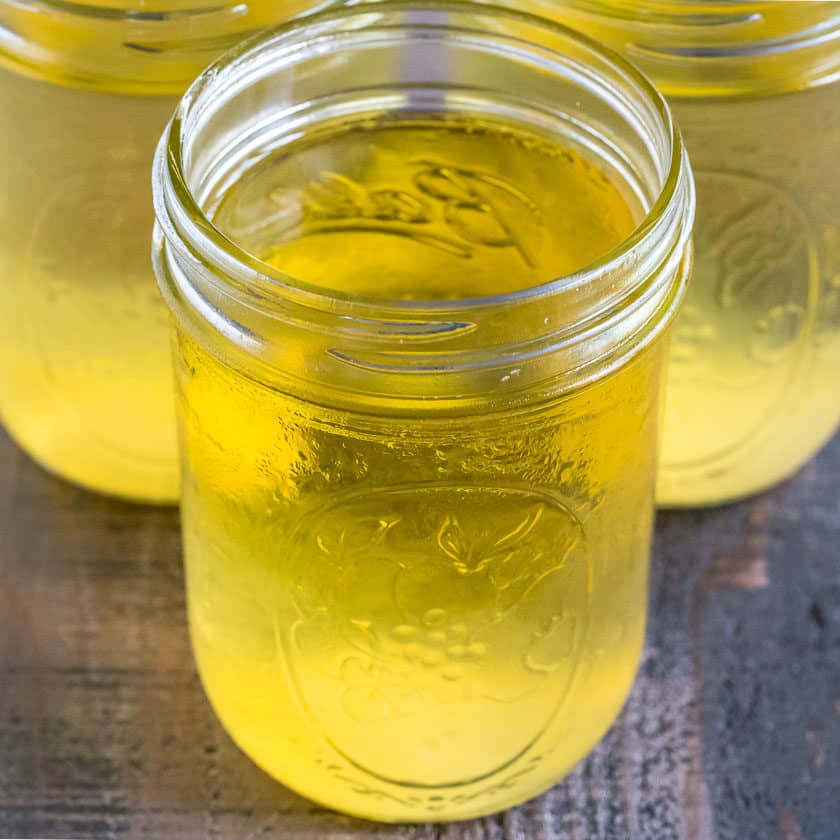 I'm not a veggie, but I do make Pressure Cooker Vegetable Broth from time to time. Sometimes I need something for the veggies in my life; sometimes I have a recipe where a meat broth would be too heavy, but it does need the extra flavor of a broth. (See: Asparagus Risotto.)
Vegetable broth - this shouldn't be hard, right? Pressure cooker chicken broth convinced me to keep my pressure cooker beyond the "new kitchen gadget" phase. It's so easy, so good, and so flexible. I thought vegetable broth would be the same - chuck some vegetable trimmings in the pot, pressure cook for a while, strain out liquid gold.
I started with the "use up the scraps" technique that I use with with chicken broth. I froze trimmings from vegetables in a gallon zip-top bag. All my recipes seem to begin with "dice a large onion," so I had a lot of the onion skins and outer layers, plus some carrot peels, the leaves from celery, leek greens, and a few potato skins. The bag was full, and it was time to make broth.
That broth tasted like mud, not vegetables. It looked like mud too - it had an odd brownish-orange color. I thought "I must have thrown in the root ends of something - let me try again." I kept my trimmings clean, just the good parts of onions, celery, leeks, carrots…but I had the same results. Freezer to pressure cooker to pour it down the drain.
Lesson #1: Use fresh vegetables.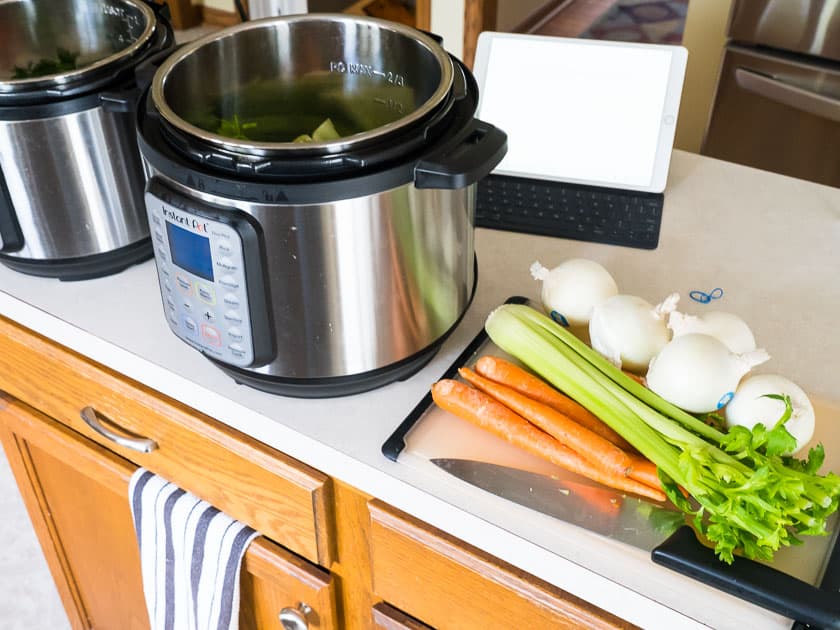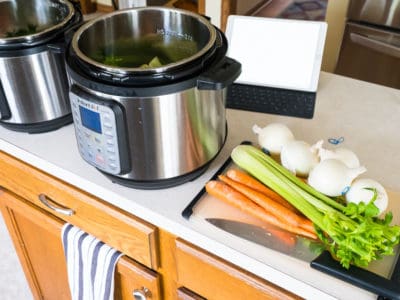 No more trimmings. Let's start with fresh vegetables. I'll use the trinity of onions, carrots, and celery as the base. (I peel them, after my experience with the trimmings, and it seems to help.) I add a little garlic, parsley, peppercorns, and salt for seasoning. After 10 minutes under pressure, I have a tasty broth. I'm on the right path. But my next question is: how long under pressure?
My pressure cooking bible, Pressure Perfect by Lorna Sass, says 10 minutes, and that's what I've been using. But…a recipe I bookmarked from Mark Bittman's Minimalist column says 30 minutes. Jill Nussinow, The Veggie Queen, who I consider the expert on Vegan pressure cooking, says 5 minutes. That's quite a range!
Time for some tests. I start with 5 and 10 minutes1, figuring I can move up from there if I need to. It turns out the Veggie Queen knows her stuff. The 5-minute broth is lovely - bright, sweet, and fresh. (My tasting panel prefers the 5-minute broth, too.) The 10-minute broth is fine, but it tastes muddled next to the 5 minute broth. No need to keep increasing the time - we have a winner!
Lesson #2: Don't overcook - 5 minutes under pressure.
The last thing to test: how much vegetation do I need? Michael Ruhlman's Ratio recommends a stock ratio of 3:2 water to ingredients by weight. That said, I don't use that ratio with chicken broth; it's not enough water. I go with a chicken broth ratio of 2:1 and love the results.
When I tried a 2:1 vegetable broth, it was weak stuff. (Get that weak stuff out of here. <Smacks it off the table.>) A 3:2 ratio of water to vegetables gives me much more flavor.
Lesson 3: Don't skimp on the vegetables.
So, here it is, my pressure cooker vegetable broth. It's not hard, and it's a lot quicker than the recipe I started with, but it's not where I expected to end up.
Print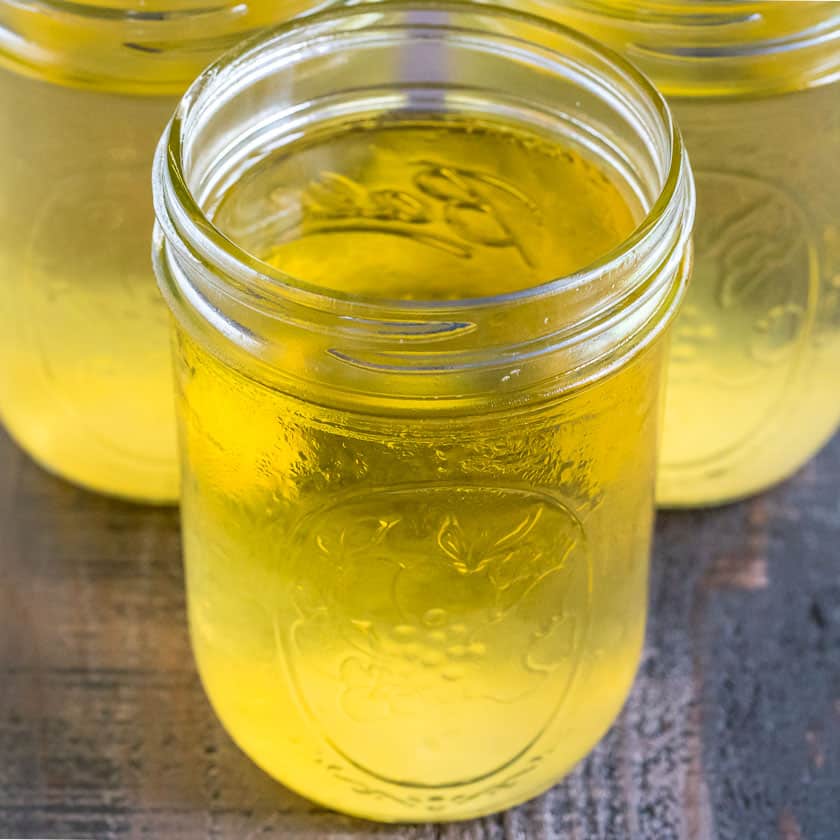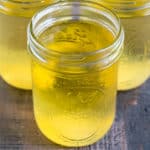 Pressure Cooker Vegetable Broth
---
Author:

Mike Vrobel

Total Time:

40 minutes

Yield:

8 cups

of broth

1

x
Description
Pressure Cooker Vegetable Broth - quick, golden broth from the pressure cooker.
---
24 ounces

onions, peeled and quartered (

4

medium onions)

12 ounces

carrots, peeled and cut into chunks (

6

medium carrots)

12 ounces

celery stalks, cut into chunks (

6

celery stalks)

0.5 ounces

garlic cloves, peeled (

4

large garlic cloves)

10

stalks of parsley (or

20

parsley stems, or

2

bay leaves)

10

peppercorns

1 teaspoon

fine sea salt

8 cups

water
---
Instructions
Everything in the pot: Put the onions, carrots, celery, garlic, and parsley in the pressure cooker pot. Sprinkle the peppercorns and salt over the top, then pour in the water.
Pressure cook for 5 minutes with a Natural Pressure Release: Lock the lid on the pressure cooker. Pressure cook on high pressure for 5 minutes in both electric and stovetop pressure cookers. ("Manual" or "Pressure Cook" mode for 5 minutes in an Instant Pot.) Let the pressure come down naturally, about 30 more minutes. (Water holds a lot of heat, so it takes a while for the pressure to drop. If you are impatient, quick release the pressure after 20 minutes.)
Strain the broth: Scoop the big pieces of vegetables out of the pot with a slotted spoon and discard. Pour the broth through a fine mesh strainer. Use the broth immediately, or portion into 2 cup containers and refrigerate for up to 3 days or freeze for up to 2 months.
Notes
Water to cover: this is barely enough water to cover the vegetables. It's OK if they vegetables poke out above the water line; they'll soften up and sink under pressure.
The Natural Pressure Release traps the flavor molecules in the pressure cooker pot, instead of letting them escape into the air. As the pot cools down, some of them condense back into the water, adding their flavor back into the broth. I know it's hard to wait for a natural pressure release on a pot full of water - it seems to take forever - but the broth will have a little more finesse if you wait it out.
This recipe scales easily. Double it or halve it; it works fine. But, don't go over the max fill line on your pressure cooker. (I can just barely double it in an 8-quart pressure cooker.)
Other vegetables: Substitute leeks or leek greens for some or all of the onions? Yes! Add a potato for body? I haven't tried it, but I've heard it's a good idea, as long as you don't overdo it. Cabbage, kale, broccoli or other strong vegetables? Not a good idea - they overpower the flavor.
Tools
Prep Time:

5 minutes

Cook Time:

35 minutes

Category:

Basic Technique

Method:

Pressure Cooker

Cuisine:

American
Keywords: Pressure Cooker, Instant Pot, Vegetable Broth, Vegetarian, Instant Pot Recipe
What do you think?
Questions? Other ideas? Leave them in the comments section below.
Related Posts
Pressure Cooker Asparagus Risotto
Pressure Cooker Browned Chicken Broth
Pressure Cooker Green Beans
My other Pressure Cooker Recipes
Enjoyed this post? Want to help out DadCooksDinner? Subscribe to DadCooksDinner via email and share this post with your friends. Want to contribute directly? Donate to my Tip Jar, or buy something from Amazon.com through the links on this site. Thank you.
With a natural pressure release. That keeps the flavor in the pot, instead of spraying it out into the room. ↩︎