No, I'm not sponsored by Frito-Lay this week. No matter how much it looks like it. (Pepsi! The choice of a new generation!)
My kids get money to buy one lunch a week at school. They mark walking taco day on the calendar so they won't forget. I always thought it was the same thing as Frito pie - chili on top of Fritos, but with taco toppings.
I was close, but I was still wrong. I found out the difference at Cedar Point. After a few terrifyingroller coasters, I was finishing a smoked turkey leg when I saw the Walking Taco stand. And the kid walking away from it, digging into a bag of Doritos with a spoon.
Doritos plus taco filling? Why didn't someone tell me they had one of those…things?
So, to summarize:
Frito Pie = Fritos + Chili + Cheese
Walking Tacos = Doritos + Taco meat + Salsa + Cheese + Lettuce + Sour Cream (+ other taco toppings)
I mean, really, I'm the last person to figure this out. Even Taco Bell knew it out before I did. What kind of a food blogger am I, when I'm this far behind a food trend?
That's OK. You should have seen the kids when I told them what we were having for dinner. I'm now officially "Best Dad Ever", Or at least until I make them eat something healthy to balance out this meal.
No pressure cooker? No worries. See the Notes section for stovetop instructions.
Recipe: Pressure Cooker Walking Tacos
Print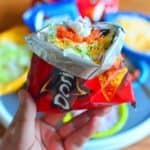 Pressure Cooker Walking Tacos
---
Description
Pressure Cooker Walking Tacos recipe - what could be more American than Mexican food served in a bag of Doritos?
---
1 tablespoon

vegetable oil

1

large onion, diced

2

cloves garlic, minced

½ teaspoon

kosher salt

¼ cup

chili powder

1 tablespoon

cumin

½ teaspoon

cocoa powder

½ teaspoon

cinnamon

¼ teaspoon

ground cloves

1 cup

water (or substitute beer)

2 ½

pounds ground turkey

1 teaspoon

kosher salt

1 tablespoon

brown sugar

1

(10- to 14.5-ounce) can diced tomatoes with green chiles (Muir Glen Fire Roasted with green chiles, or Ro*Tel tomatoes)
Salt and fresh ground black pepper
Doritos
Single serving bags of Doritos (I got a mix of regular and cool ranch)
Toppings
Shredded cheese (cheddar or Mexican blend)
Salsa
Shredded lettuce
Sour cream
Diced onions
Hot sauce (I like El Yucateco Green Habanero, for real heat. But use your favorite.)
---
Instructions
Sauté the aromatics and toast the spices: Heat the vegetable oil in the pressure cooker pot over medium-high heat until shimmering. Add the onions, garlic, and ½ teaspoon kosher salt, chili powder, cumin, cocoa powder, cinnamon, and cloves to the pressure cooker pot. Sauté until the onions are softened and the spices are toasting, about 3 minutes.
Simmer the turkey until no longer pink, top with the tomatoes: Pour in 1 cup of water, then scrape the bottom of the pot with a wooden spoon to loosen any stuck onions or spices. Add the turkey, 1 teaspoon kosher salt, and brown sugar, and cook, stirring and breaking up the turkey until the turkey is no longer pink, about 5 minutes. Pour the tomatoes with green chiles on top of the beef mixture, but don't stir - the tomatoes may burn if they sink to the bottom of the pot.
Pressure cook the taco filling: Lock the lid on the pressure cooker and bring the cooker up to high pressure. (Read your fine pressure cooker manual for how to do this). Cook at high pressure for 12 minutes in an electric PC, 10 minutes in a stovetop PC. Let the pressure come down naturally, about 15 minutes. Unlock the lid, stir, break up any large clumps of meat, and add salt and pepper to taste.
Serve in the Doritos bags: For each serving: Lightly crush the Doritos in the bag, to break them into smaller pieces. Cut open a Dorito bag lengthwise (not across the top). Spoon a ladle or two of meat into the bag, then top with the shredded cheese, salsa, lettuce, sour cream, onions, and (optional) hot sauce. Grab a spoon, and eat straight out of the bag.
Equipment
Prep Time:

10 minutes

Cook Time:

45 minutes

Category:

Weeknight Dinner

Method:

Pressure Cooker

Cuisine:

American
Notes
No pressure cooker? No worries. Cook the meat in a large pot or dutch oven. Increase the water in the recipe to 2 cups. Follow the recipe up to step 3, then instead of pressure cooking, simmer the meat on the stovetop until everything thickens up, about 1 hour. Continue with the serving step.
Want to take the easy way out? Replace the pressure cooker turkey with turkey cooked on the stovetop with taco seasoning. Just…don't tell me, OK? Doritos are one thing, taco seasoning…that's something else entirely.
If you don't want to mess with individual serving bags, get a big bag of Doritos and serve in bowls. Start with a base of Doritos, crush them a bit, and build from there. It won't look as impressive, but it tastes just as good.
I couldn't find single serving bags of Doritos at my store - I had to buy a multi-pack. And the kids liked the walking tacos with Sun Chips almost as much as the Doritos. So, I think any crunchy chip will work with this recipe. (Other than potato chips - they seem too thin, like they'd just melt in the chili - but maybe that's just me.)
What do you think?
Questions? Other ideas? Leave them in the comments section below.
Related Posts:
Pressure Cooker Cincinnati Chili
Pressure Cooker Frito Pie
*Enjoyed this post? Want to help out DadCooksDinner? Subscribe to DadCooksDinner using the RSS or Email options on the right, recommend DadCooksDinner to your friends, buy something from Amazon.com through the links on this site, or donate through my tip jar. Thank you.