Instant Pot Ham Broth. Have a few ham hocks? A leftover ham bone? Pressure cooker ham broth is a versatile building block for your recipes.
It takes a little more time/work. But I cook a ham hock in chicken broth on the stove top prior to cooking the beans…Cut the meat from the bone, strain the liquid and use this broth to cook your beans in the Instant Pot.

Commenter Judy
I had two thoughts for commenter Judy:
Ham Broth for beans? What a great idea!
Don't use the stovetop for your broth. You have an Instant Pot! It's great at making broth! Here's my recipe…waitaminute, I don't have a ham broth recipe?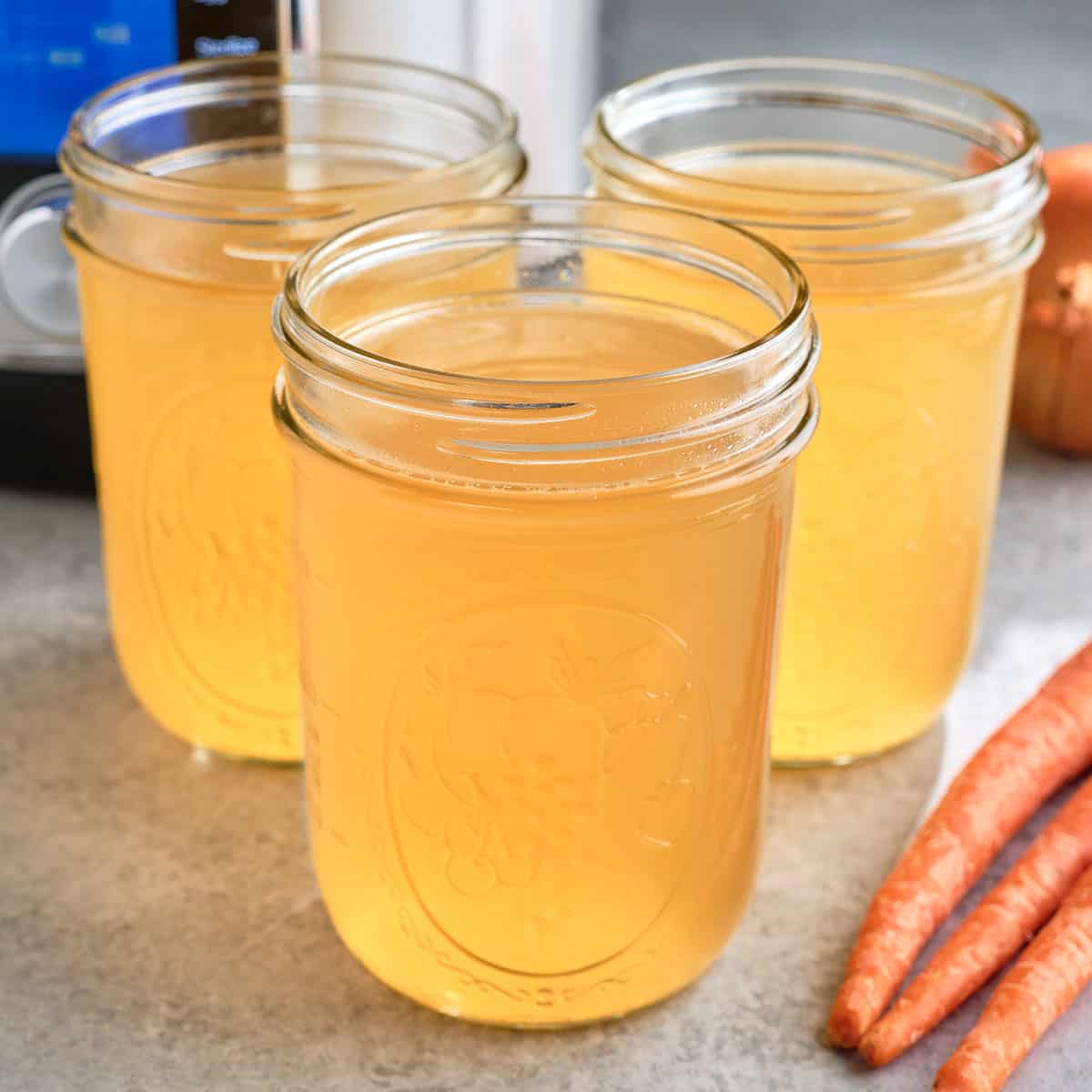 Jump to:
This recipe my response to commenter Judy, and my suggestion for using the leftover ham bone from an Easter ham. Here's how to make Ham Broth in your Instant Pot.
This recipe will look familiar to fans of my chicken back broth, because all my broth recipes follow a similar basic technique.
What is ham broth used for?
Use ham broth in any recipe that asks for water, and smoked pork or bacon. Or with recipes that include pork. Beans are great with a little ham flavor, as commenter Judy suggests. Use it as the broth in a pork stew. Or, as the stock in a pan sauce for pork chops. (As I write this, my wife is demanding I use the ham broth in split pea soup.)
🥫Ingredients
Smoked ham hocks (or shanks, necks, or a leftover hambone)
Onion
Carrot
Celery
Garlic
Whole black peppercorns
Bay Leaf
Fine sea salt
See recipe card for quantities.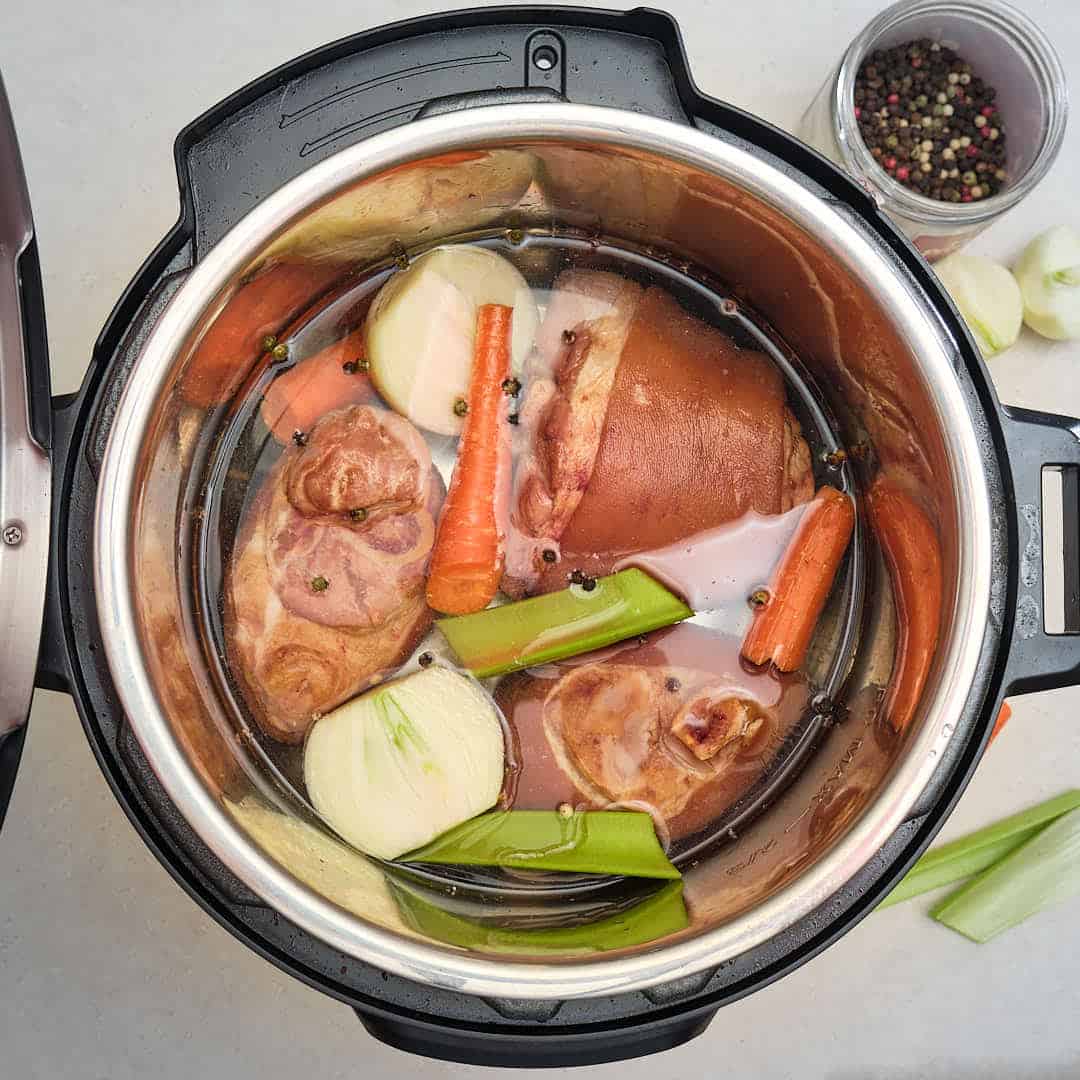 🥘 Substitutions
Ham Hock Substitutions: As you can see from the ingredients in the recipe, I have a lot of options for the ham bones. Smoked ham hocks, smoked pork shanks, smoked pork neck, or a leftover ham bone from with some of the ham and gristle still clinging to it. My favorites are the ham hocks, because the pork skin has a lot of gelatin, which makes the broth extra-rich. My second favorite is the leftover ham bone. First, because I'm cheap. Second, because using something I would normally throw away to make delicious broth seems like a kitchen magic trick.
For the aromatics, I like the combination of onion, carrot, and celery. Some people add garlic, and that works too. Sometimes, when my vegetable crisper is running low, I make the broth with just onion. Use what you have lying around; don't make a special trip to the store just for, say, celery.
For the spices, I like a little bit of pepper and bay leaf, but those are optional. Skip 'em if you don't have 'em.
💡Tips and Tricks
Natural Release your broth. I picked this tip up from Heston Blumenthal, a famous Modernist chef. Leaving the pot sealed lets the flavor molecules settle back into the broth. You know that great smell in the kitchen when you quick release the pressure? That's flavor escaping from the pot. Now, is this the end of the world? No, you still get good broth if you quick release the pressure. But I did a taste test, and broth is a little better with a natural release.
Throw away the ham hocks after making the broth. Sure, you can pick them for the meat. (And sometimes I do, as a chef's snack.) But, most of the flavor has leached out into the broth, so I don't serve them.
Straining broth is easy if you have a second Instant Pot pot liner, or a regular pot the same size as your Instant Pot. Scoop as much of the solids out of the finished broth as you can - especially the ham hocks. Set the fine mesh strainer in the second, empty pot liner, then pour the broth through the strainer. Done!
Print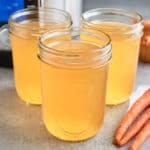 Instant Pot Ham Broth
---
Author:

Mike Vrobel

Total Time:

1 hour 35 minutes

Yield:

8 cups

ham broth

1

x
Description
Instant Pot Ham Broth. Have a few ham hocks? A leftover ham bone? Pressure cooker ham broth is a versatile building block for your recipes.
---
2

- to 3-pounds of smoked ham hocks, shanks, or necks, or

1

leftover ham bone with clinging meat

2

medium onions, peeled and halved

1

large carrot, scrubbed and broken in half

1

celery rib, broken in half

2

cloves garlic, peeled

2

bay leaves

1 teaspoon

salt

1 teaspoon

whole black peppercorns

8 cups

of water (Or up to the max fill line in your cooker)
---
Instructions
Everything in the pot: Put the ham hocks, onions, carrot, celery, garlic, bay leaves, salt, and peppercorns in an Instant Pot or other pressure cooker, then pour in 8 cups of water. (The water should cover everything - you can add more if you need to, up to the max fill line of your cooker.)
Pressure cook the broth for 60 minutes with a Natural Release: Lock the lid and pressure cook on high pressure for 60 minutes in an Instant Pot or other electric pressure cooker (use Manual or Pressure Cook mode in an Instant Pot) or for 50 minutes in a stovetop pressure cooker. Let the pressure come down naturally – about 30 minutes. (It takes a long time for all that water to cool off.) If you're in a hurry, let the pressure come down naturally for 20 minutes, then quick release the remaining pressure.
Strain and save: Unlock the lid and open it away from you to avoid any hot steam. With a slotted spoon, scoop the ham hocks and vegetables out of the pot and discard; they gave their all to the broth. Strain the broth through a fine mesh strainer. Refrigerate the broth for a couple of days, or portion into 2-cup containers and freeze for up to 6 months.
Prep Time:

5 minutes

Cook Time:

90 minutes

Category:

Basics

Method:

Pressure Cooker

Cuisine:

American
Keywords: Instant Pot Ham Broth, Pressure Cooker Ham Broth
☃️ Storage
Ham broth freezes beautifully. Portion it into 2-cup containers, let it cool uncovered on the counter for a little bit, then freeze for up to 6 months. (Or, refrigerate for a couple of days - but no more than that, or the broth starts to get a funky flavor.)
🤝 Related Posts
Instant Pot Chicken Back Broth
Pressure Cooker Senate Bean Soup
Instant Pot Pork Stew with Sweet Potato, Black Beans, and Greens
Pressure Cooker Ham and Yellow Split Pea Soup
My other Instant Pot and Pressure Cooker Recipes
Enjoyed this post? Want to help out DadCooksDinner? Subscribe to DadCooksDinner via email and share this post with your friends. Want to contribute directly? Donate to my Tip Jar, or buy something from Amazon.com through the links on this site. Thank you.