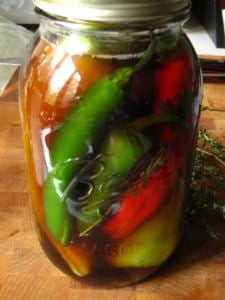 Michael Symon and Michael Ruhlman are big names in food circles, but to those of us in Northeastern Ohio, they are hometown boys who made good.* I was introduced to both of them years ago, when I read an article about Symon, written by Ruhlman, in a local Cleveland magazine. That article became part of Ruhlman's The Soul of a Chef
, the best book about chefs that I've read.
*We're a little paranoid around here; whenever someone gets national recognition, their first move is out of Cleveland. When someone decides to stay, even after they're famous, they hold a special place in our hearts. See Kosar, Bernie.
I was excited to read that Ruhlman is co-writing Symon's first cookbook, Live to Cook
. But almost as interesting was the beautiful picture of Symon's Pickled Chilli Peppers, taken by Ruhlman's wife, Donna. That picture looks like summer in a jar.
*I was a hobbyist photographer for a while, and I am just stunned by the pictures Donna takes for Ruhlman.com. They are some of the most beautiful shots I've ever seen.
*[Update 9.12.2009] Donna's online, and making her pictures available to bloggers! Check her out at RuhlmanPhotography.com
I always have a jar of pickled jalapenos in my refrigerator*, so this recipe was an obvious one for me to try.
*In case of emergency, add pickled jalapenos.
Recipe: Pickled Chile Peppers
Equipment:
Ingredients:
1 to 2 pounds of chile peppers, (or whatever will fill your jar)
2 crushed cloves of garlic
2 sprigs of fresh thyme
Pickling Liquid:
1.5 cups water
1.5 cups sherry vinegar
2 tablespoon sugar
1.5 teaspoon table salt
2 bay leaves
2 tablespoons coriander seeds
2 tablespoon black peppercorns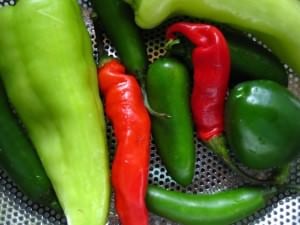 Directions:
Click here for the basic technique of pickling vegetables.
1. Prep the vegetables: Put the peppers, crushed garlic and thyme sprigs in your jar.
*Fitting the peppers in the jar is a 3-D puzzle, if you have a jar with a narrow lid. It took me a couple tries before I was ready to go
2. Make the pickling liquid: Combine the Pickling Liquid ingredients in a medium saucepan, and bring to a boil over high heat. Reduce the heat, and simmer for 5 minutes to open up the flavor of the spices.
3. Combine the liquid and the vegetables: Carefully pour the pickling liquid into the jar until the vegetables are covered. (Optionally, pour pickling liquid through a fine mesh strainer first, to strain out the herbs and spices; your pickled vegetables will look less rustic that way.)
*I pour the pickling liquid from my sauce pan into my Pyrex 2-Quart Measuring Cup
, and from there into the jar. The spout on the measuring cup makes this much less messy.
4. Refrigerate: Let cool at room temperature, close the lid on the jar, and refrigerate. It's best to refrigerate for at least one day, and preferably one week. They will last, refrigerated, for up to 3 months.
Variations:
*Use one type of peppers. Next time, I think I'm just going to make pickled jalapenos. (Like David Lebovitz did here, in his post about the same recipe).
*Use different herbs and spices. Michael Symon adds 1 teaspoon of cumin, and marjoram instead of the thyme. I find cumin to be a bit overpowering, so I skipped it, and I didn't have any marjoram, so I substituted the thyme.
*Slice the peppers into rings before pickling. Much easier to get into the jar, and get out in small quantities, but they don't look as good.
[Update 9.12.2009] I did this with my next batch, a bunch of anaheim chili peppers from the farmer's market. The rings are much easier to work with both when you're making the recipe and when you're using them.
Notes:
*Use anywhere you would use regular chile peppers; you get all the heat, plus an extra kick of vinegar and spices. In salsa, replace your hot peppers with pickled peppers. Cut them into rings, and use them to spice up a sandwich. Dice them, and use them as a topping on chili, or as a side for tacos.


*I used a variety of peppers because the picture Donna Turner Ruhlman took is beautiful. I loved the variations of colors, sizes and shapes in the jar. The downside of this approach is Hot Pepper Roulette. The serrano was mouth-blisteringly hot; after a couple of bites I went running for a glass of milk.* The banana pepper was mild enough that I ate it like a, well a pickle. Next time, I'm going to use one or two varieties with the same heat profile so I know what I'm getting into when I open the jar.
*Milk is what you need if you are being overwhelmed by heat. Milk cuts the chemical bonds holding the hot stuff (capsaicin) to the taste receptors on your tongue. Everything else you try (water, beer, more beer, even more beer) just spreads it around more.
*As I mentioned, fitting my peppers into a narrow mouth jar was an exercise in three dimensional logic. I would recommend using wide mouth jars for this recipe. Smaller chiles also help.
*I can't bring myself to use Ruhlman's "Chillis" spelling; I've got Alton Brown's Chili (with an "I") versus Chile (with an "E") stuck in my head. Chili with an I is the dish; Chile with an E is the pepper.
Questions? Comments? Other ideas? Leave them in the comments section below.
Related Posts:
Click here for my Pickled Vegetables basic technique.
Adapted From:
Michael Symon's Pickled Chillis [ruhlman.com]