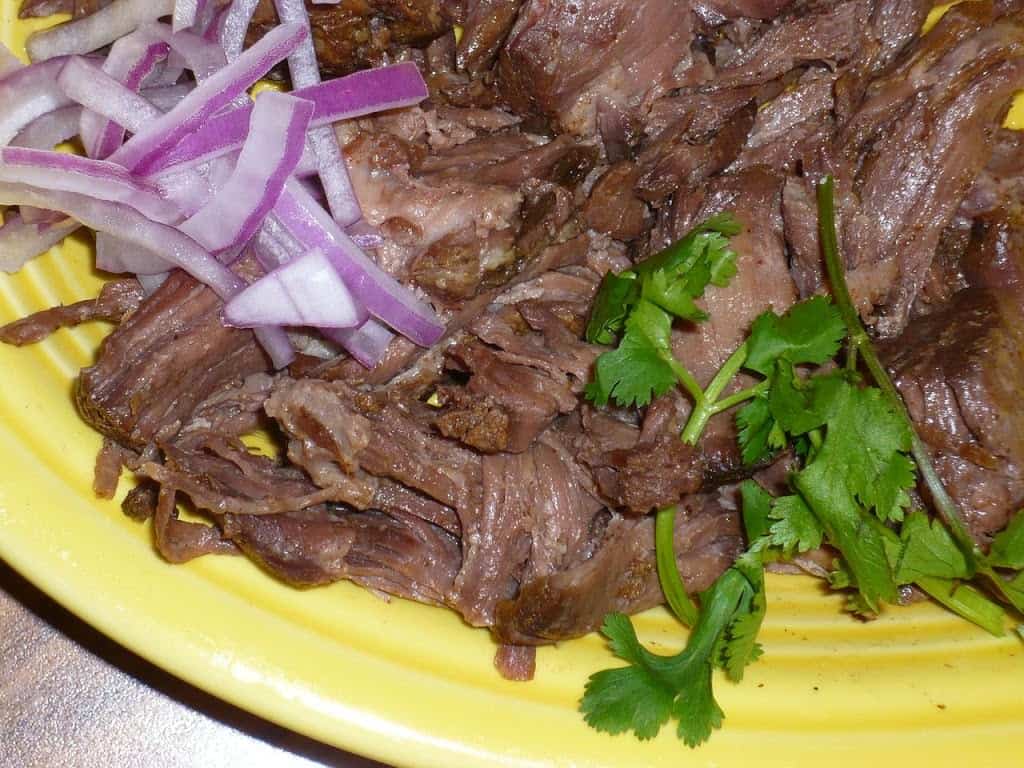 Diane is my tortilla maker; we buy masa harina from our
local mexican grocery
, and she turns it into great tortillas. She's even got the kids helping! They love "mommy tortillas" so much, that we've had to go from one batch, to a double batch, to a triple.
*Of course, you could just buy your tortillas at the grocery store. If you have that local mexican market, then you can probably get acceptable to good corn tortillas. Just don't buy them at your local grocery store. Ugh. If you have to get your tortillas from your local grocery store, get flour tortillas.
**Oh, and if you're going to use this in crunchy taco shells, I won't judge you.
Back to today's recipe - this is one of the things we make to fill those tortillas that the kids love so much. There aren't many recipes that involve less effort. There is about 10 minutes worth of hands on time. Sprinkle the seasonings on the meat, plop it in the slow cooker, wait 6-8 hours, and shred. If your slow cooker has a "keep warm" function this is perfect for making in the morning before you leave for work; you'll get home and have a wonderful meal ready to go.
Even better, use the time you save to make yourself some fresh tortillas. There's nothing better than a warm corn tortilla, a little shredded beef, some onion, and cilantro. Mmmmm.
Recipe: Slow Cooker Beef Barbacoa

Cook time: 10 hours
Equipment:
Slow cooker (I used an All-Clad 6 quart slow cooker; see it here)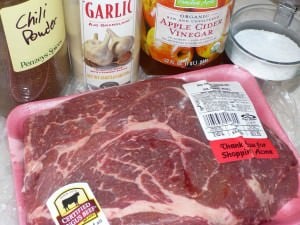 Ingredients:
3 lb boneless beef chuck roast
1 teaspoon kosher salt
1 teaspoon chile powder
½ teaspoon garlic powder
1 teaspoon cider vinegar
water (enough to come halfway up the meat)
Directions:
1. Prep the meat: Sprinkle the salt, chili powder and garlic powder evenly over the chuck roast, and place in the crock pot. Sprinkle the cider vinegar over the meat, then add water to the crock pot to come halfway up the side of the roast.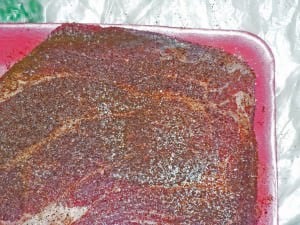 2. Cook the meat: Cook on high for 6 hours (or low for 8-10 hours).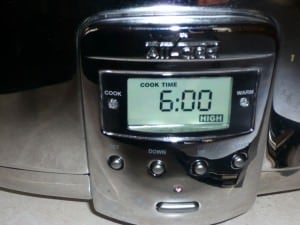 3. Defat and reduce the sauce: (Optional, but worth the time if you have it) Remove the roast to a platter, then defat the sauce (I pour it into a gravy separator and let it sit for a few minutes). Put the defatted sauce in a saucepan, bring to a boil, then reduce the heat and simmer until thickened, about 10 minutes. Set aside.
*If you don't have the time, just use some of the liquid from the crock pot as the sauce. It'll be a little fatty, but I've done it many a time when I'm in a hurry.
4. Shred the meat:
Let the meat rest for a few minutes to cool (while you're making the sauce, say), then shred with your fingers, removing any fat or gristle you come across. Moisten the shredded meat with the sauce. Serve, passing the extra sauce at the table.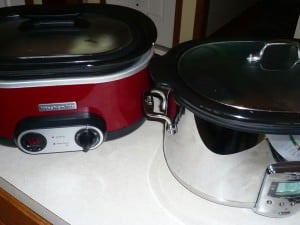 Variations:
*Use a different cut of meat: The one I often do is to use a Boston Butt roast instead of the chuck roast - then you call it Pork Deshebrada. (Add a tablespoon of brown sugar to the spices you sprinkle on in this case). Lamb shoulder would be traditional as well. You could also use chicken thighs or legs; just cook them for less time (4 hours on high, 6-8 on low) and discard the skin when you're shredding the chicken.
*Liven up the sauce: Slice an onion and sprinkle it over the top of the meat, and add a 14.5oz can of diced tomatoes with the water. It will make defatting the sauce a little more difficult, but the extra flavor is worth it.
Notes:
*Serve with corn tortillas, sliced onion, cilantro and salsa(recipe here).
*And...your choice of lime wedges, sliced avocado, sliced fresh or pickled jalapeno, hot sauce, and a side of slow cooker beans (recipe here) or refried beans.
*Oh, and margaritas, of course.
*Leftovers freeze well - I usually put aside half in a rubbermaid container, pour the leftover reduced sauce over it, and freeze it for an even quicker second meal. Just add tortillas and salsa.
Inspired by:
Mexican Everyday by Rick Bayless