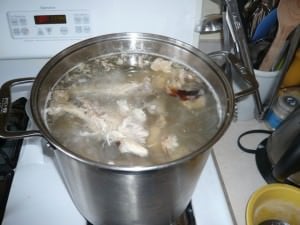 Recipe: Ruhlman's Turkey Stock Done Right




(via: Ruhlman.com)
Equipment:
12 quart stock pot (or the largest pot you have that you can fit in your oven.)
I have this: All-Clad Stainless 12-Quart Multi Cooker

And I want this: All-Clad Stainless-Steel Stockpot - 16 quart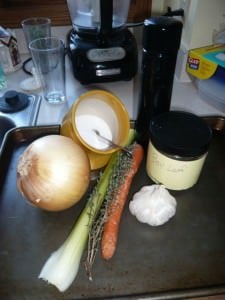 Ingredients:
Carcass from one turkey, broken into pieces that will fit in your pot
6 quarts cold water (or more to cover)
1 large onion, peeled, trimmed and halved
1 celery rib, cut in half (optional)
1 large carrot, peeled and cut in half (optional)
3 cloves garlic, skin on, crushed (optional)
1 teaspoon salt
1 teaspoon whole black peppercorns
1 bay leaf
1 sprig fresh thyme
1 half a bunch of parsley stems (optional - skipped, since I didn't have them)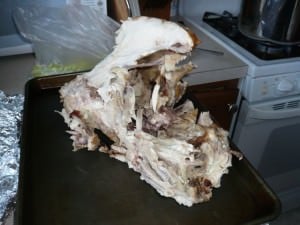 Directions:
1. Turn oven to 180*F (or as close as you can get it, if your oven doesn't go that low).
2. Put carcass in pot, and add the cold water - you want to cover the carcass by 1"
3. Put pot on high heat, bring to a bare simmer, and "Skim off anything that rises to the top that you wouldn't want to eat in a soup". You do not want the stock to boil!
4. Put the pot in the 180*F oven for five hours (4 to 6 hours is OK).
[Update 11/30/09]: Ruhlman now says 8 to 16 hours; five has been working well for me, but I'll try the longer time and update the recipe with my results.]
5. 1 hour before cooking is done, add the aromatics (all the other ingredients). Continue cooking in the oven for another hour.
6. Strain stock into large pot, let rest until room temperature, cover, refrigerate overnight. The next day, remove the fat cap from the stock, and use, refrigerate for up to 4 days, or freeze.
*See my stock straining setup here.

Notes:
*Recipe took 6.5 hours, end to end. About 5 minutes to break up the turkey, fill the pot with water, and get it on the stove. 1 hour to come to a simmer, and skim. 5 hours of cooking in the oven. Then, say about 15 to 20 minutes to strain broth.
*You can cook this on the stovetop instead of in the oven, but it's easier to maintain that low of a temperature in the oven. If your pot will fit, do it in the oven.
*Speaking of which...make sure your pot will fit in the oven! I had to remove all the racks except one, and put it on the lowest level.
*If your pot is big enough, you can scale this recipe up - just maintain the ratio of one turkey carcass plus aromatics to 4 quarts of water. I was able to fit one whole carcass, plus the "breast only" carcass in my 12 quart All-Clad stock pot. If I *only* had the 24 quart, I could have made more stock. (He says with an acquisitive gleam in his eye...) But, see the previous note. I brought the carcasses home in a large, aluminum stock pot, but it was too tall to fit in the oven.
*This is a very easy, hands off recipe....especially if you have a Polder Style Probe Thermometer
, for step 2. Set it to go off at 180*F, and then you don't have to watch the pot boil. I had close to 12 quarts of stuff that had to be heated up, so it took nearly an hour for it to come to a simmer. (Which was OK - I made the pressure cooker stock while I was waiting.) Then, I skimmed it, popped it in the oven, and went away for four hours. Come back, add aromatics, do something else for another hour, and you're done! Or, at least, ready for the straining part. See my follow up post for my straining method.
*Oh, and the results are GREAT! I have a new turkey stock method.
Questions? Comments? Other ideas? Leave them in the comments, below.