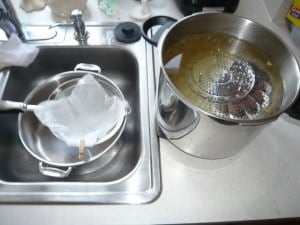 Straining the stock (Adapted from Alton Brown)
This is the quick and easy way to strain stock that I learned from my hero, Alton Brown. It makes straining your stock a one-step operation - you are filtering out the big stuff and the little stuff all at once, resulting in a pot full of strained stock.
Collapsible metal steamer (like This)
cheesecloth, damp
2 - 3 clothespins (or other clip)
12" tongs
Trivet (or large oven mitt)
Oven mitts (or something to keep your hands protected with the hot pot of stock)
Ladle (optional, but useful for a very large pot)
Largest pot (or pots) you have that aren't full of stock
Ingredients:
Pot full of just finished stock
See the picture for the setup: Put the pot you're going to pour into in your sink. Clip the damp cheesecloth into the fine mesh strainer, and put it over the target pot. (Or, if you have one, use a chinoise instead).
Put the pot full of stock on the trivet, on the counter right next to the sink with the pot. (You're going to be pouring, so they should be close.) Then (and if there's a trick to this, this is it), take the collapsible steamer and drop it, upside down, into the stock pot, spreading it out so it meets the edge of the pot.
Put on the mitts, grab your tongs, and grab your pot. Use the tongs to hold the steamer in place while you pour your stock through the cheesecloth/strainer into your target pot. Voila! You're done. And, if you don't have a big enough pot for all the stock, you can easily stop, switch out the pot, and put a new one in there.
Now, if you live in Northeastern Ohio, and it's November, you can usually do what I did - just put the stock outside, on the table on your deck, and leave it there overnight. Otherwise, I cool it down as much as I can by taking the pot of stock out of the sink, dumping my icemaker's tray in the sink, adding water, and then putting the pot back in. I let it sit there until it's cold, or until I want to go to bed, whichever comes first; then I put it in the fridge for its overnight rest.
Notes:
If this doesn't make sense, watch Good Eats, Episode: True Brew IV, Taking Stock - you'll get to see it in action.
Questions? Comments? Other ideas? Leave them in the comments, below.
Related posts:
Click here for my Turkey Stock Shootout. This post is a part of that series.
Click here for Pressure Cooker Turkey Stock, if you want your turkey stock fast.
Click here for Turkey Stock Done Right, if you want the best turkey stock (or don't have a pressure cooker).