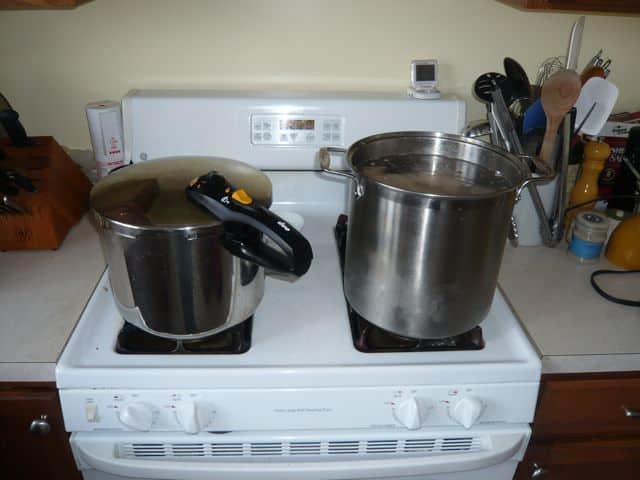 Pressure cooker on the left, stock pot on the right
I've been a fan of making my own turkey stock since...well, since my dad would throw the turkey carcass in a big granitware pot the day after thanksgiving, for the makings of turkey soup.
I've come to agree with Michael Ruhlman's comments about canned chicken broth.  To sum up: Don't do that to your food! Make real stock, or use water instead! For a while now, I have been making my own chicken stock.  I roast a couple of chickens once a month or so, and make stock in my pressure cooker.  It's really good, and much better than Swanson's low sodium broth.
But, recently, Ruhlman threw down the gauntlet:


"Because I've made a fuss about making your own stock...I figured rather than trying to convince people how easy it is, I should encourage everyone who likes to cook, to make it more difficult and time consuming, and therefore more satisfying and enriching.  Perfect your stock: clarify it." [ruhlman.com]
What?  My pressure cooker stock isn't good enough?  I know it comes out kind of muddy looking, because it's boiling away at 250*F in there, but...it's good!  It's so much better than canned chicken broth, that I refuse to use Swanson's any more.  And, I have eaten the chicken noodle soup (and tortilla soup, and thai coconut soup) to prove how good it is.  I'm on the side of the good and the pure with this, right?  Um...
 I held out for a while, but then I found myself wondering - what if he's right? Then, Thanksgiving conspired against me.*
*Really, it's all Thanksgiving's fault. Not my OCD personality. That has nothing to do with it.
On Thanksgiving, I wound up not cooking my own turkey!  We were eating at my brother-in-law's house.  I was freaked out - no turkey soup?  It's my favorite part of the leftovers.  And I wouldn't get to make any?
I wound up in the kitchen at my brother-in-law's, helping with the turkey.  Big surprise, huh? Onward...I asked my sister-in-law, Rena, if I could have the carcass "if they were just going to throw it out after dinner."  She said "well, I won't use it, but I'll have to ask my mom."  It took me a few seconds to figure out that she was messing with me - her parents are from India, and are vegetarians.*  I had my carcass!
*The fact that she was laughing may have had something to do with my figuring it out.
Having eaten one thanksgiving dinner that couldn't be beat, we stopped by my parent's house, just in time for me to wind up helping cook their turkeys.  (Again - big surprise, huh?)  Multiple birds were being cooked - one in the oven, one on the grill, one in a electric roaster in the garage, and another "breast only" in the oven.*  I was in charge of the carving station, and was putting the carcasses in a big pot for my Dad to make his soup later.  When I was done carving all four birds, my dad asked me "do you want the bones?"  My eyes gleamed as I took the big pot full of turkey bones to our van.
*My mom ran out of turkey last year. She gets a little twitchy when she doesn't have enough food to feed everyone, and then give them something to take home with them.  So she may have gone overboard this year.
The next day dawned, and I realized - I have FOUR AND A HALF turkey carcasses!  Now what am I going to do?  And then, while surfing the web...Ruhlman!   He had a blog entry on how to make Turkey stock, his way.  Now I knew what to do.  Is my pressure cooker stock good enough?  Is Ruhlman's really worth the extra time?  Stay tuned, and find out.
(This seemed like a good idea at the time, but it resulted in a HUGE blog post.  I had to break it up into component parts.  Please link through to the sections you care about.  OK, humor me, pretend that you care about some of them.)
Turkey stock for the non-obsesssed
Turkey soup - putting all that stock to work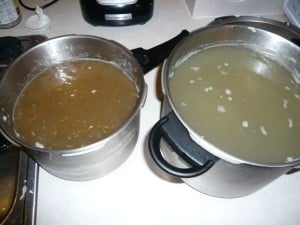 The end result, after being chilled overnight, and having the fat cap scraped off. Look at the gelatin in the pressure cooker stock on the left. But the taste...read on.

And the winner is...
I went into this thinking - Ruhlman's stock is good, but it's not that much better, is it?  I know he dedicated a whole chapter in his book
to the importance of properly made stock, but is it really that much better?  
I had two taste tests.  Test one was coffee mugs with straight stock, warmed, with a pinch of salt. The second with the turkey noodle soup recipe, above. And...the pressure cooker stock was good. Really good. I was reminded why I've stopped buying the cartons of Swanson's chicken broth - the difference is amazing.  And the gelatin -  the stock really looks like jell-o.  I chortle whenever I use it to deglaze a pan, thinking of how good it will be.
But Ruhlman's stock blew me away.  It was so much...lighter, brighter, fresher tasting.  I went back for seconds on the soup.  Then thirds. Then fourths. Then I ate the bowl that Ben didn't want. I think I've been converted.  While I'll still make my pressure cooker stock, since it's a quick and easy preparation after Sunday dinner, I will definitely be making stock the Ruhlman way more often.  I'll just have to freeze my carcasses until the next weekend, to have the time.
I can't believe it; I've become...a culinary perfectionist! But he'll never convert me to clarifying my stock into a
Consommé
. Or
veal stock
. That's just too much work.*
*Isn't it? Oh, lord, I'm weakening already.
[Update 11/2010: Haven't read enough about turkey stock and pressure cooking yet?  Check out this post for why I should re-run this test: Review: Kuhn Rikon 12 Quart Family Stockpot Pressure Cooker]
Ruhlman's book:
The Elements of Cooking: Translating the Chef's Craft for Every Kitchen
My pressure cooker:
Fagor Duo 10-Quart Pressure Cooker/Canner
My stock pot:
All-Clad Stainless 12-Quart Multi Cooker with Steamer Basket