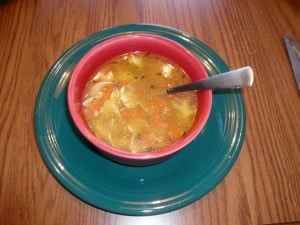 Recipe: Turkey Noodle Soup (aka turkey stock shootout - the proving grounds)
1 tablespoon vegetable oil
1 medium onion, diced
1 medium carrot, peeled and diced
1 celery rib, trimmed and diced
1 sprig fresh thyme, or 1 teaspoon dried thyme
2 quarts Turkey stock
2 cups dried egg noodles (I like the "large" size, but I'll use whatever I've got on hand)
Leftover turkey, shredded into bite size pieces (optional; I prefer the dark meat, and add about a cup)
salt and pepper to taste
dash or two of hot sauce (optional, to taste)
Directions:
1. Heat the oil in a 6qt or larger dutch oven over medium-high heat, until shimmering. Add the onion, carrot, celery, and thyme, and saute until just starting to brown - about five minutes.
2. Add the stock, raise the heat to high, and bring the pot to a simmer.
3. Add the noodles and turkey, return the pot to a simmer, and cook for ten minutes (or for the length of time specified on the bag of noodles)
4. Salt and pepper to taste - this is CRITICAL! Soup without salt tastes watery, and there isn't much in the stock we made, so don't be surprised if you add what seems like a lot of salt to make it taste good.
5. (optional) Add a few dashes of hot sauce, and taste it again. The vinegar and slight spiciness of the hot sauce picks up the flavors for me. If you really don't want to add heat, just add a splash of cider vinegar or red wine vinegar instead.
Notes:
*The tasting part of the recipe is the key piece. Does it seem bland? Add salt. Need a little "something" - add some hot sauce or a splash of vinegar, or maybe some fresh lemon - a touch of acidity and sour flavor often helps. Soup will usually need some last minute adjusting - don't forget this step!
*Don't add too many noodles! They absorb a large amount of stock, and if you add half a package of dried noodles, you'll wind up with noodle stew. All the stock will be absorbed! Which tastes good, but it's not turkey noodle soup.
*Turkey Rice soup is another good variation - replace the noodles with an equal amount of leftover rice. (Did I mention that we always seem to have some lying around?)
*Replace the word "Turkey" with "Chicken" in the recipe, and you have chicken noodle soup.
Questions? Comments? Other ideas? Leave them in the comments, below.