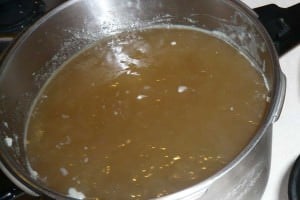 Recipe: Pressure Cooker Turkey Stock
(Inspired by
The America's Test Kitchen Family Cookbook
: Pressure Cooker Chicken Stock)
Cook time: 60 minutes
Equipment:
8 to 10 quart Pressure Cooker (I use this one:Fagor Duo 10-Quart Pressure Cooker/Canner
)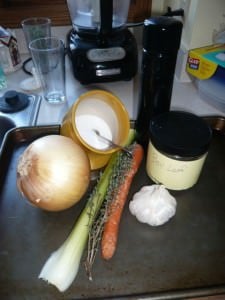 Ingredients:
Carcass from one turkey, broken into pieces that will fit in your pressure cooker
1 large onion, trimmed and halved
1 celery rib, cut in half (optional)
1 large carrot, peeled and cut in half (optional)
3 cloves garlic, skin on, crushed (optional)
1 teaspoon salt
1 teaspoon whole black peppercorns
1 bay leaf
1 sprig fresh thyme
1 half a bunch of parsley stems (optional - skipped, since I didn't have them)
3 quarts cold water (or more to cover)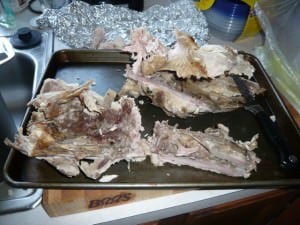 Carcass, broken into pieces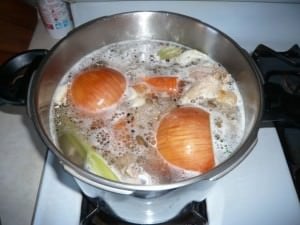 Don't fill your cooker over it's "max fill line" - I'm probably a little over it here...
Directions:
1. Put all ingredients in pressure cooker, and add the cold water - you want to cover the ingredients by 1"
2. Put on the lid, clamp it shut, and bring the PC up to high pressure, following your cooker's instructions. Cook at high pressure for 45 minutes.
3. Remove from the heat, and let rest until pressure releases naturally. (Or, let rest 15 minutes, then quick release pressure according to your PC's instructions)
4. Strain stock* into large pot, let rest until room temperature, cover, refrigerate overnight. The next day, remove the fat cap from the stock. The stock can be used immediately, refrigerated up to 4 days, or frozen for up to 6 months.
*See my stock straining setup here.
Notes:
* This recipe took about 2 hours, end to end. Five minutes to break up the carcass, five minutes to peel and chop the aromatics, fill the pot with water, and get it on the stove. 30 minutes to come up to pressure, 45 minutes under pressure, about 20 minutes natural pressure release, then about another 15 straining the broth. (See my follow-up post on the broth straining system).
*It produces a really, REALLY gel filled stock. I'm always amazed when I peel the fat cap off - it's like I have a pot full of Jell-o. Compare the two pictures below - the pressure cooker is on the left.
The end result, after being chilled overnight, and having the fat cap scraped off.
Look at the gelatin in the pressure cooker stock on the left.

*I was able to make two batches while I waited on the Ruhlman method - I could have fit three in if I was trying to be efficient about it. This is the strength of this method - the pressure cooker cuts the long simmering time out. I can start it with the remains of a couple of roasted chickens, and as long as I start it while we clean up the kitchen after dinner, I'll have it strained and ready for the fridge before I go to bed.
*The recipe won't scale much beyond this. The only larger pressure cooker than my Fagor is the (deep breath now):Kuhn Rikon Duromatic Family Style Pressure Cooker Stockpot 12 Quart
. Kuhn Rikon is the BMW of pressure cookers, and I'm sure it's wonderful...but. It would give you only two more quarts, and it costs $400 (!). I lust after that pot, but I really, really can't justify the price.*
*And trust me, when I want to justify a purchase, I can go a loooong way.
What do you think? Questions? Other ideas? Leave them in the comments section below.
Related posts:
Click here for my Pressure Cooker Turkey Stock, Revisited recipe
Click here for my Pressure Cooker Chicken Stock recipe
Click here for my Turkey Stock Shootout. This post is a part of that series.
Click here for Turkey Stock Done Right, if you don't have a pressure cooker.
What do you do with Turkey Stock? Click here for my Turkey Noodle Soup recipe.
Inspired by:
Fagor Duo 10-Quart Pressure Cooker/Canner

Cooking Under Pressure (20th Anniversary Edition)
*Enjoyed this post? Want to help out DadCooksDinner? Subscribe using your RSS reader or by Email, recommend DadCooksDinner to your friends, or buy something from Amazon.com through the links on this site. Thank you!