Vinaigrette week continues on DadCooksDinner. Here is the dressing that gets the most requests for the recipe – my Caesar Salad dressing. This is the dressing where I learned the power of the basic formula for vinaigrettes. A few years back, I was staying with my Aunt and Uncle in Chicago, and I was making dinner.*
*You don't cook dinner when you're staying with your family? No? Hmm. Maybe that's why my wife gives me strange looks when my first question on vacation is "is there a kitchen where were' staying?"
I'd figured out the variations I could do on my
balsamic vinaigrette
at that point, and was starting to get a little tired with them. (Also, I had made it the night before.) I wanted to do something different. I vaguely remembered the Caesar Salad dressing I had made, carefully following the directions in
Cooks Illustrated
, a few weeks before. As I was trying to reconstruct the recipe in my mind, it dawned on me – it's the same formula! Just substitute lemon juice for the vinegar, and mayonnaise for the oil, and you're ready to go. My vinaigrettes have been unstoppable ever since.
See the Vinaigrette Basic Technique (here) for an overview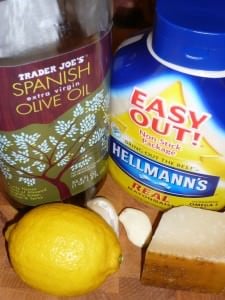 *For a 10 oz bag romaine lettuce (about 3 quarts)
Juice of 1 lemon (should be about 2 to 3 tbsp)
pinch (say, 1/4 tsp) of sugar (optional)
pinch of salt
pinch of freshly ground black pepper
1 medium garlic clove, minced
2 tbsp Extra Virgin Olive Oil
1/4 cup mayonnaise
1/4 cup grated parmesan cheese (optional), plus some extra for the salad
Directions: Easy Way
1. Whisk to blend: Whisk all the ingredients in a small bowl until creamy.
OR:
Directions: With Finesse
1. Dissolve the salt and sugar: Whisk the salt, sugar, pepper, garlic and lemon juice in a small bowl until the salt and sugar dissolve, usually about 10 seconds.


2. Add the oil: Add the oil and whisk until combined.


3. Add the mayonnaise: Add the mayonnaise and whisk until creamy.


4. Add the cheese: Add the grated parmesan, and whisk to combine.


5. Serve: Just before serving, whisk the dressing again to combine. Toss the lettuce with the dressing. Sprinkle the extra parmesan on top of the bowl of salad (family style), or on the salad when serving (individual plates).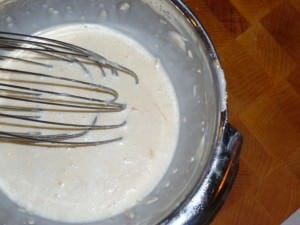 Variations:
*It's authentic if you add 1tsp of Worstershire sauce to the dressing (in step 1), but I forgot it once, and didn't miss it, so I've been skipping it.
*If you would like more of a tart flavor to your dressing, skip the sugar, only juice half the lemon, and substitute 1 tbsp white wine vinegar for the other half
*You can leave the parmesan out of the dressing; I just like having it in there – it gets spread throughout the salad and goes farther.
Notes:
*This is what I think of as the base recipe for creamy salad dressings – vinaigrette where mayonnaise is substituted for most of the olive oil.
*They're not absolutely necessary, but to make your Caesar salad complete, you should have garlic croutons. This is another thing I hate to buy at the store – just get a loaf of good French bread or Italian bread from the store, and toast it yourself. Make some extra dressing, cut the toasted bread into cubes, and toss them with a little of the extra dressing. Let them sit and soak up the dressing, then add them to the salad when serving. Or, make garlic crostini and cube it – but that's a recipe for another day.
*To turn this into meal, grill or saute some boneless, skinless chicken breasts, slice them, and serve them on top; you've got Chicken Caesar Salad! Or, serve this as a side with roasted chicken. Say, a rotisserie chicken (recipe
here
)?
*There's a lot going on in this dressing, so the quality of the ingredients aren't quite as important as in the simpler dressings (like the
balsamic vinaigrette
). Just make sure you use freshly squeezed lemon juice (not from the green bottle), real mayonnaise (no miracle whip), and real parmesan (not from the green can. Please!)
Inspired by:
There are lots of sources for this one, but the "add the cheese to the dressing" came from:
Cooks Illustrated – The Best Light Recipe