Barramundi is another example of a good farmed fish. They are native to waters from Southeast Asia through Australia. Barramundi are particularly prized in Australia and Thailand, both as a sport fish and a favorite for eating. They can survive in a wide range of salt levels; some live in the ocean, others in inland lakes and rivers. In the United States, barramundi is farmed in closed inland systems to protect against escapees and pollution.
*Barry Eastabrook wrote about how good Barramundi is for fish farming in an article last week.
Today, I'm going to share a recipe for grilled barramundi. Grilled fish is a sticky situation. I mean that literally - fish will stick to your grill like it was spot-welded if you are not careful. There are four keys to keep fish from sticking:
1. Preheat your grill: It has to be as hot as you can get it. For charcoal this is easy; once the coals are ready the grill is ready. But for gas grills, you have to preheat for at least 15 minutes to get your grill grates ripping hot.
2. Clean your grill grates: If the grates aren't scrupulously clean, fish is going to stick. Luckily, the easiest time to clean grill grates is after they've been pre-heated. And you already did that for step 1, right? Brush them down, making sure to get all the carbonized bits of food off.
3. Oil your grates and your fish: I lightly coat the fish with oil. Then, right before putting the fish on the grill, I rub the grill grates with a folded paper towel dipped in vegetable oil. I have read arguments for one or the other working better; I take the belt and suspenders approach and oil them both.
4. Flip once, flip gently: I know that a cross-hatch of grill marks looks great, but it also gives the fish another chance to grab onto the grill. I start fish flesh side down, sear it until it has a nice brown set of grill marks in it, then flip it skin side down to finish cooking. Even with all my other precautions, fish will still stick to the grill on me. I gently work a spatula underneath it, until I can tell it is free of the grill grate. Then I flip quickly.
My apologies to Stephen Raichlen, who sums this up much better than I do. His mantra is: "Keep it hot, keep it clean, keep it lubricated."
Recipe: Grilled Barramundi

Inspired By: Paul Greenberg Four Fish: The Future of the Last Wild Food
Cook time: 6 minutes
Equipment:
Ingredients:
6 - 6oz Barramundi fillets (each should be 2 to 3 inches wide)
1 ½ teaspoon kosher salt (¼ teaspoon to ½ teaspoon per fillet)
½ teaspoon fresh ground black pepper
2 teaspoon vegetable oil
Avocado Salsa
1 ripe avocado
Juice of ½ lime
1 red bell pepper
1 orange
1 scallion
Salt and pepper
Directions:
1. Prepare the grill: Start by setting the grill up for cooking with direct high heat. Preheat the grill for 15 minutes, then clean the grill grate thoroughly. For my Weber Summit, I turn all the burners to high and wait fifteen minutes. Then I brush the grate with my grill brush and wipe the grate with a paper towel dipped in vegetable oil.
2. Prepare the barramundi: While the grill is preheating, sprinkle the barramundi filets with the salt and pepper, then rub with the vegetable oil.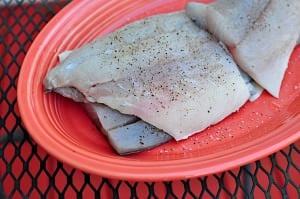 3. Prepare the avocado salsa: Cut the avocado into a ½" dice, and toss in a small bowl with the lime juice. Cut the red bell pepper into a ½" dice, section the orange (directions here) , and dice the scallion. Add all these to the bowl with the avocado, and toss to combine. Add salt and pepper to taste.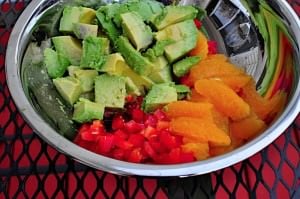 4. Grill the barramundi: Place the barramundi on the grill over direct high heat, flesh side down. Grill for three minutes, then gently work a spatula under the barramundi and flip skin side down. Grill for three more minutes, or until the barramundi is just opaque in the thickest part; I check by pushing along the natural seams with a paring knife. It is OK to let it cook longer on this side; the skin will protect the fish from burning. Once it is done, gently work a spatula under the barramundi and move to a platter.
5. Serve: Spoon a heaping tablespoon of avocado salsa over each barramundi filet. Serve, passing any extra salsa at the table.
Variations:
*Lemon herb dressing: Instead of the salsa, make my lemon herb dressing and drizzle a tablespoon on each barramundi fillet.
*Other salsa: Use any of my salsa recipes instead of the avocado salsa, or use your own favorite salsa. Mango Salsa is a particularly good match with seafood.
Notes:
*After reading about Barramundi, I wanted to try some out. It was harder to find than I thought it would be; I had to special order it from BayLobsters Fish Market in Twinsburg.  Thanks, guys!
*The fillets I got were from a smaller fish - about a foot long in total, and no more than an inch thick. I cut each fillet in half to get my six ounce portions. I've seen pictures of monster-sized barramundi, so if you get one that is thicker, you should cut it into narrower portions - say 3 inches across, and increase the grilling time to about 8 minutes total (3-4 minutes flesh side down, then another 4-5 minutes skin side down; the skin will protect that side from burning.)


What do you think? Questions? Other ideas? Leave them in the comments section below.
Related Posts:
Review: Four Fish by Paul Greenberg
Tilapia with Browned Butter and Lemon Sauce
Grilled Trout, Herb and Citrus Stuffed
Special thanks to BayLobsters Fish Market for finding the barramundi for me.
Inspired By:
Paul Greenberg Four Fish: The Future of the Last Wild Food
*Enjoyed this post?  Want to help out DadCooksDinner?  Subscribe using your RSS reader or by Email, recommend DadCooksDinner to your friends, or buy something from Amazon.com through the links on this site.  Thank you!