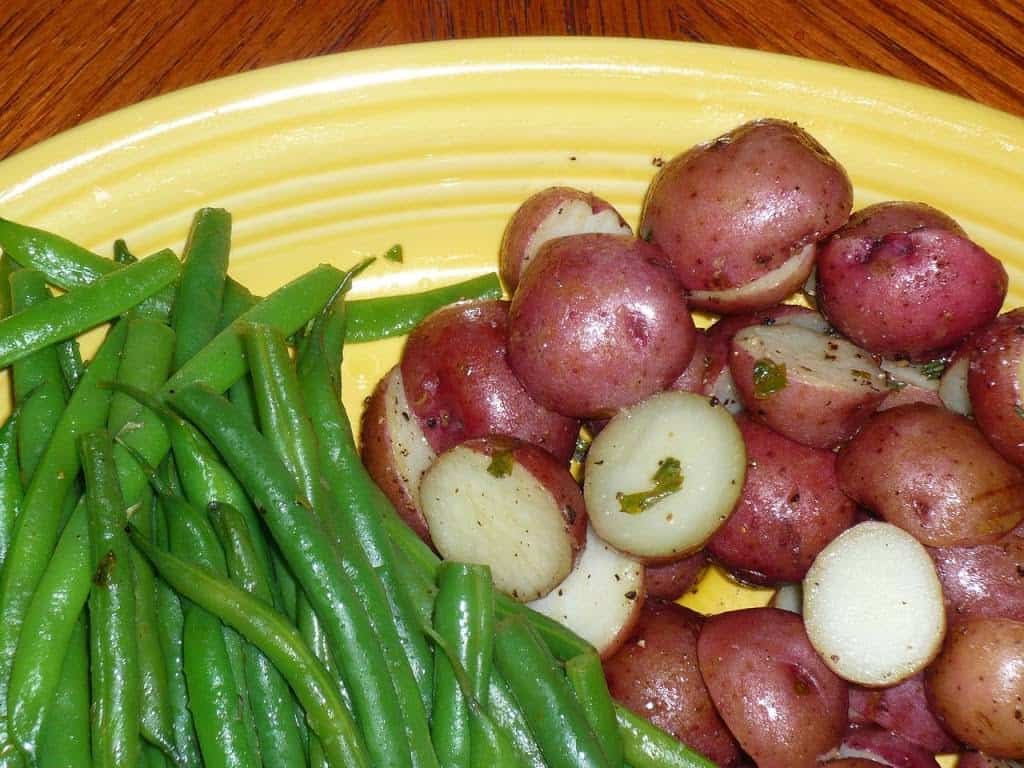 This is my new favorite vinaigrette. I love the mediterranean combination of lemon and olive oil. I think it's the most verstaile dressing I make - it goes well with a wide range of vegetables, from salads, to potatoes, to shredded carrots, to green beans. It's the dressing for Salad Nicoise, Greek Salad, and Carottes Rapees; all you do is vary the herbs you use.
Recipe: Lemon Herb Dressing



See the Vinaigrette Basic Technique (Vinaigrette Basic Technique) for an overview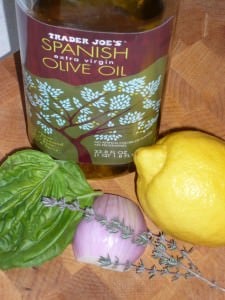 Ingredients:
*For a pound each of boiled new potatoes and green beans, or a 10 oz bag romaine lettuce (about 3 quarts)
Juice of 1 lemon (should be about 2 to 3 tbsp)
1 teaspoon lemon zest (from the lemon you just juiced)
1 teaspoon sugar
pinch of salt
pinch of freshly ground black pepper
1 medium garlic clove, minced
6 tablespoon (⅓ cup plus a little) Extra Virgin Olive Oil
Herbs: 1 tbsp, minced, of any combination of the following:
Parsley
Thyme
Basil
Oregano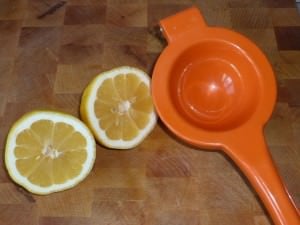 Directions: Easy Way
1. Whisk to blend: Whisk all the ingredients in a small bowl until creamy.*
*Note: Because you don't have the mustard to act as a binder, you need to whisk hard for this to emulsify. Don't worry if it doesn't; it still tastes great. If you're the kind of person who worries, go with the finesse recipe, below.
OR:
Directions: With Finesse
1. Dissolve the salt and sugar: Whisk the salt, sugar, pepper, garlic and lemon juice in a small bowl until the salt and sugar dissolve, usually about 10 seconds.
2. Add the oil slowly: Add the oil in a slow stream, whisking until creamy and emulsified.
3. Add the herbs: Add the minced herbs, and whisk to combine.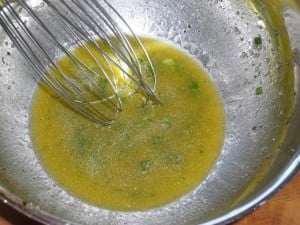 Variations:
*Herbs - Any herb would go well here. In addition to the list above, I've made this with tarragon and mint.
*Dried Herbs - fresh are preferable, but if all you have are dried, use half the quantity listed above (total 1 ½ tsp), and let them sit in the lemon juice for a few minutes to rehydrate before adding the olive oil. I do this a lot when I'm making Greek salad; I've never had luck with growing fresh oregano, so I usually wind up using dried oregano.
Notes:
*This vinaigrette is the based on the one for Nicoise Salad - toss some romaine lettuce, boiled green beans and boiled new potatoes in this dressing, and serve with Excellent Canned Tuna
, nicoise olives and hard boiled eggs.
*Or, it's Greek salad dressing - use oregano as the only herb. (That's a recipe I'll share another day.)
*I also love this with Carrottes Rapees, a French grated carrot salad (see here for David Lebovitz' great post on this recipe)
*This dressing is hard to emulsify - as you can see in the picture with the whisk, it's already starting to separate. You can (as usual) add a little dijon mustard, but for this dressing I prefer to just live with it separating. I make the dressing, set it aside, then give it an extra whisking right before tossing the salad with it.
*I like the sweet/sour combination of the lemon with a little sugar. Depending on what you're using it with, a little extra sugar (as much as 2tsp) goes well.
Inspired by:
Cook's Illustrated - Nicoise Salad recipe

*Enjoyed this post?  Want to help out DadCooksDinner?  Subscribe to DadCooksDinner using the RSS or Email options on the right, link to this post from your blog, recommend DadCooksDinner to your friends, or buy something from Amazon.com
through the links on this site.  Thank you!