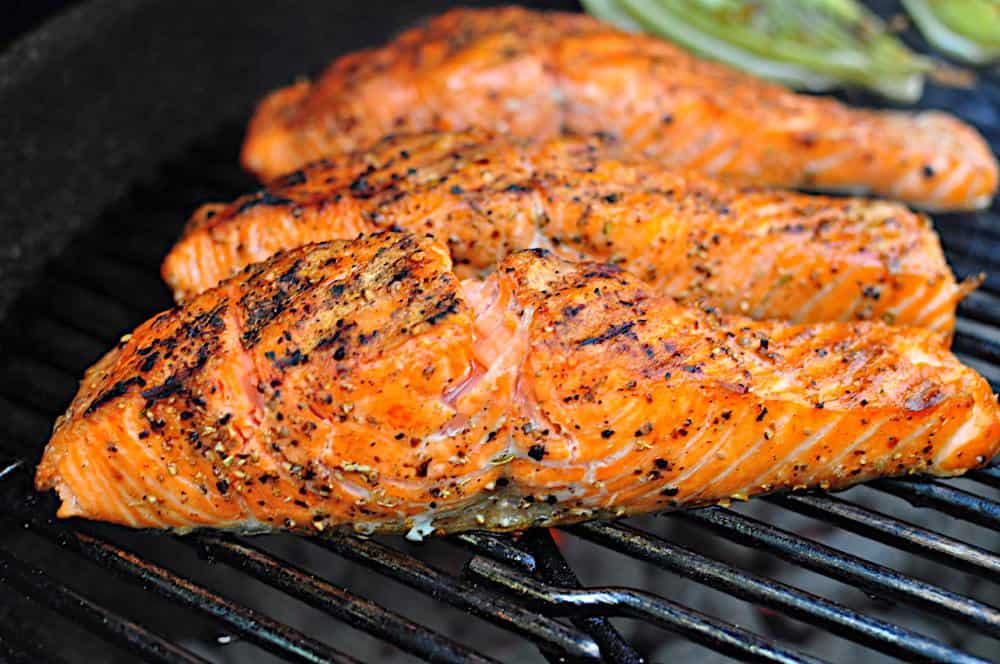 I was in the mood for seafood. What was waiting for me at the fish market? Absolutely gorgeous wild Alaska king salmon.
*Yes, it was expensive. It was worth every nickel.
With fish this good, my goal is…to not screw it up. I grill it simply, with salt and a light spice rub, to medium doneness, with a hint of pink still in the middle. My goal is to showcase the buttery salmon, giving it a touch of spice crust and a suggestion of smoke.
*Can you tell I love really good salmon? I feel like I'm writing a romance novel here.
If you want to get the best value in wild salmon, mid to late summer is the time to shop. The king salmon harvest starts in May; by July all the salmon runs are happening, and prices drop as the supply increases. Now, don't get me wrong. Wild salmon still commands a premium price*, but the price does come down a bit this time of year.
*Wild salmon should command a premium price – it is a premium product. They call it a salmon "harvest", but fishermen are really out there hunting the one wild food that we eat on a regular basis.
Recipe: Grilled Salmon With Coriander-Fennel Spice Rub
Cook time: 12 minutes
Equipment:
Ingredients:
4 Salmon fillets, 2 inches wide (About 2 pounds of salmon)
1 teaspoon Kosher salt
1 teaspoon black peppercorns
1/2 tsp coriander seed
1/4 tsp fennel seed
Directions:
1. Prepare the grill: Prepare your grill for cooking with medium-high heat, then clean the grate thoroughly with a grill brush and a paper towel dipped in vegetable oil. For my Weber kettle, I light a chimney starter* 3/4 full of charcoal, wait for it to be covered with ash, then pour it evenly over one side of the grill grate. This gives me half the grill on direct heat, and half off the heat. Then I brush the grate clean with my grill brush, and wipe it with a folded paper towel dipped in vegetable oil. (Held with tongs, of course – please don't bare-hand a paper towel soaked with oil over flaming coals.)
*I highly recommend the Weber Chimney Starter
, because it is larger than most chimney starters. It holds 5 quarts of charcoal, which is exactly the right size for cooking this recipe.
| | |
| --- | --- |
| Coarsely ground | Ready for the grill |
2. Season the salmon: While the grill is pre-heating, sprinkle the flesh side of the salmon evenly with the salt. Coarsely grind the peppercorns, coriander and fennel. Sprinkle the spice rub on the salmon.
3. Cook the salmon: Put the salmon on the grill, flesh side down, over the direct heat (that is, over the coals). Cook uncovered for 4 to 6 minutes, until the salmon is well browned. Gently flip the salmon skin side down and grill for 4 to 6 more minutes, until the salmon is just opaque in the thickest part; once the salmon starts to flake I peek into the middle with a paring knife. (Or, use an instant read thermometer. Cook until the salmon is 130*F internal temperature at its thickest part.) It is OK to let it cook longer on with the skin side down; the skin will protect the fish from burning. Remove from the grill, let rest for a few minutes, then serve.
Variations:
*Really simple salmon: If you have a fabulous piece of salmon, skip the spices and simply use salt and pepper.
*Other spices/herbs/aromatics: Add a teaspoon of your favorite spice (smoked paprika is a favorite of mine), or minced herbs (thyme), or citrus zest (lemon zest is particularly nice.)
Notes:
*Cooking time will vary depending on the thickness of your fish. These were monsters, about 2 inches thick, so they were on the high end of my cooking range. (They may actually have taken about 15 minutes to cook through). Thinner fillets (1 inch, say) will only take about 8 minutes to cook to medium.
*Salmon does not stick to the grill as much as other fish, because it has a lot of internal fat. But, it will still stick. I scrupulously clean my grill before putting the salmon down, and turn it by grabbing it with my tongs and gently wiggling it until it releases. Every now and then a piece will stick, but this usually works for me.
*As I've said before, please buy sustainable seafood. Especially for this recipe – it is intentionally bare bones, meant to showcase a really great piece of wild salmon. For (shudder) farmed salmon, I would double the amount of spice rub. Or go with the grill-smoked salmon I link to below.
What do you think? Questions? Other ideas? Leave them in the comments section below.
Related Posts:
Grilled Mahi Mahi Fish Tacos with Red Cabbage Slaw
Grilled Barramundi with Avocado Orange Salsa
Grill-Smoked Salmon
*Enjoyed this post? Want to help out DadCooksDinner? Subscribe using your RSS reader or by Email, recommend DadCooksDinner to your friends, or buy something from Amazon.com through the links on this site. Thank you!