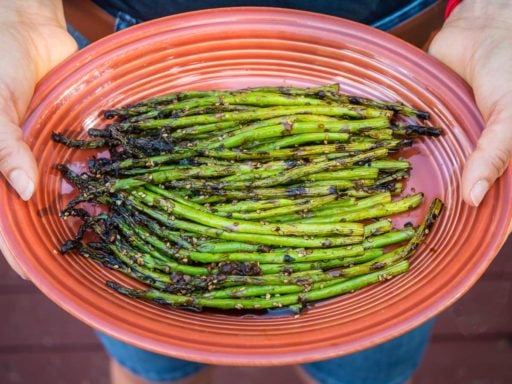 Time for my favorite grilled vegetable. 3Spring edition. I'm always sad when Asparagus season ends, but by mid-summer, sweet corn is ramping up. My son has been on a teriyaki kick - he asks for it on everything - so I thought, why not tempt him to try some asparagus by grilling it with teriyaki sauce? It turned out great! Well…other than the tempting him to try asparagus. He wouldn't touch it. (That's OK - I loved the asparagus.)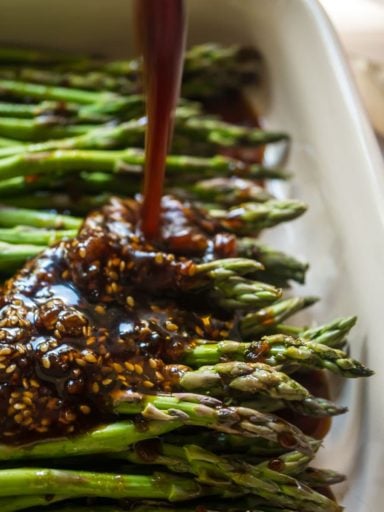 Now, for the one question you've got to ask yourself about grilling asparagus: do you feel lucky? 4[Well, do you, punk?](https://youtu.be/A732Cuuo2tI) I like to live dangerously when I grill my asparagus, and do it right on the grill grate. And, as long as the asparagus stays perpendicular to the grate, this works fine. But…if a spear gets turned sideways, or I drop it pointy end down, it slides right through the grate and drops into the grill. I view that as the price of grilled asparagus - I'm willing to lose a spear or two - but if you don't trust your luck or your tong skills, use a grill pan. No worries about losing asparagus that way!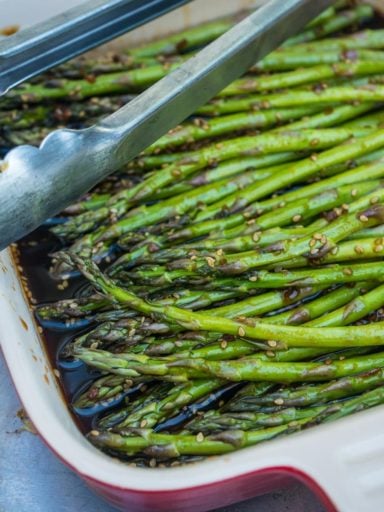 Also, because of the teriyaki sauce, the asparagus will burn on the grill if you leave it sit. Keep the asparagus moving, rolling it over on itself (I treat it as one big pile), and pull it off as soon as it is cooked through.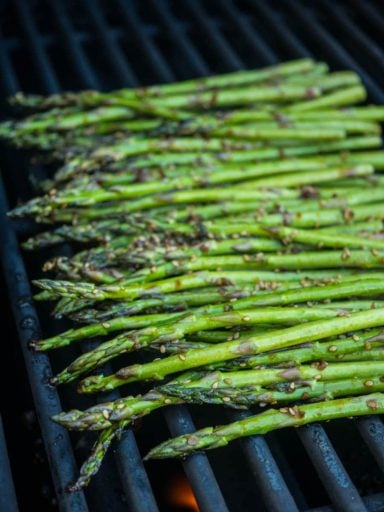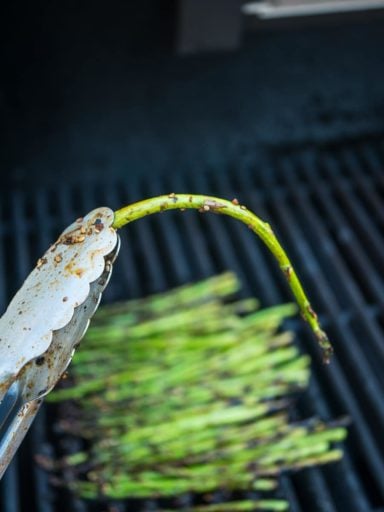 Recipe: Grilled Teriyaki Asparagus
Equipment:
Print

Grilled Teriyaki Asparagus

---

Total Time:

28 minutes

Yield:

4

-

6

servings

1

x

Description

Grilled Teriyaki Asparagus recipe. My favorite vegetable to grill in the spring, asparagus, marinated in teriyaki sauce.

---

½ cup

soy sauce

2 tablespoons

Mirin or seasoned rice wine vinegar

2 tablespoons

honey

1

clove garlic, minced or pressed

½

inch piece of ginger, peeled and grated

1

green onion, trimmed and minced fine

½ teaspoon

toasted sesame seeds (optional)

---

Instructions

Prep the asparagus: Snap off or trim the tough ends from the asparagus, then put in a baking dish. Whisk the teriyaki ingredients and pour over the asparagus. Gently toss the spears in the dish until they are coated with sauce.
Preheat the grill to medium: Set the grill up for direct medium heat. For my gas grill, I preheat the grill with all burners on high for 10 minutes. Next I brush the grate clean, then I turn the burners down to medium.
Grill the asparagus: Remove the asparagus spears from the teriyaki sauce, letting any excess drip back into the dish. Put the asparagus on the grill perpendicular to the grill grate over direct medium heat. Cook the asparagus, rolling the spears on the grate every couple of minutes and moving them around if there are hot spots. The asparagus is done when they are browned and cooked through, about 8 minutes. I check the spears two ways. First is the flop test. I pick up a spear with my tongs, and wiggle it up and down. If the spear doesn't bend, it's not done yet. If it's soft and floppy, I move on to the bite test - I bite into the spear, making sure it doesn't have any resistance. If it's cooked through, I'm done.
Toss and serve: Move the grilled asparagus back into the baking dish and toss to coat it with teriyaki sauce one more time. Serve it immediately, or let the asparagus rest while you finish the rest of dinner.

Prep Time:

20 minutes

Cook Time:

8 minutes

Category:

Grilling

Cuisine:

Japanese



What do you think?
Questions? Other ideas? Leave them in the comments section below.
Related Posts
Grilled Asparagus and Prosciutto Wraps
Grilled Peppers and Onions
Foil Pouch Grilled Green Beans
My complete Grilling Recipe Index
Enjoyed this post? Want to help out DadCooksDinner? Subscribe to DadCooksDinner via eMail or RSS reader, recommend DadCooksDinner to your friends, and buy something from Amazon.com through the links on this site. Thank you.