It's asparagus season!
I know spring has arrived when I see stalks of asparagus in my CSA box. The long, dark winter of root vegetables is finally over; the bounty of summer is on its way.
After this winter, I needed the reminder.
I love grilled asparagus, and I love roasted asparagus wrapped in prosciutto. So, I gave myself a dope slap when I saw this recipe from Kalamazoo Grills - grilled asparagus and prosciutto wraps. Duh…why didn't I think of that?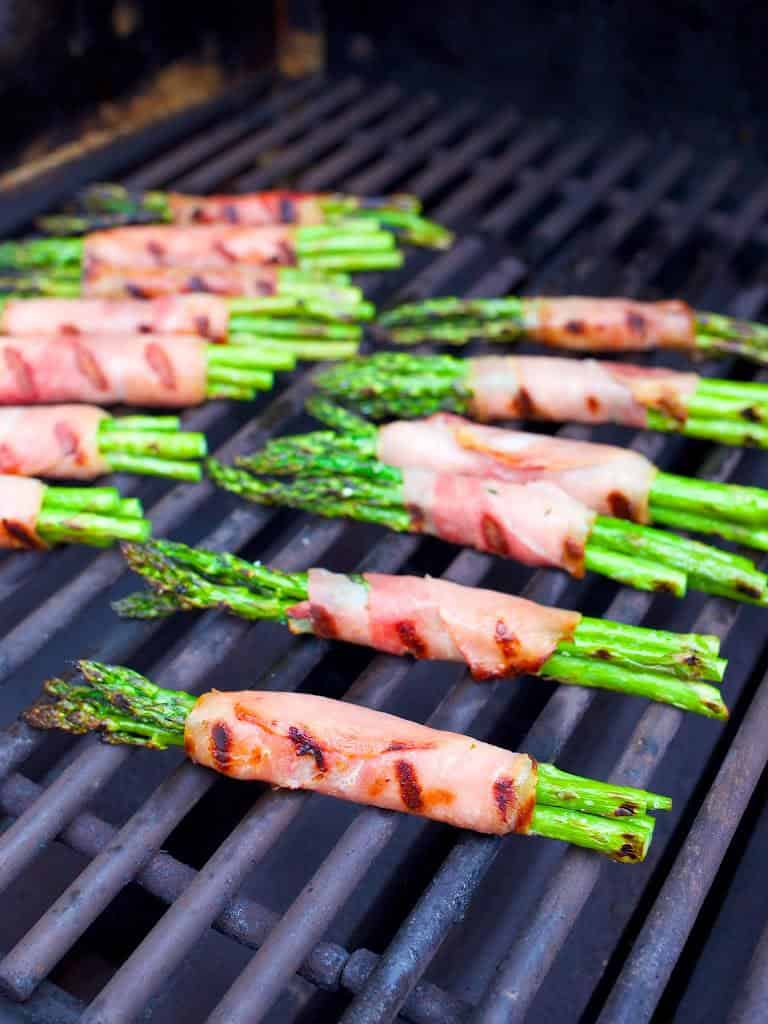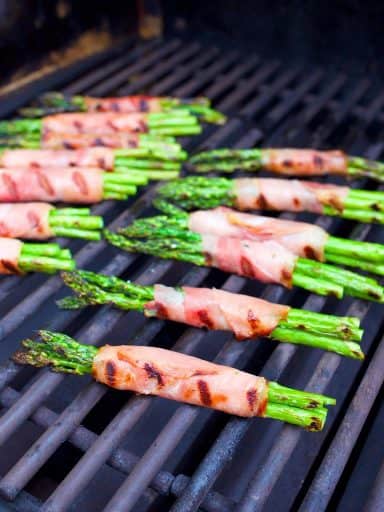 And, as a bonus - the wrapped bundles of asparagus won't drop between the grill grates as easily as individual spears, so I don't lose any into the grill. What's not to like?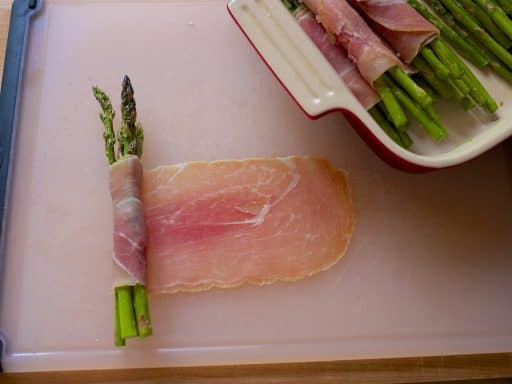 Recipe: Grilled Asparagus and Prosciutto Wraps
Adapted from: Kalamazoo Grills, Asparagus Wraps with Crispy Prosciutto and Herbed Cheese
Prep Time: 15 minutes
Cook Time: 8 minutes
Equipment
Grill (I love my massive Weber Summit - but any grill will work for this recipe.)
Print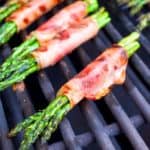 Grilled Asparagus and Prosciutto Wraps
---
40

thin asparagus spears (about

12 ounces

)

1 tablespoon

olive oil

½ teaspoon

kosher salt

10

thin slices prosciutto
---
Instructions
Assemble the asparagus and prosciutto wraps: Trim the tough ends off of the asparagus. (I cheat - I break one asparagus spear by hand, and use it as a guide to cut the rest of the bunch at once.) Toss the asparagus spears with the olive oil and salt. Set a piece of prosciutto on a cutting board, put four asparagus spears on top, and roll up the asparagus in the prosciutto to make a tight bundle. Repeat until all the asparagus is wrapped.
Set the grill up for medium heat: Set the grill up for direct medium heat. On my Weber gas grill, I preheat the grill with all burners on high for ten to fifteen minutes, brush the grill grate clean, then turn the burners down to medium.
Grill the asparagus wraps: Set the asparagus wraps on the grill over direct medium heat, parallel to the bars of the grill grate. Grill until the bottom of the prosciutto is browned and the asparagus has grill marks, about 2 minutes. Gently give each bundle a quarter turn, and grill until the bottom of the prosciutto and asparagus are browned, about 2 more minutes. Give them another quarter turn and grill until the bottom is browned, about 2 more minutes. One last quarter turn of the bundles, and grill until browned and crispy, about 2 more minutes. Remove the asparagus wraps to a platter and serve.
Notes
I like thin asparagus spears for this recipe; they cook quicker on the grill. If you have medium thickness spears, make bundles of three; if you have thick asparagus spears, wrap each spear individually.
When I make this recipe, I always seem to wind up with too much asparagus and not enough prosciutto. When that happens, I cut some of the prosciutto pieces in half lengthwise, then wrap in a spiral pattern to cover up more of the asparagus with the thinner slice of prosciutto.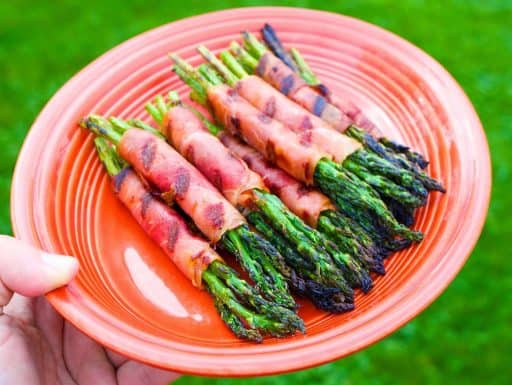 What do you think?
Questions? Other ideas? Leave them in the comments section below.
Related Posts
Grilled Asparagus
Grilled Asparagus with Whole Grain Mustard Vinaigrette
Shaved Asparagus and Parmesan Salad
Enjoyed this post? Want to help out DadCooksDinner? Subscribe to DadCooksDinner via eMail or RSS reader, recommend DadCooksDinner to your friends, and buy something from Amazon.com through the links on this site. Thank you.