I don't know when shaved asparagus became a thing…oh, wait, I take that back. It was two months ago, on Serious Eats. There was a picture of was Jim Lahey's Bird's Nest Pizza, from his new book, and it looked amazing. A blistered crust, covered with shaved asparagus, eggs nestled in their green nests. I threw it in my ideas folder, and moved on.
Suddenly, shaved asparagus was everywhere. It was topping other pizzas. It was covering coppa. When I saw it on the cover of Charred and Scruffed - a grilling cookbook, mind you - I knew that shaved asparagus was having its moment.
So, here I go. I'm running with the in crowd, joining the new hip trend. Which surely means it already jumped the shark. That's OK - this salad is worth it, even if it is no longer "of the moment". Asparagus is in season, and it is time to celebrate. Pick some up at the farmers market this weekend and give this recipe a try.
*And, sure enough, a quick google search shows me LAST summer was when shaved asparagus salad had its moment. I'm supposed to use it to top pizza now. I'm late, as usual.
Recipe: Shaved Asparagus and Parmesan Salad

Adapted from: Jonathan Waxman Italian My Way
Cooking time: 10 minutes (9 minutes of peeling, one minute of tossing)
Equipment:
Vegetable peeler (I love my Y-Peeler, but I'm sure everyone has their favorite)
Ingredients:
1 pound asparagus, tough ends trimmed off
2 tablespoons extra virgin olive oil
½ teaspoon Kosher salt
block of Parmesan
Directions:
1. Shave the asparagus:
Grab the tip of the asparagus, and run a vegetable peeler down the length of the asparagus spear. Repeat, peeling until you can't shave any more because the vegetable peeler is hitting the board. This will leave you with a final strip still attached to the tip of the asparagus; add that piece to the pile. Repeat until you have all the asparagus shaved.
2. Make the salad:
Put the asparagus strips in a bowl, toss with the olive oil, and then the salt. Using the vegetable peeler again, shave strips of Parmesan directly on to the bowl of asparagus. Serve.
Variations:
Vinaigrette: Instead of olive oil, salt and Parmesan, toss the shaved asparagus in a vinaigrette. My lemon herb dressing is particularly good with asparagus.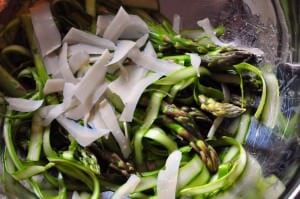 Notes:
Shaving asparagus is meditative. That's a euphemism for "it takes longer than I would like on a busy weeknight." But, really, it doesn't take that long, and this salad is the perfect way to showcase in-season asparagus.
For this recipe, thicker asparagus is better. Thin stalks are hard to shave because they are so small to begin with.
What do you think? Questions? Other ideas? Leave them in the comments section below.
Related Posts:
Grilled Asparagus
Zucchini and Summer Squash Salad
Grated Carrot Salad
Adapted from:
Jonathan Waxman Italian My Way

*Enjoyed this post? Want to help out DadCooksDinner? Subscribe using your RSS reader or by Email, recommend DadCooksDinner to your friends, or buy something from Amazon.com through the links on this site. Thank you!