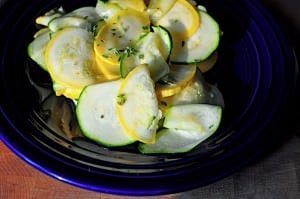 Time for another Omnivore's Dilemma: What do I do with all the zucchini? Or summer squash? Or both? Zucchini is one of the first summer vegetables I get in abundance in my CSA box.
Non-greens, non-lettuce category.
I might not be able to find anything else at the farmer's market, but there will always be zucchini. It is wonderful to have this bounty...but after the first few weeks I start to wonder. What do I do with it all?
Michael Symon gave me this idea in his Greek cooking class - a raw zucchini and summer squash salad with almonds and lemon dressing. I'm always trying to figure out what to do with zucchini come late July. Here, in the middle of March, was a new recipe, and a delicious one at that. The meaty squash is brightened by the lemon, and the nutty crunch of the almonds gives the salad extra depth. I saved the idea, waiting for the first summer zucchini. Now I get to share it with you!
*It was a long wait - the class was last March, and I was excited at the idea of a new way to cook squash.
**Yes, I get excited easily. But it something new to do with zucchini. And it is delicious! Normally, when it comes to zucchini, I'm somewhere between resigned acceptance and mild dread. "Oh, more zucchini...OK, I'll take it if no one else will." I've spent the last few months actually looking forward to summer squash. Thank you, Michael!
Recipe: Zucchini and Summer Squash Salad

Adapted From: Michael Symon, Live To Cook
Ingredients:
2 lbs zucchini and summer squash, sliced thin
½ teaspoon kosher salt
½ cup slivered almonds (optional)
Lemon Dressing
Juice and zest of 1 lemon
1 teaspoon honey
1 garlic clove, minced or pressed
2 teaspoon fresh thyme
pinch of salt
pinch of fresh ground black pepper
⅓ cup extra virgin olive oil
Directions:
1. Prepare the zucchini: Trim the ends of the zucchini and squash, then slice thin on the bias. Put the squash in a colander, sprinkle with salt, and toss to coat evenly. Let sit in the colander for 15 to 30 minutes, so the salt can pull a little water out of the squash.
2. Prepare the salad: In a large bowl, whisk together all the lemon dressing ingredients until smooth. (See detailed lemon herb dressing instructions here.) Add the zucchini and squash to the bowl, and toss to coat with the dressing. Add the slivered almonds, and toss until well mixed. Serve.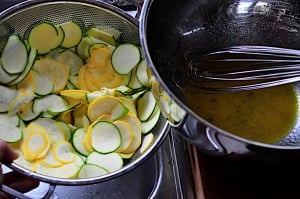 Variations:
Squash: Use any variety of tender summer squash or zucchini.
Nuts: The almonds are optional; skip them, or replace them with another nut - pecans and pine nuts are two good replacements.
Herbs: In the original Michael used dill; I used thyme because I had it on hand. Any herb you have available would go well in the dressing.
Notes:
I like the ultra-thin slice I get by slicing with a vegetable peeler...but I get bored with peeling after the second squash, and switch to my chef's knife. If you're even more impatient than I am, use a mandoline or a food processor's thin slicing disk. Just remember to cut the squash as thin as you can.
Smaller squash are better with this recipe, because they'll have less seeds. I want 3 to 4 squash to get to my 2 pounds. If all I have are monster sized squash, I slice the meaty part of the squash away from the seeds lengthwise, then cut the squash into thin strips. (Or use the vegetable peeler trick, below, and stop peeling when you get to the seeds.)
Sweet or sour?: Michael Symon does not have honey in his recipe, and has an extra two lemons. I went with my regular lemon herb dressing. Both versions are delicious; my version has a hint of sweetness to it, and Michael's is much sharper. Use whichever version you think will go well with the rest of your meal.
What do you think? Questions? Other ideas? Leave them in the comments section below.
Related Posts:
Grilled Monster Zucchini
Zuni Zucchini Pickles
Mixed Summer Vegetables Provencal (Tian Provencal)
Adapted from:
Michael Symon, Live To Cook
*Enjoyed this post? Want to help out DadCooksDinner? Subscribe using your RSS reader or by Email, recommend DadCooksDinner to your friends, or buy something from Amazon.com through the links on this site. Thank you!