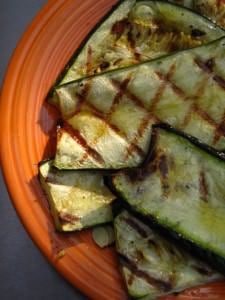 At work, there is a cardboard box with "please take me" written on it with magic marker. In it is a big pile of vegetables. There are tomatoes, some peppers, and then... next to the box are the zucchini. These aren't your normal sized squash. These are Big zucchini. Monster zucchini. Zucchini the size of your forearm, if you're Arnold Schwarzenegger.*
*Think "Conan the Barbarian" era Arnold, not "Governator" era Arnold.
Whenever I see them, I think of Garrison Keillor's joke:
The only time the inhabitants of Lake Wobegon lock their cars is in the month of August. It's so their neighbors won't fill their back seat with bags of zucchini.
They always look too good to pass up, so I take one home. But what do you do with a 5 pound zucchini? Why, you grill it, of course!*
*Or make zucchini bread. But that's another recipe.
Recipe: Grilled Monster Zucchini
Equipment:
Ingredients:
Garlic Herb Oil
¼ cup olive oil
2 cloves garlic, minced or pressed
1 teaspoon fresh thyme
pinch of salt
pinch of pepper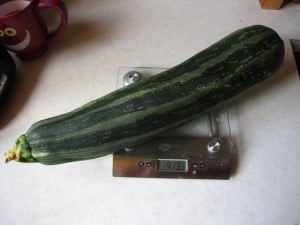 Yes, that zucchini is 4 pounds, 13 ounces.
Directions:
1. Prepare Zucchini: Slice ends off zucchini, then slice crosswise into 3 equal sized pieces. I trim the side off of each piece, and then slice it lengthwise into ½" thick planks. See the picture below...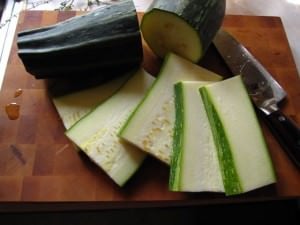 2. Prepare Garlic Oil: Put the garlic oil ingreidents in a small dish or ramekin, and microwave for 1 minute, or until garlic is just starting to sizzle and smell fragrant. Make your herb brush by tying together sprigs of a bunch of different herbs. (I used thyme in the picture below.)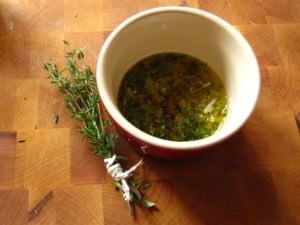 3. Prepare the grill Set your grill up for cooking at medium-low heat. For my Weber Summit, this means turning all the burners to high and preheating for 10 minutes, then turning down to medium-low.
4. Grill the Zucchini: Place the zucchini on the grill, and cook it for 6 minutes with the lid down, then rotate it 90 degrees, and cook for another 6 minutes with the lid down. Flip the zucchini, and brush it with the garlic oil. Cook with the lid closed for 6 minutes, rotate 90 degrees, and cook until very softened, probably another 3-6 minutes. Remove to a serving platter, and brush again with the garlic oil.
Your timings may vary depending on how hot your grill gets. You want to be just getting some brown markings on the zucchini before you rotate it, you want it to be well browned before you flip it, and you want it to be getting very soft before you remove it from the grill.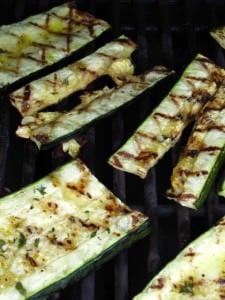 5. Serve the Zucchini: Serve warm or at room temperature.
Notes:
*The problem with big zucchini are the seeds - the're pretty tough. Either remove them before serving, or just eat around them.
*Of course, you can use this recipe with normal sized zucchini. In fact, it works much better that way; you don't have to deal with the seeds. Just trim the edges, and cut lengthwise into ½" slices.
*I like using the herb brush with this recipe, because when the zucchini are coming in tidal waves, so is my thyme bush.
Questions? Comments? Other ideas? Leave them in the comments section below.
Related Posts:


Inspired by:
Garrison Keillor's sense of humor
The generous gardeners who are currently overwhelmed with zucchini, and are willing to share.
*Enjoyed this post? Want to help out DadCooksDinner? Subscribe to DadCooksDinner using the RSS or Email options on the right, link to this post from your blog, recommend DadCooksDinner to your friends, or buy something from Amazon.com
through the links on this site. Thank you!