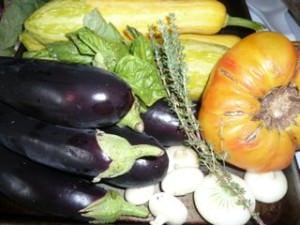 Garrison Keillor once said that, in Lake Woebegone, the only time you had to lock your car doors was in August - or else you'd find that someone had "generously" filled your back seat with zucchini.  It's that time of year in Northeastern Ohio - I get three pounds of squash every week from my CSA.  And this week, we got two pounds of eggplant, and some heirloom tomatoes, some garlic, cipollini onions, and a big bunch of basil.
In the past, I would have been stumped.  What do I do with all this stuff?  The only thing that I could make with zucchini that I actually liked to eat was zucchini bread.  But now, thanks to
Patrick Payet
, I have a go-to zucchini recipe that I've been looking forward to making once summer came around.*
*Did I mention that I was in a cooking class...in Provence?
My new answer: Tian Provencal.  The recipe I learned from Patrick is roasted in the oven, but it's too hot for that yet, so I adapted it to the grill.*
*And since Tian is named after the pot it's cooked in (Tian is "clay pot" in French), I can't really call it that any more.  So, we'll go with mixed summer vegetables.
3 lbs summer squash, ends trimmed, stripe peeled*, cut lengthwise into ½" thick planks
1 lbs Eggplant, ends trimmed, stripe peeled, cut lengthwise into ½" thick planks
4 cippolini onions, trimmed (or, 1 medium onion, peeled and cut into ½" thick planks
2 tablespoon extra virgin olive oil
1 teaspoon Herbes de provence
½ teaspoon kosher salt
½ teaspoon fresh ground pepper
3 cloves garlic, minced (or pressed through a press)
1 large tomato, cored and diced
4-6 basil leaves, cut into a chiffonade
Directions:
1. Prep the vegetables: Prep the squash, eggplant and onions as described above.
*By "stripe peeling", I mean peel long strips of skin off the squash (and eggplant), leaving it looking zebra striped - see the eggplant in the picture below; you can see the effect I'm looking for.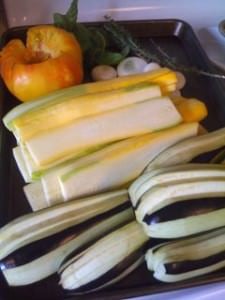 2. Season the vegetables:
Toss the squash, eggplant, onions, olive oil, herbes de provence, salt and pepper in a large bowl, until everything has an even, thin coat of olive oil, herbs and salt and pepper on it.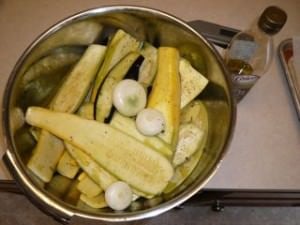 3. Grill the vegetables: Preheat grill to medium. Grill the squash, eggplant and onions until browned and soft,  4 to 8 minutes per side.
4. Dice and season the grilled vegetables:
Remove from the grill.  As soon as you can handle them (I use tongs, so I can do this immediately) cut the squash and eggplant crosswise into 1-2" chunks, and dice the onion.  While still hot, put in a bowl and add the minced garlic, then toss.  The heat from the grilled vegetables will release the flavor of the garlic, so you want to do this part as soon as possible.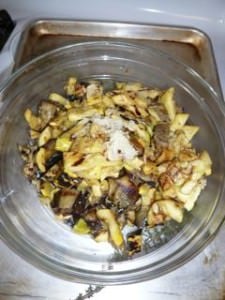 5. Finish the dish:
Add the diced tomato, and the basil chiffonade into the bowl, and toss again.  Taste for seasoning; add salt, pepper if it needs it.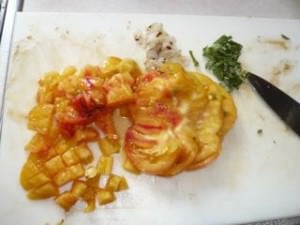 The result: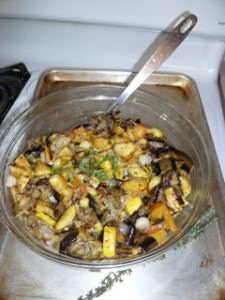 Notes:
*This recipe can be halved or doubled easily, depending on the amount of squash you have.  Though, I'm not sure about doubling it - I have a very large grill, and as you can see I barely had enough room for the squash I had.
*You can use whatever summer squash you can find, and skip the eggplant if you want to
*If you have fresh herbs (thyme, rosemary, sage), you substitute them for the herbes de provence.
*When you taste for seasoning, along with the salt and pepper, you can add:
-balsamic vinegar if it needs a little sweet and sour kick
-hot pepper sauce if it needs a little hot and sour kick
-more olive oil if it needs more
Questions? Comments? Better ideas? Leave them in the comments, below.
Related posts:
Click here for my Grilled Monster Zucchini recipe.
Click here for my Grilled Asparagus recipe.