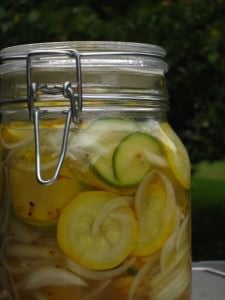 As I was finishing up pickle week, I stumbled across this recipe for zucchini pickles from Zuni Cafe in San Francisco. I'm embarrassed that I didn't find it earlier. Zuni is one of my favorite restaurants in the world, and I've talked before about how influential the Zuni Cafe Cookbook has been on my cooking. I've also talked about how overrun by zucchini we are this time of year. But a recipe in the cookbook that I've looked through hundreds of times? Somehow, it managed to elude me.
In the spirit of better late than never, here it is. I like these pickles as much, if not more than, the cucumber pickles I made. Zucchini is always easier to find than good cucumber pickles, so I will be using this recipe again.
*And I love saying "Zuni Zucchini". It rolls off the tongue. Zunicchini. Yes, my seven year old self is never far from the surface...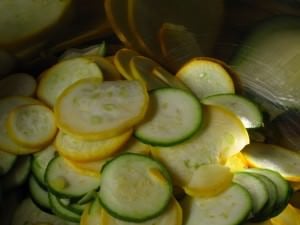 Sliced and ready to go
Recipe: Zucchini Pickles, Zuni style

Equipment:
Ingredients:
1 pound zucchini or summer squash, sliced 1/16 inch thick (I used my food processor's slicing disk)
½ onion, sliced thin
2 tablespoon table salt
Pickling Liquid:
2 cup cider vinegar
1 cup sugar
1 tablespoon mustard seeds
1 coriander seed
1 tablespoon black peppercorns
Directions:
Click here for the basic technique of pickling vegetables.
1. Prep and brine the vegetables: Put the sliced zucchini and onions in a large bowl, sprinkle with the kosher salt, and toss to evenly coat with the salt. Add cold water to just cover, and let sit for 1 hour to brine. Drain, and dry thoroughly; Judy Rodgers recommends using a salad spinner to help get all the moisture out. Put the vegetables in your jar.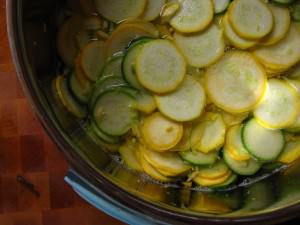 Brining the zucchini and squash
2. Make the pickling liquid: Combine the Pickling Liquid ingredients in a medium saucepan, and bring to a boil over high heat. Reduce the heat, and simmer for 5 minutes to open up the flavor of the spices. *Note: in the original recipe, Judy recommends cooling the pickling liquid to room temperature BEFORE continuing to the next step. She says this will give you much crisper pickles. My schedule didn't allow me to wait, and the pickles turned out anyhow.


3. Combine the liquid and the vegetables: Carefully pour the pickling liquid into the jar until the vegetables are covered. (Optionally, pour pickling liquid through a fine mesh strainer first, to strain out the herbs and spices; your pickled vegetables will look less rustic that way.)
*I pour the pickling liquid from my sauce pan into my Pyrex 2-Quart Measuring Cup
, and from there into the jar. The spout on the measuring cup makes this much less messy.
4. Refrigerate: Let cool at room temperature, close the lid on the jar, and refrigerate. It's best to refrigerate for at least one day, and preferably one week. They will last, refrigerated, for up to 3 months.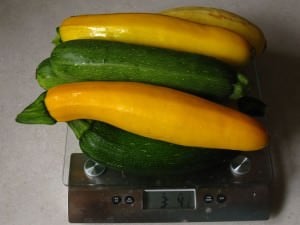 What do you do with (yet another) three pounds of zucchini?
Variations:
*In the original recipe, you were supposed to use 1.5 teaspoon mustard seed and 1.5 teaspoon ground mustard; I only had mustard seeds. Also, you were supposed to use 1 teaspoon turmeric. I was out, so I substituted 1 tablespoon of coriander seed. (Why? Because I like coriander.)


Notes:
*Use these anywhere you would use cucumber pickles - the taste is very similar. They are great on hamburgers and sandwiches. I just have to watch myself; if I leave the jar on the table, I start eating them straight after I'm done with my sandwich, and the next thing I know they're all gone.
*Obviously I scaled this recipe up - I had 3 pounds of zucchini and squash, as you can see in the picture. I tripled the rest of the ingredients. Just keep the proportions the same, and it works fine.
*As I mentioned in the recipe, Judy recommends that you cool the brine off completely before you pour it over the pickles. I'm going to try that next time; they turned out great without it, but I wonder how crisp they'll get if I follow instructions. I'm probably going to add a crushed clove of garlic as well.
*Also, I'm going to remember to get some turmeric before I pickle the next time; everyone adds it to give their pickles some color. I thought I had some in my spice cabinet (again), but I was out.
*Yes, I was forgetful enough that I was out of turmeric during pickle week, and still out two weeks later. I thought I had bought some after pickle week, but I hadn't. If this is how I am now, I'm scared to think how forgetful I'm going to be when I'm older...
Questions? Comments? Other ideas? Leave them in the comments section below.
Related Posts:
Click here for my Sorta Sour Pickled Cucumbers recipe.
Click here for my Pickled Vegetables basic technique.


Adapted From:
Judy Rodgers's The Zuni Cafe Cookbook



*Enjoyed this post? Want to help out DadCooksDinner? Subscribe to DadCooksDinner using the RSS or Email options on the right, link to this post from your blog, recommend DadCooksDinner to your friends, or buy something from Amazon.com
through the links on this site. Thank you!