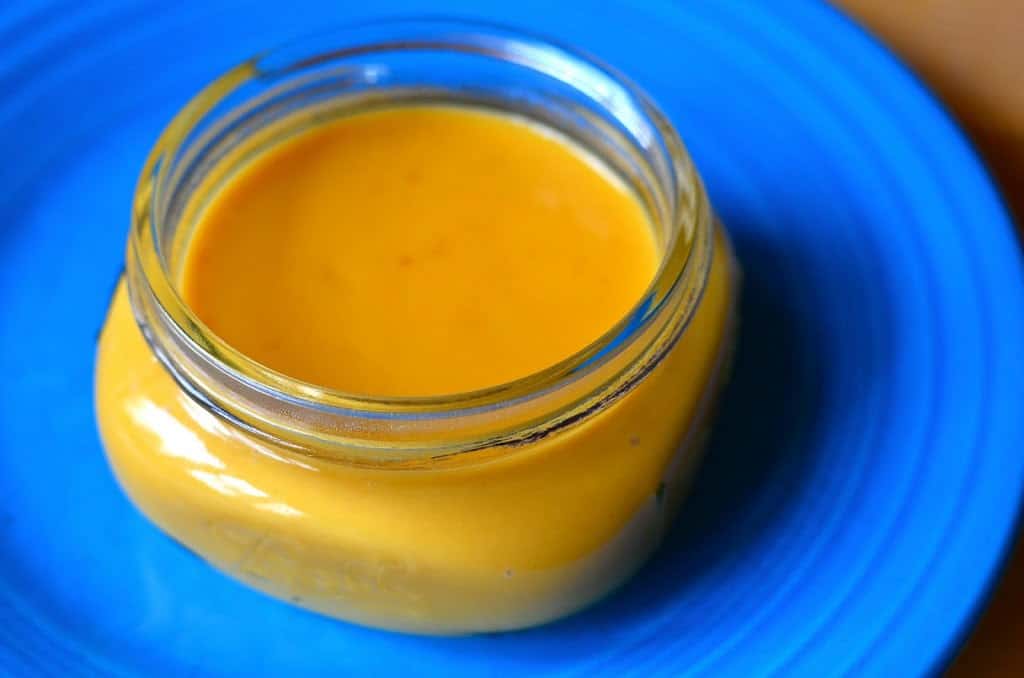 The Colman's mustard people were kind enough to send me a sample of their mustard powder. This is some seriously spicy mustard - the jar of prepared mustard made my nose hair stand at attention. I love it.
They also sent a tin of mustard powder. Time to make my son's favorite condiment - sweet hot mustard.
And put him to work making it. The mustard's not going to whisk itself, is it?
After some googling, I found out the recipe was simple - powdered mustard, vinegar, sugar, and eggs.
Eggs in mustard? Visions of salmonella danced through my head. Is there enough vinegar to preserve it? I kept searching, and found that eggs are pasteurized instantly at 160°F. That's also the temperature where eggs thicken, forming a custard. It works out beautifully - when the eggs are hot enough to thicken the mustard, they're also safe to eat.
My next question was, what about storage? How long will this mustard last? Between the vinegar and the mustard powder, bacteria doesn't stand a chance. The mustard will keep for at least a month in the refrigerator, and probably much longer.
This is an easy recipe. Whisk the ingredients, then heat gently until you reach 160°F. Some recipes cook the mustard in the microwave; others use a pot set over very low heat.
There is one tricky part...if the eggs overheat, the custard turns into scrambled eggs. That's not good for mustard.
To be on the safe side, I cook the mustard in an improvised double boiler, using a pot with an inch of simmering water and a metal bowl. This evens out the heat, and as long as I kept whisking, the eggs were never in danger. Make sure the pot is deep enough that the water doesn't touch the bowl - you want a gentle, even heat, not a hot spot where eggs can overcook.
Recipe: Homemade Sweet Hot Mustard

Adapted From: Adapted from: Melissa Hamilton and Christopher Hirsheimer, Hirsheimer's Hot & Sweet Mustard
Cooking time: 5 minutes
Equipment:
Ingredients
3 large eggs
1 cup sugar
4 ounces mustard powder
1 cup cider vinegar
⅛ teaspoon table salt (a "pinch of salt")
Directions
1. Whisk the ingredients
Crack the eggs into a wide heat safe bowl, and whisk until completely yellow. Whisk in the rest of the ingredients, one at a time, until smooth.
2. Gently cook the mustard
Fill a deep pot with 1 inch of water, bring to a boil, then reduce the heat to maintain a simmer. Set the bowl with the whisked ingredients on top of the pot. Cook, whisking often, until the mustard thickens and reaches a temperature of 160°F, about 5 minutes. The mustard should be thick enough to coat the back of a spoon.
If he wants sweet hot mustard, he has to whisk...
and do product placement. Big smile!

Done!
3. Rest, then refrigerate
Pour the mustard into the half-pint jars. Let the mustard rest at room temperature for an hour, then screw on the lids and refrigerate. The mustard will last for a month or two in the refrigerator.
Notes
This is fiery mustard if you try it right away. It starts with a sweet flavor, followed by a sinus clearing blast of heat. (Have you ever overdosed on wasabi at a sushi place? Yeah, it's like that. Again, I love it.) Resting the mustard for an hour before refrigerating will tame that heat somewhat; if you want it milder, let it rest for two hours before refrigerating.
This is the perfect condiment for your Easter ham...coming soon.
What do you think? Questions? Other ideas? Leave them in the comments section below.
Related Posts:
*Enjoyed this post? Want to help out DadCooksDinner? Subscribe to DadCooksDinner using the RSS or Email options on the right, link to this post from your blog, recommend DadCooksDinner to your friends, or buy something from Amazon.com
through the links on this site. Thank you.